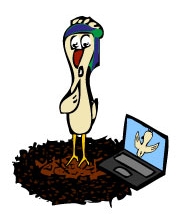 There's passion on Manhattan. I felt it as soon as I arrived on the island. For me, a major part of this enthusiasm radiates from my fast-walking, subway-chasing, black-wearing, taxi-flagging urbanite daughters, The Piglet and Decibel.
The New York I know is viewed through their eyes and it is a very youthful place. The Piglet had recently moved in to her first studio apartment (all by herself!), so it was decided I'd stay with her.
Between work and school, Decibel was fitting me in where she could. I was on my own during the day and, at night, we'd go out. I have to say I'm a bit flattered that The Piglet felt she could drag this old T-Rex around everywhere she went. But, apparently, this dinosaur can hang.
First it was off to Splash (holy crap, it's a NYC gay bar!) for Musical Monday and a co-worker's birthday party. I like musicals as much as the next guy, but I have to say that walking into a huge space with wall-to-wall video monitors featuring obscure song-and-dance numbers initially took me aback.
But as luck would have it, the DJ was masterful – he spun those show tunes in a way that no one could possibly deny the sing-a-long fever (I, proudly, was the only one in our group who knew all the words to "Age of Aquarius" – singing enthusiastically while the musical Hair played around me in its embarrassingly dated way).
One would think being in a group of mostly men that you'd get to sing the "Sandy" parts from Grease, but your thinking would be wrong. Whether it be Sandy, Evita, or even Cossette, any girl will be outdone by the men in Splash – these are seasoned professionals, ladies.
The Piglet's friends were fantastic, charming me with the proper mix of "I can't believe you're The Piglet's mom – you look better than I do" (I had stepped into some good lighting) and "What musical is this song from?" when anything black & white showed up on the screen.
The next night, The Piglet and I found ourselves at The Mercury Lounge for a concert. The Piglet had thoughtfully e-mailed me soundfiles and a link to the artist's webpage in preparation for my trip. I did my homework and was ready.
We arrived and pushed our way up to the bar in the front room. Trying to be hip, I opted not to order coffee and chose red wine (I know, also not hip, but — hey –it's the best I could do and it was surprisingly hearty, warm and delicious). I had been literally walking all day — taking in the City — and couldn't wait to get my wine to a table, take a load off and enjoy some good music.
I followed The Piglet into the showroom and — bloody 'ell — NO TABLES. Oh yeah, I remember this now. A big, dark room; lots of sweat and energy. And. No. Flippin. Tables. The blister on the back of my right foot toggled between whimpering for clemency and screaming for mercy. This was not good.
Thankfully, the band really delivered. By the second song Mr. Blister was all but forgotten. I was loving being in a mass of happy, swaying bodies and took up my old hobby of watching groupies. It's sad, but I had let myself forget the fun of it.
Decibel, on the one night she was free to let loose with dino-mommy, decided on a comedy club. We arrived at the Laugh Lounge at 10:30 PM on a Friday. The college kids at the big table (YES! Tables!) in the corner were well lubricated and ready to rock. The place was packed and filled with energy.
Several comics took the stage, each one a bit more risqué than the next.
It's a subtle thing, but there is that moment when you find that you are capable of having true adult-to-adult experiences with your grown children. For Decibel and I, it wasn't your typical teary-eyed mother-daughter Hallmark card moment.
It was laughing together in a dark comedy club at off-color "microphone as penis" humor and finding that the embarrassment we were feeling wasn't because the other was in the room.
Instead it was the embarrassment that all adults feel when they are hysterically laughing at something they should be shocked by.
Not exactly a Hallmark commercial, but I'll take it.
Veronica, GypsyNester.com