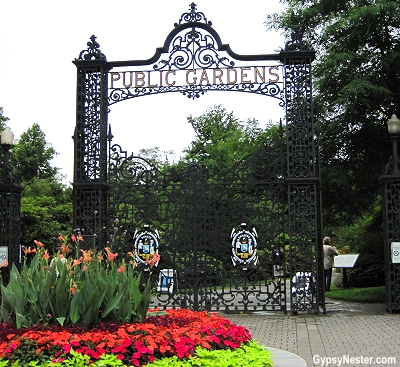 The Halifax Public Gardens harken back to the reign of Queen Victoria.
The Gardens were opened to the public in 1875, combining two existing private gardens. Landscape designer Richard Power and his family were the original architects and the original plans still remain.
Typical of a Victorian garden, flowers and plants from many varied climates and exotic locales line the walkways.
We found all sorts of plant life thriving in this unlikely climate, from desert cactus and yucca, to towering trees from all over the globe, to roses that smelled so sweet it was like walking in a cake. Sixteen acres of pure bliss.
Gazebos, fountains, archways and seating are also fundamental to a Victorian garden, and they are well represented here.
While the term Victorian may get overused, this park, and in fact a great deal of Halifax, certainly deserves the title.
Click here to see our full story on Halifax
Click here to see our full story on Halifax
David & Veronica, GypsyNester.com
Delve Deeper:
The Titanic Cemetery
The Maritime Museum of the Atlantic
Our Full Halifax Adventure
Having a Merry Time in the Maritimes (Prince Edward Island, Nova Scotia, New Brunswick)
The Cajun, Canadian, Acadian Connection
Thanks to Road Scholar for providing this lifelong learning adventure through the Canadian Maritimes! As always, all opinions are our own.