Porch.com asked us (and a bunch of other experts) to help out with some ideas on hw to make moving less stressful.
Once we got past the fact that they considered us to also be experts, we were happy to throw in our two cents.
Check it out here:  Stress-Free Moving: Advice from the Experts
Pretty cool to be featured in one of America's greatest newspapers, The Chicago Tribune! Okay, so we're not sure who the people are in the photos—but we're uber-excited to be in the text.
Click image to enlarge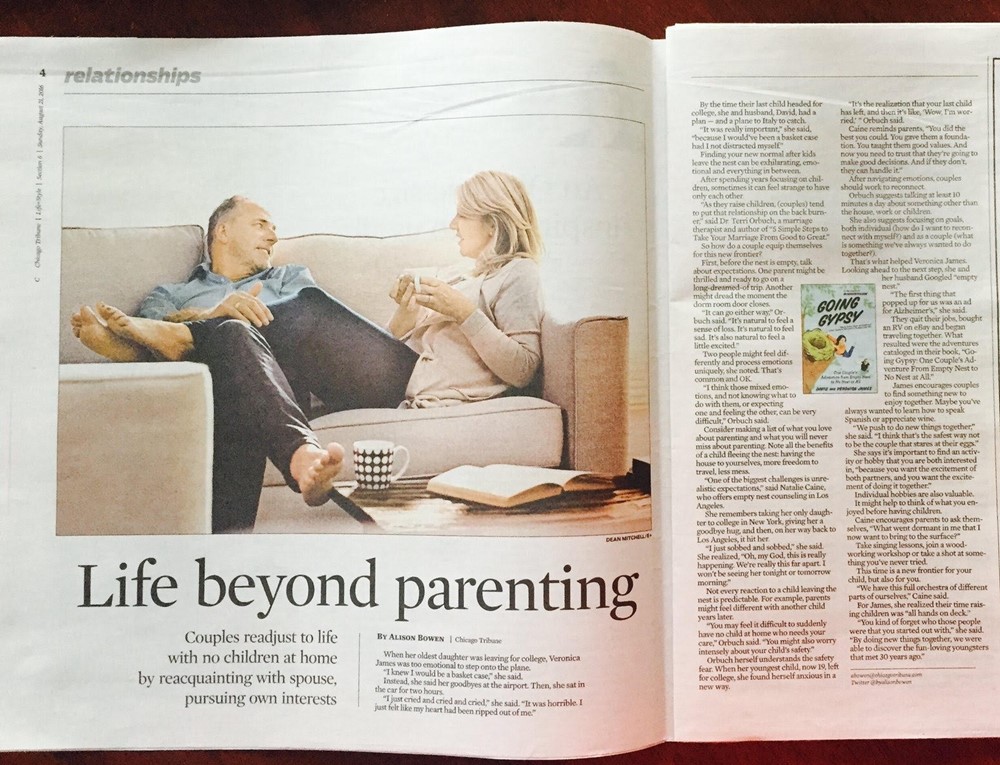 We've teamed up Humana with tips on kicking YOUR Generation Encore into high, healthy gear with full page advertorial appearing in the August/September 2016 issues Real Simple, Cooking Light, Southern Living, Sunset, Coastal Living, Golf, and Money magazines!
What an honor it is to share our story and tips in top magazines:
Happy to be featured on  Manopause.com! They are showcasing several of our stories, like this one from the British Virgin Islands.
So proud to be honored by TripAdvisor!
"Who says millennials do it better? When it comes to travel, age is but a number. As you think about retirement and all that free time you'll have, consider taking a different approach.
TripAdvisor rounded up 20 baby boomer travel bloggers as inspiration to get out there and travel"… SEE 'EM ALL >>
We joined Nashville's WSMV Channel 4More at Midday gang!

We had so much fun with the great crew at FOX2 News in the Morning St. Louis
It was an honor to appear on the Charlie Brennan Show at CBS's KMOX!
Still pinching ourselves! Listen Now
Going Gypsy debuts as a #1 New Release on Amazon!
US News and World Report asked us what simple living means to us and why we live the way we do.
"Traveling throughout retirement may not be everyone's idea of simple living, but David and Veronica say ditching the house was one of the best moves they ever made. 'We are in a state of nearly constantly pinching ourselves… CONTINUE READING >>
Thank you Nashville for Making Going Gypsy Your #1 Bestseller!
From Empty Nest to No Nest in AARP's Life Reimagined
Veronica and David James were living on St. Croix in the U.S. Virgin Islands when the last of their three kids flew off to college. Some of us might have opted to stay in that tropical paradise, but the Jameses knew they needed a change… SEE THE FULL STORY
We are proud to be picked as one of the Top 25 Senior Sites by Boomer Benefits.
We had a blast with Kim Bailey of News Talk Florida – talkin' our craziest food experiences!.. CLICK TO LISTEN!
We ended up on Australian TV and all we had to do was jump out of an airplane!
Veronica was introduced to the Australian public by way of the amount of saliva she didn't have in her mouth. Classic Veronica!
Thanks WIN News!
We appeared on WJOL with the wild and crazy Flash Girls!
Listen Now
We had a great time with those crazy kids on TV's Right This Minute when we had a video go viral.
Click to see the segment!
So proud to be honored by TripAdvisor!
"Who says millennials do it better? When it comes to travel, age is but a number. As you think about retirement and all that free time you'll have, consider taking a different approach.
TripAdvisor rounded up 20 baby boomer travel bloggers as inspiration to get out there and travel"… SEE 'EM ALL >>
​

So excited that we've been profiled by
Abby Tegnelia in an article called World Travel With David And Veronica James, The 'Gypsy Nesters'! Pretty nifty, eh?
Big fun! A quick clip that AARP's Life Reimagined produced about us! It's 30 secs of GypsyNester action-packed goodness!
Big thanks to TourRadar for asking us to contribute to this fun article about Amsterdam and Budapest!
ABC Radio did a three-part series with us – discussing everything from Going Gypsy to travel to life after kids!
Listen: Part One –
Part Two – Part Three
USA Today asked us and some pretty weighty folks to weigh in on how we find ways to travel with purpose to enrich our experiences …  See the full article >>
Had a great time at the RV + Travel Summit!
Check us out talking about a BIG lesson learned in U.S. News & World Report!
When your kids leave home, you may worry about how they're going to handle their money. But don't forget to worry about yourself, too… SEE FULL ARTICLE >>

An article about us landed on the front page of Huffington Post.
Click here to see the full write up.
Feature story on the Home page of AOL:
We are thrilled to be named a TOP COUPLE TRAVEL BLOGGERS 2018  by holiday lettings!
The uber-talented Sundance veteran Anne Flournoy of The Louise Log fame produced this hysterical 50-second short on her experience of reading Going Gypsy!
See Anne's full post on Going Gypsy here
Psyched about this article in Medium!
"After packing their youngest off to college, the Gypsy Nesters hit the road and never looked back. 'We're going down in a ball of flames!' says"… READ THE FEATURE HERE
Travel Blogs and More talked to us about becoming full time travelers. https://travelblogsandmore.com/full-time-traveler 
We had a blast with this fun interview on Obsessory.com . https://www.obsessory.com/blog/Interview-with-gypsynesters/ …
Have you ever had something really good happen to you out of the blue?
That's how we felt when PBS's Next Avenue contacted us saying that they were featuring us as a Sites We Love.
Shut up! we thought. This seriously can't be happening. We freaking LOVE Next Avenue… CLICK TO SEE WHY WE ARE SO HONORED >>
​

Veronica appears on The Superb Woman!
Our first UK interview! Watch Ceri Wheeldon of Fab After 50 ask us those burning questions you've always wanted to know:
WATCH: We collectively kicked butt at AARP's Celebration of Service!
See if you can pick out your GypsyNesters (actually, it's hard to miss us!)

Stephanie Mayo over at The World as I See it interviewed us about our favorite places, memorable moments, weird regional food disasters and how travel has changed us.
Oh – and it's the first time we've discussed the process of writing our upcoming book, Going Gypsy: One Couple's Adventure from Empty Nest to No Nest at All.
We LOVE our book bloggers! Thoughts in Progress – Book Bitch – Insatiable Readers – A Bookworm's World – Mrs. Mommy's Booknerd – Booking Mama
In case you missed us live – here's the podcast for our New Rules for Empty Nests interview with the warm and wonderful Sandy Fowler!
WOW! We were named #1 (!) on Indietravel's Top 10 Travel Couples! Honored to be among this incredible talent!
See the full list here.
We sat down with the fabulous Chloe Jeffreys and discussed helicopter mom recovery, staying connected with our adult kids, reinventing middle-age, and the importance of reinvesting in your marriage after your nest empties.
We had such a great time "glamping" up the California Coast with Toyota!
We're excited that CheapOair spotlighted (spotlit?) us on their site! Check it out – click here!
The uber divine Miss Malini invited us to be a part of "How to become a World Famous Travel Blogger!" and how could we say no?

Even if we had to wake up at 3 AM to make primetime in India!
We are so honored to be a part of the brand spankin' new !

Here are the dynamic women of WHOA!, Darryle and Lynn, interviewing Veronica about life after kids, becoming brave, and why she became a GypsyNester.
A nice little write up on Yahoo!

Becca at Aging Insider calls us "5 Alarm Boomer Bloggers" and in this episode of her fabulous show, she says: "Richard Branson says, 'Screw it, lets do it!' and this is a couple who is embracing that motto.  The kids left for college and this rockstar couple left for the world…"
A fun little publicity bump we did for BestDay.com while in Cancun, Mexico!
Ace reporter Pam Parker (is that a GREAT journo name or what?) of the Erie Times-News was kind enough to mention us in her hard-hitting write-up on the UFO house in Tennessee! See it here.
Our story about the "Nut Roll Nazi of Quincy, Illinois" was sniffed out by The Quincy Herald-Whig – and boy did they run with it! We were so pleased to be able to call even more attention to this fabulous old-fashioned bakery!
Thanks to KPAM Radio in Portland and the fabulous host Rod McLaughlin for giving us the opportunity to talk about one of our favorite things – food!
We joined Jill and Claudia over at Empty Nester Radio.

Listen in as we answer their great questions and have a few laughs.
When Matt asked us, along with two other couples, if we could provide tips on how we travel full time without killing each other – we had to say yes!
50 Connect is one of Britain's hottest sites! Known as "The Social Networking Site for Grown Ups."
Click here for the whole interview.
Those wacky kids over at Divergent Travelers asked us some fun and insightful questions when they interviewed us.
Check it out and learn some stuff about us that we'd never told you on our own!
Wow! We won the prestigious People's Choice Senior Living Award as the Best Boomer Resource!
The competition was stiff – there were quite a few amazing sites that we were honored to be among – and the judges must have had quite a task making a choice.
Excited to be picked as one of the Top Outdoor Blogs You Can Read For Inspiration in 2017 by thesmartlad.com. Thanks Shawn!