For a trip down Memory Lane, and maybe to offer some ideas for summer travel, we decided to go back through our past few years of globetrotting and pick out our favorite metropolises along the way.
We didn't want to just randomly select, and choosing them by geographic landmass seemed like a good criteria, so here we go…
Europe:
There is an intimidating list of fantastic choices in Europe, so picking one is a daunting task. Certainly Paris and Rome spring to mind, and Prague always comes up when we get asked about our favorite places, but for this recollection are looking to venture a little more off of the beaten path.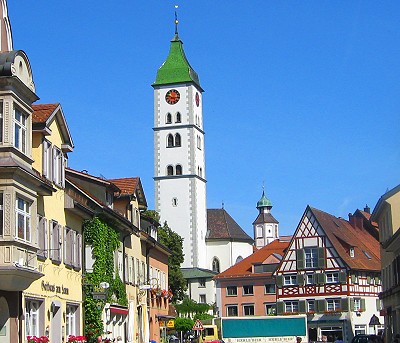 With that in mind we pick Wangen im Allgäu in Germany.
We stumbled upon this southern German gem completely by accident when seeking a night's lodging on our way to Switzerland.  By the time we parked at our hotel we were immediately enamored.
The berg most certainly has a sense of humor, with fanciful fountains featuring whimsical sculptures scattered throughout, yet it also has maintained its authenticity as a picture perfect dollop of Deutschland.
The food and architecture could not have been more genuine, and we even happened upon the town's weekly outdoor market when we ventured out the next morning. We couldn't have asked for a better overnight.
South America:
Whenever the subject of South America arises our first recommendation is always to visit the Galápagos Islands, but since we are focusing on urban areas for this retrospect we will jump back over to the mainland and choose Cusco in Peru.
Perched over ten thousand feet high up in the Andes, this once capital of the Inca Empire now serves as the homebase for explorations of The Sacred Valley.
It is the perfect jumping off point for venturing into the mysteries of the ancient cities and ruins of Sacsayhuaman, Ollantaytambo, and Machu Picchu.
But it would be a mistake to rush off to those ruins without indulging on the rich past and vibrant present that Cusco has to offer. The city has several layers to reveal as it was transformed from the ancient Incan, to Spanish, and now the Peruvian cultures.
To convince you further, here are additional reasons to visit Cusco:
You'll get to see a traditional mix of colorful clothing from traditional, modern and everything in between.

You'll see llamas and alpacas.

You'll come across architecture that

will send you back in time.
If you're looking for other hidden Latin American destinations, we've got you covered there, too.
Africa:
We have not travelled extensively across Africa, but we were able to collect lifelong memories in the village of Rau, on the outskirts of the city of Moshi in Tanzania.
Our time there became an experience that will live in our hearts forever as we jumped in to teaching and repairing the Lunguo Primary School. Our time with the vivacious students and dedicated faculty will bring us joy for the rest of our lives.
Beyond that, we were able to get a small taste of what day to day life is really like away from any tourist attractions or high-rise hotels.
Mixed in with our construction and educational activities, we also found time to meet and learn a few of the customs of the Chagga and Maasai people, and see an amazing array of African animals in the Ngorongoro Crater .
All under the powerful shadow of Mount Kilimanjaro.
Asia:
Growing up as Cold War kids we never in a million years dreamt that we would ever have a chance to set foot in China. My how times have changed!
After observing the uproarious hustle and bustle of Hong Kong, Shanghai, and Beijing, the work-a-day city of Dalian gave us a welcome glimpse into the life of Chinese people away from these massive urban areas.
Hopping aboard a creaking and clanking old wooden streetcar, we rode into the city with no particular destination in mind and discovered gleaming modern skyscrapers next to a marketplace of shops mish-mashed together that looked as though it had hardly changed in centuries.
We also indulged in perhaps the best street food we have ever encountered, as well as the worst thing we have ever put in our mouths.
No wonder we called it a city of contrasts.
Australia:
Even though we only had the chance to explore a small slice of the Land Down Under, we feel comfortable proclaiming Gold Coast as a pick.
It is aptly named, because this stretch of beach along the Coral Sea certainly is top notch all the way.
Spectacular hotels overlook the ocean while innovative restaurants serve up its bounty.
We even tried our hands (and luckily didn't lose any) at surfing and feeding enormous, hungry crocodiles.
North America:
As hard as it is to arrive at a choice of a favorite on our home continent, after much debate we managed. Having traveled all across the US, actually making it to all 50 states, it was nearly impossible to narrow it down in our own country.
So we thought of Canada.  Among the many great places we have seen in our northern neighbor, Twillingate on the island of Newfoundland came to mind. In fact, we fell in love with the entire island and the fantastic folks there.
For those who do not live right next door a visa may be necessary for travel to Canada and we found a way to make getting one super easy with eTA Canada.
However, when it came to picking just one special town, we decided that Valladolid had to be it. Considered to be the most perfectly preserved colonial city in all of Mexico, it was hard not to be completely captivated while wandering its streets.
The combination of the Mayan and Spanish has survived so stunningly that at times we felt as though we had stepped into a time capsule and been transported back a couple of centuries.
Antarctica:
The bottom of the world is the one continent that we have yet to visit so we can't pick a favorite.
Good thing it doesn't have any cities so we don't have to.
David & Veronica, GypsyNester.com
YOUR TURN: What would your picks be? We'd love to hear.
This post may contain sponsored links.