After seeing two of China's most famous cities we arrived in one we had never heard of, Dalian.
This is likely because Dalian is not a tourist town. But that doesn't mean there's nothing to see.
Historically a part of Manchuria, this northern port city reflects a past of Russian and Japanese occupation, as well as the more modern-day China.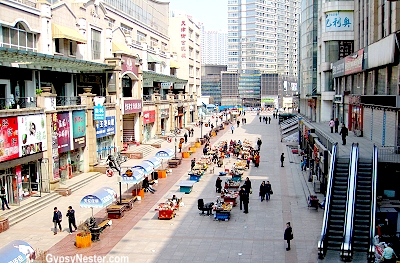 We had seen a crazy amount of building in Shanghai and Beijing, and this was going on to a lesser degree in Dalian, but we were most excited to be able to explore a city that showcased more of the older urban ways of China.
Our first indication that we might be able to do just that was when it was announced on our ship that the Chinese government forbade passengers to bring any newspapers or magazines ashore.
The most noticeable remnants of Dalian's time under Japan's rule are the old trolley cars that still rumble through town.
The trams began in 1909 as the South Manchuria Railway, making them one of the first public transportation systems in China.
This double whammy of history and transportation was perfect for our impromptu tour.
Using our firm grasp of the obvious, we found the most visible vestiges of the Russian occupation, because they happened to be on Russian Street. Most of the old Russian buildings disappeared in the many development booms the city has seen over the years, so what looks to be old architecture is actually modern recreations of old Russian buildings.
But by looking behind the facades, we stumbled upon what seemed to be the back side of Dalian.
We wandered into a dark maze of ramshackle shops that form a sort of Super Walmart of local products, household items, baked goods, and every kind of fresh meats and vegetables imaginable.
We sampled a huge watermelon radish and a couple of cream puffs from one of the baker's stands.
Each of the baker's offerings were a work of art and finding such gems was strange and wonderful in such hardscrabble surroundings.
We ate while we walked into the downtown area, but our little snack wasn't going to do. Dalian was alive that afternoon with street vendors cooking their specialities – and our grumbling bellies were finding it nearly impossible to choose between them.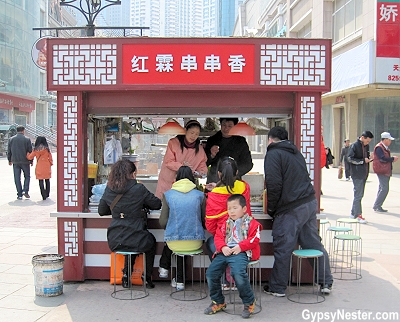 Finally, an outdoor stand where boiling broth was used to cook noodles, vegetables and seafoods caught our eye.
We took a seat at the tiny kiosk and observed for a while to see if we could decipher the procedure.
It looked as though each customer received a bowl, picked a type of noodle, then ordered any of the prepared skewers of beautiful bite-sized delicacies from the one-man show behind the counter.
We tried speaking with no success, the language barrier was extremely high, but by pointing, nodding, grunting and gesturing we managed to get all sorts of fantastic tidbits into our bowls.
WATCH: The best street food we've ever had!

When the bill for this absolutely unbelievable meal came, we thought there must have been some mistake.
After carefully counting our empty sticks, the guy asked for twenty yuan, about three dollars, for both of us, including drinks! Without a doubt some of, if not the best street food ever.
In the little plaza with the stick-food kiosk, there was also an antique market where vendors had set up tables offering every sort of trinket imaginable.
Every merchant seemed certain they had just what we were looking for as they would pick something off of their table and give us an in-depth story and look.
They pulled off what looked to be genuine surprise that we could actually live without whatever item they randomly pulled out.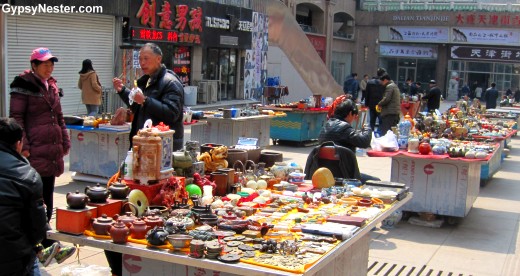 As we explored the city we found many exotic and exciting foods, quite a few that were displayed in the restaurants alive.
These lively, moving menus worked well for our point and eat method.
After window shopping the fare in several establishments, Veronica walked into one and sat down. In no time, she had pointed to a plate of wiggling silkworms and there was no turning back.
We had been taunting each other ever since we found out in Beijing that people actually ate the buggers.
When the dish arrived, the smell alone brought about extended stall tactics.
The incredibly unpleasant aroma led Veronica to trying the garnish first, asking every member of the staff how to go about ingesting the buggers, bringing one right up to her lips and chickening out (by the way, they most decidedly do not taste like chicken), and nearly crying before finally popping one in her mouth.
WATCH: ONE of us actually ate a silkworm — and the other is a wuss.

Seriously, a medal for bravery might have been in order. But the gauntlet was down, there was no way David was getting away without trying one. As soon as his teeth cracked the bug-like shell… some memories must be suppressed. Put away forever and never brought back up.
This should be one of those.
David & Veronica, GypsyNester.com
See more of our adventures in China!
Click here for our full live-blog as we traveled with Holland America aboard the ms Volendam – through Hong Kong, China, South Korea and Japan
YOUR TURN: Are you more drawn to the modern or traditional China? Stick food or silkworms? Does anyone know what the stick food is called?
Hat tip to Claudia de Nobrega of Clouds in the Kitchen for identifying the stick food!: The red little rectangle is pigs blood, coagulated…it is chinese hot sticks Malak chan…sorry cannot spell it…the chilli sauce s made with chillies, spices and a pepper that numbs your mouth from the same family as Sichuan pepper also used in chinese medicine. They count the sticks but if you notice each of them has  a different colour to tell the different prices of the ingredients used…