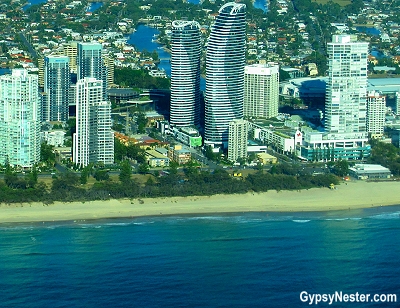 We may be nuts, but we're not crazy! Of course we jumped at the chance to spend a few days along Queensland's Gold Coast.
This dazzling stretch along the Coral Sea has become Australia's playground for food, fun, surf, and sun.
From our first look at the towering skyline and enticing water off of our balcony at Peppers Broadbeach we knew we had struck gold.
Gold Coast Dreamin'
We couldn't visit the coast without a stop at Dreamworld, Australia's largest theme park. With rides like The Buzzsaw, The Cyclone, and The Giant Drop from the Tower of Terror we knew that we were in for a thrill.
What we didn't know was that we were in for one of the wildest adventures of our lives, feeding an enormous crocodile. That surprise was sprung on us once we entered the park.
It's hard to say if falling nearly 400 feet from the world's second highest vertical drop ride helps prepare a person for staring into the teeth of a 1,500 pound eating machine, but we decided to give it a try before heading over to the croc pond.
Figured it would either steady our resolve or make us too weak in the knees to care…
Click here to see us feeding crocs – with video!
A Journey with the Original Australians
The Dreamworld Corroboree Theater was just the ticket. Built in a replica bush hut called a humpy, the theater runs a film and features interactive exhibits about the local Yugambeh people.
Outside, Aboriginals tell stories and give demonstrations of traditional arts and weapons. Boomerangs and spears seemed downright tranquil compared to a giant mouthful of teeth.
The Gold Coast's Surf Culture – It All Started with Saving Lives
After a day in the park, and all of the eating going on, it was time for us to do a little chowing ourselves.
From our room at Peppers Broadbeach we could see the Kurrawa Surf Club and heard it was a great spot for some seaside seafood. We heard right but, before digging in, we first dug up a little background.

Each stretch of beach has its own club that oversees safety for the swimmers and surfers in that area. Kurrawa has been keeping beach-goers safe along their beach since 1958.
But the tradition of surf clubs in Australia goes back over one hundred years to when laws against swimming in the ocean were challenged and the beginnings of Surf Life Saving Australia, SLSA, took hold.
Now, over 165,000 members and 65,000 junior members known as Nippers, who range from 5 to 13 years old, participate in beach safety and awareness skills training, as well as competitions.
The clubs have also become social organizations for each neighborhood, with restaurants, banquet rooms, dance halls, and some even have casinos.
Non members like us are allowed to come in as guests, but only if they live outside of the area served by the club. Locals must join.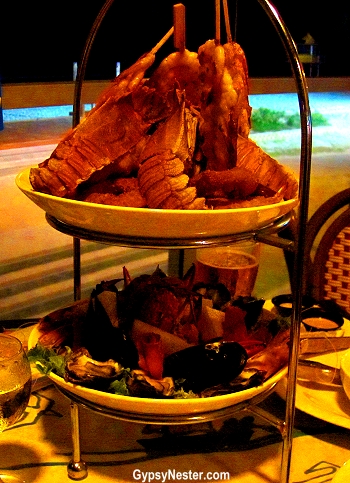 Certainly no one would hesitate if they knew about the seafood platter for two. This tower of goodies features "A selection of trawler caught seafood… Prawns, sautéed bugs, chilled crab, mussels, oysters, smoked salmon, and flash fried morsels…"
Wait, go back, sautéed bugs? That must mean crawfish, mud bugs, like in Louisiana. But it didn't, those are known as yabby in Australia.
Bug means Balmain or Moreton Bay bugs, types of slipper lobsters that are a smaller cousin of the spiny lobster. These were something we had never seen, or tasted before. Served as split tails, they had a flavor and texture somewhere between shellfish and fish filet.
We were curious now, and wanted to know what these critters looked like before they found themselves cracked and stacked on our tower.
Going Around the Middle Man – Finding the Bug's Source
We asked around and the Gold Coast Fishermen's Co-Op was the place to find them.
Just so happened that it was going on the next morning, so we rented some bikes and pedaled off toward the marina.
The co-op allows a group of boats to set up shop on the docks and sell their morning catch directly off the boat.
It doesn't get any fresher than that, and we got to see a bug intact.
But we couldn't figure out how we might go about eating one right on the beach, so we settled on a bag of freshly steamed shrimp, known as prawns down here (and blowing the whole "shrimp on the barbie" quote out of the water!), and sat on the rocks for the ultimate sack lunch.
Wait. What? That's Made out of SAND?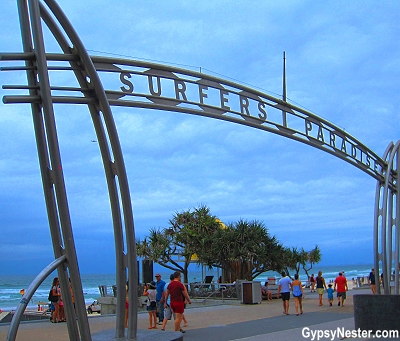 Continuing along the coastline on our trusty beach cruisers, we came upon the Wait. What? That's Made out of SAND?Australian Sand Sculpting Championships.
Fantastic forms fitting the theme of Myths, Legends & Fairy Tales lined the promenade along the Pacific shore in Surfers Paradise and several other of the whimsically named communities, like Mermaid Beach and Paradise Island, along the waterfront.
Entries were judged in several categories including Australia against The World. In that competition two teams of invited artists, one from Australia and the other from around the globe, vied for king of the sandbox.
All in all, over 180 tons of sculpted sand became temporary masterpieces. It seemed a shame that someday these whimsical works of art will be washed away.
Click here to see more of these amazing sand sculptures!
Cowabunga! A Less-Than Stellar Attempt at Surfing!
With all of the talk of surfing, and since we were staying right by Surfers Paradise, it seemed like a golden opportunity to give surfing a go.
Our attempts on the long board were somewhat less that cowabunga-worthy, but we did manage to get a few good rides in on the boogie boards.
Maybe we should have tried paddleboards. From what we have seen this in this comprehensive guide they are much easier.
Oh well, even with the multiple wipe outs and tumbles, we were glad we gave it a try.
All in all, an amazing afternoon on Kurrawa Beach – and, luckily, we didn't require a rescue by a Nipper.
Can You Eat Your Way to Heaven?
That evening, we were lured to Social Eating House + Bar like a cartoon animal floating behind a visible wave of luxurious scent.
Right across the street from our temporary home at Peppers, in the little village of shops and restaurants that surround the hotel, Social was certainly convenient. But that turned out to be way down the list of reasons to love the place.
Decor, style, seating along the kitchen where we watched everything being prepared (dinner and a show!), and the food, ooooooh the food, all topped the list.
Innovative specialities are served in small portions like tapas, enabling us to sample over half a dozen different dishes. It was like an appy crawl without ever leaving our seats.
As the name implies, shared plates equal a truly social experience.
We ordered a couple of dishes to start, then decided what we wanted next by watching orders as they came out of the kitchen.
We asked our server "Ooooh that looks great, what is it?" several times and wound up with… see our entire, incredible meal at Social Eating House + Bar
And we thought those crocs knew how to eat. Take that you leapin' lizards!
David & Veronica, GypsyNester.com

Delve Deeper:
See where we stayed! Peppers Broadbeach
See more spectacular Sand Sculptures!
Drool over the unbelievably delish Social Eating House
Watch us feed crocs!
Bucket list check! We snorkeled the Great Barrier Reef!
Watch us skydive above beautiful Queensland – yikes!
Follow us into the Australian Hinterland and kayak the Noosa Everglades!
Find out how we saw all of the bizarre Australian animals in one place!
Let Us Introdoos-ya to Noosa and Spread a Little Sunshine Coast
Huge thanks to Tourism and Events Queensland for providing this adventure! As always, all opinions are our own.
Click here to see all of our adventures in Queensland!