Huge thanks to Tourism and Events Queensland for providing this adventure! As always, all opinions are our own.
After a rip-roarin' week visiting all that Queensland had to offer, we settled into our skyhome above Kurrawa Beach to get some serious (well, serious for us) writing done.
From our first look at the towering skyline and enticing water off of our balcony at Peppers Broadbeach in Gold Coast we knew we had struck gold.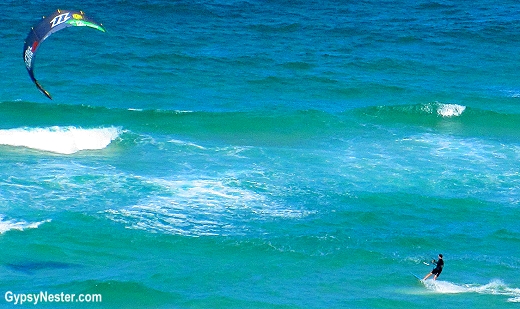 The Perfect Writing Retreat
This dazzling stretch along the Coral Sea has become Queensland, Australia's playground for food, fun, surf, and sun.
Every inch of our suite at Peppers was designed for a laid-back, yet sophisticated stay; beautiful furnishings, an uber-comfy bed and, somehow, an incredible view from every angle – including the bathtub!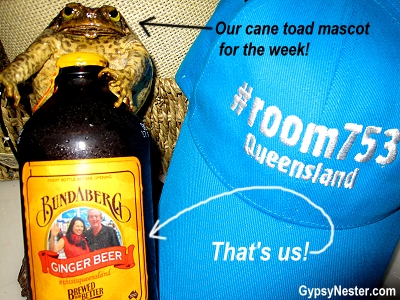 All around #Room753, we found tailor-made, especially-for-us goodies.
All week, we delighted in the special touches provided to us – custom ginger beer, family photos on the walls, and baskets of iconic Queensland specialities.
The infamous Vegemite was featured in one of our goodie baskets and we could try to describe the taste, but could never begin to relate it better than the fabulous Liz, of Young Adventuress, during her #Room 753 stay:
How to eat Vegemite. Step 1 – smear it in some toast. Step 2 – begin the noms (try not to gag). Step 3 – shove a TimTam in your mouth immediately. Step 4 – take a swig of Bundaberg rum to wash it all down
See more of our adventures in Australia's Gold Coast!
We Don't Want to be Dull Boys!
But all work and no play makes your GypsyNesters very dull boys – if we just holed up in our room, as we were tempted to do, what would we have to write about?
Luckily, there was plenty to do right outside our threshold!
Peppers boasts a private theater where we were treated to an exciting array of Australian movies, champagne, popcorn and tasty treats.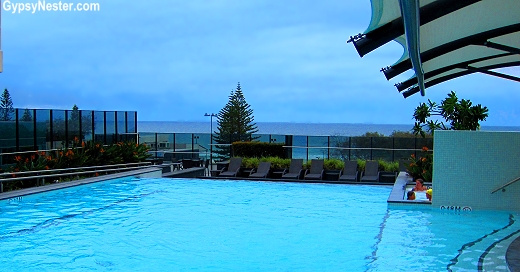 Rousing ourselves the next morning and actually dragging our butts all the way to the elevator (gasp!), we headed to Peppers' highrise pool.
And reached Nirvana in the Zen garden.
Elevator riding and hanging out by the pool can take it out of a GypsyNester, but we manned up for one more ride – all the way down to the ground this time. Our perserverance paid off – at the end of the arduous journey, just at the base of Peppers, was Endota Spa and a perfect-touch couples massage.
Too exhaused to write, our nap turned into a full night's sleep. 😉

Endless beach for inspiring walks and ill-fated surfing attempts
It wasn't until we finally made it down to the beach that we truly grasped what a remarkable setting we were in – highrises loom up and down the coast as far as the eye can see.
Click the pic to see our new friend the cane toad come to life!
As sunset fell on our last day in #Room753, we had one more task to complete – autograph the official Peppers surfboard.
It was hard to write something nice to those who would follow us – jealousy had taken hold and we didn't want to ever leave.
Click here to see the exciting photos from all of the bloggers in #Room753!
We weren't total slugs, we did actually venture out and see more of Gold Coast!
David & Veronica, GypsyNester.com

Delve Deeper:
Visit the Peppers Broadbeach Website
Drool over the unbelievably delish Social Eating House
See the spectacular Australian Sand Sculpting Championships at Surfer's Paradise
Watch us feed crocs!
Watch us skydive above beautiful Queensland – yikes!
Follow us into the Australian Hinterland and kayak the Noosa Everglades!
Bucket list check! We snorkeled the Great Barrier Reef!
Let Us Introdoos-ya to Noosa and Spread a Little Sunshine Coast
Huge thanks to Tourism and Events Queensland for providing this adventure! As always, all opinions are our own.
Click here to see all of our adventures in Queensland!