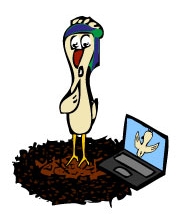 Have you noticed that the older we get, the less we laugh?
As a mother and someone who has worked in academic settings, I find myself envious of teenaged girls who can work themselves into hiccup-inducing hysterics over the slightest thing.
Admittedly, the tears come just as fast, and I have to say I'm glad I'm past THAT nonsense, but just witnessing a spontaneous giggle-fest sets my heart a-singing.
As a society, we unfortunately chalk uncontrollable laughter up to immaturity. How sad is that? I feel blessed anytime I'm with someone who can find humor in everyday situations or can relate a hysterical life story. Give me somebody who can help me plot undoable practical jokes or an elaborate heist scenario any day. I have a criminal mind with, luckily, no guts.
But — alas — it is exceptionally rare that any of these encounters evolve into the kind of laughter that physically hurts. David and I have our moments, but it's when I'm with my girls, The Piglet and Decibel, that the demented stuff really gets underway.
Twice during a visit to Manhattan, real honest-to-goodness public spit-takes happened.
The first, involving me, red wine and a really nice Italian restaurant where Decibel was a hostess on the weekends. The wonderfully charming restaurateur had just settled us in our regular window table with mussels, bread and Chianti, allowing Decibel sit with us as long as her duties didn't require her to be elsewhere.
Feeling the effects of all day on planes, buses, taxis and trains — I was properly goofy when I started relating a story of an erstwhile Google search (no need to repeat it here since I've yet to find a single person that thinks it's even remotely funny outside the three of us).
Filling my mouth with the delicious Chianti, I stupidly looked up at Decibel — not my smartest move — and the look on her face took me to the next level of mirth.
Realizing that swallowing had jumped out of the realm of possibilities, I raised my white linen napkin to my quivering lips in a vain effort to keep the red wine contained in my mouth. Not willing to let this situation pass, The Piglet upped the ante by tossing out an inappropriate comment.
The ensuing explosion was spectacular. The Piglet likened it to a scene from a horror flick, as if I'd been impaled and coughing up blood.
You can't take me anywhere.
The next morning at brunch Decibel repeated the action with her own spit-take, this time with a spiced tea latte. At a communal table.
We're quite the class act.
Unbecoming spit-takes aside, laughter makes life worth living. I am proud of my dynamic daughters, so full of life and youth, willing to turn me into a doubled-over mess of flying spew.
It's hard to believe there were times during their teenage years when we couldn't connect, were unable to share and when I was paralyzed with the thought that they would grow up and not love me anymore.
Now they graciously allow me to see the world they have created for themselves, tell me their stories, share their problems and fears — adult women who are secure enough to call me Mommy.
I fervently hope that no matter how old I get, I'm never too "mature" to chance a spit-take or two with my daughters. Cheers!
Veronica, GypsyNester.com
YOUR turn: Do you have someone that you share laughter like this with?