The Galapagos Islands have long been on our bucket list. Finally tuition-free when our youngest graduated from college, we treated ourselves to the adventure of a lifetime.
Here's what we learned about being of "a certain age" and visiting the giant tortoises, blue-footed boobies and friendly sea lions of The Galapagos.
Don't book the wrong trip!
You must book passage on a Park Service-approved boat to tour the islands. You can't just show up and start looking around. For the protection of the animals and the ecosystems of the islands, the boats are scheduled so very few people are allowed on any one island at a time.
Choosing the proper boat with the proper group is imperative! Our boat carried sixteen passengers, and most vessels touring The Galapagos are that intimate. We didn't want to end up on a party boat and we felt it was necessary to be with a group of people with similar activity levels.
After much research, we booked passage with Road Scholar, a non-profit organization that focuses on lifelong learning. We weren't kept up by all-night revellers with more energy than we had, didn't feel like we were holding up the pace on hikes and felt completely comfortable in our bathing suits in front of everyone.
Packing properly
The flights into The Galapagos have a 44-pound weight limit for luggage and cabin space on the boats is tight. It's best to take less clothing and to plan on hand washing if the need arises. Extra heavy duty clothes pins were provided on our boat for hang-drying clothes and swimwear.
Bring comfortable, well worn, rubber soled shoes! The terrain varies greatly on each island. From sand to lava flows to hiking up to a volcano — you'll need shoes with support that won't give you blisters. Throw in a pair of swim shoes and some non-slip sandals for the boat and you're set.
See more about the landscape of The Galapagos
Yikes! The sun is STRONG at the equator. Bring LOTS of sunscreen, a hat, sunglasses and a t-shirt for snorkeling. Don't forget to apply sunscreen to the back of your neck! Better yet, cover it up.
Bring an extra pair of eyeglasses and don't forget prescriptions. Just in case. If you are prone to sea sickness, talk to your doctor about remedies.
Keep a supply of large zip-type sandwich bags with you. These help keep moisture and sand out of your belongings and camera equipment.
Have a supply of pre-moistened lens cleaning wipes for eyeglasses. Works wonders on camera lenses as well. Salt air is sticky!
Pack a battery powered or wind-up alarm clock. We had a bit of confusion the first morning — the time didn't update on anyone's cell phones so far out to sea, so using the wake-up function was a lost cause.
Learn about how we pack and our always-adhered-to "One Trip Rule"!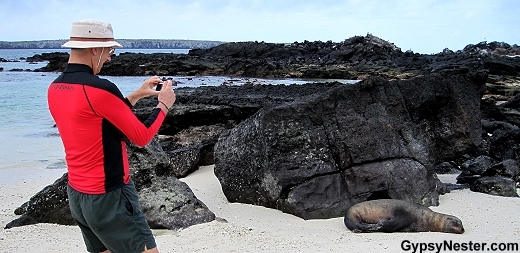 Visiting the islands
Zodiacs boats are fun! But we're not going to lie, they are intimidating at first. But it wasn't long before we got the hang of getting in and out and perching on the sides like champs. There were always at least two crew members assisting with entrances and exits. We experienced both wet and dry landings and were helped along every step of the way.
The animals are incredibly unafraid of humans. Visitors must stay at least six feet away from the animals at all times. It's surprisingly easy to break this rule as the animals have little fear of humans — if an animal approaches and comes within the six foot barrier, the HUMAN is obligated to step back.
Click here for our entire live-blog of our week in The Galapagos
Half the fun is in the water
The sea creatures are just as unafraid of humans as their counterparts on land. You will get up close.
You will be provided with snorkel gear and a wet suit. Wear your wetsuit. In addition to keeping you warm, wetsuits add extra buoyancy and offers greater sun protection. There's no shame in adding a life vest to the equation either — snorkeling is WAY more fun when the struggle to stay afloat is eliminated.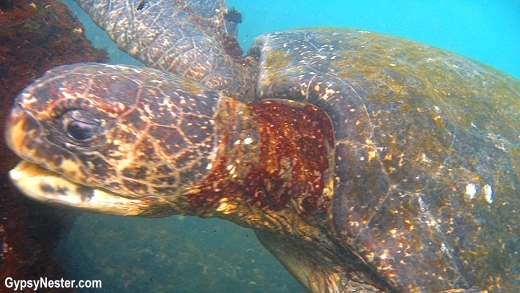 See more about what's going on underwater in The Galapagos!
While snorkeling, a guide will always be with you. We always had a guide in the water, leading us to, and pointing out the amazing sea creatures of The Galapagos. In addition, Zodiac boat teams stay close by to assist, watch over and provide a resting spot, if needed.
Many times, the captain of the Zodiac can spot a sea lion, turtle, penguin or marine iguana with his above-the-waterline advantage. If you decide to opt out of snorkeling you may ride along in the Zodiac.
If you've never snorkeled before, learn ahead of time. You don't want to miss out on this:
Or this:
David & Veronica, GypsyNester.com
Click here for our entire live-blog of our adventure in The Galapagos
Delve deeper:
See the incredible work done at Giant Tortoise Breeding Center
Check out the lsg
Cavort with Sea Lions!
The Birds of The Galapagos – wild!
The Underwater World of The Galapagos
People live in the Galapagos?

YOUR TURN: Are The Galapagos Islands on YOUR bucket list? Have we inspired you to go?