Half the awe and fun of The Galapagos Islands is underwater. The sea creatures are just as unafraid of humans as their counterparts on land. You will get up close.


Our first underwater animal sighting! A young stingray at Las Bachas Beach on the island of Santa Cruz.

A Marine Iguana, a species found only in the Galapagos, suns himself near the water's edge. Seeing one of these guys swim was HUGE on our Galapagos wish list!

Sally Lightfoot (grapsus grapsus) crabs crawl across the jet black lava. They are one of the 100 species of crabs on the islands.
Our first snorkel journey directly beneath Pinnacle Rock.
Just seconds from the shore of Bartolomé Island we spotted this Chocolate Chip Sea Star.

Next thing we knew, we were in the middle of a school of Yellow-tailed Surgeonfish, named for the scalpel-like scales along their tails.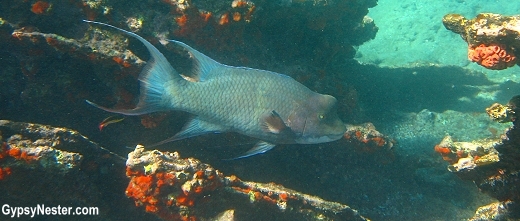 A white tipped reef shark scurried out from under a rock and we were in too much awe to snap a photo, but we did capture this Hog Fish.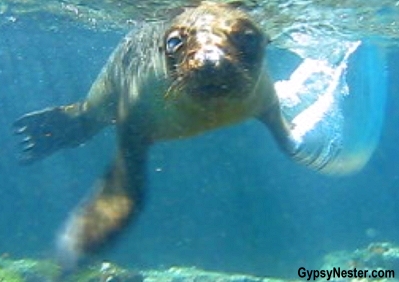 To avoid making contact with the adorable sea lions we found ourselves swimming backward from the more friendly of these creatures.
As hard as it was to keep from reaching out and petting one, we tried to keep in mind that a finger might just stay in the Galapagos if we did.
WATCH: Veronica is treated to several minutes of frolicking with a Galapagos sea lion.

(There's more! click here for all the amazing sea lion videos we shot on this adventure!)
See our full adventure The Galapagos!

Cruising between islands, a pod of dolphins joined us on our journey. They seemed to love riding on the surge of water that the ship pushed out in front… surfing the pressure wave.
WATCH: Dolphins frolic in the pressure wave of the Yolita II

Motoring deep into the mangroves of Elizabeth Bay on Isabela Island, we could see an unbelievable number of sea turtles swimming just beneath the surface, along with spotted eagle rays and a large school of mullets.
Since they were under the water's surface it was hard to tell what sort of hairstyle they were sporting.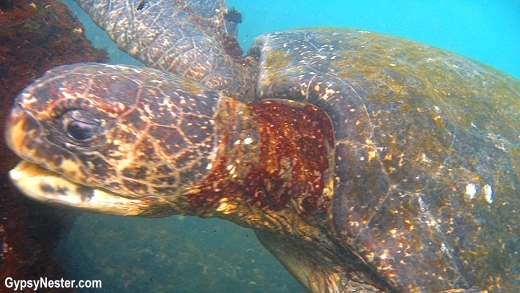 When we snorkeled out into Urbina Bay, also on Isabela Island, we found it swarming with huge Green Sea Turtles.
WATCH: Another exciting swim for Veronica – check out Green Sea Turtles – up close and personal!


Near Genovesa Island, we spied the crazy fast Galapagos penguin…

… and the more leisurely Spotted Eagle Rays.
See our full adventure in The Galapagos!

Off of the red sand beach of Rábida Island, we spotted amazing things – sea stars, surgeonfish, puffers, sergeant majors, angel fish, and a Blenny, "sitting" on the rocks atop his little fins.

YES! The Marine Iguana feeding under water — then swimming back to shore –really completed our Galapagos undersea experience.
WATCH: Marine Iguana feeding in the water!

As we were coming out of the water, a worried mommy sea lion called for her baby. When the baby finally arrives, they have a ridiculously cute reunion.
WATCH: Mommy and baby sea lion find each other!

(Want more sea lions? click here to find out the difference between a sea lion and a seal!)
WATCH: David explores all underwater Galapagos has to offer!

David & Veronica, GypsyNester.com
Click here for our entire live-blog of our adventure in The
Galapagos
Delve deeper:
See the incredible work done at Giant Tortoise Breeding Center
Check out the landscape of The Galapagos
Cavort with Sea Lions!
The Birds of The Galapagos – wild!
The Underwater World of The Galapagos
People live in the Galapagos?
Our tips for visiting The Galapagos Islands – including what to pack
YOUR TURN: Are The Galapagos Islands on YOUR bucket list? Have we inspired you to go?