WATCH: Veronica is treated to several minutes of frolicking with a Galapagos sea lion – UNDERWATER!
Of all of the fabulous animals in The Galapagos Islands, the one that made it hardest to obey the always-stay-six-feet-away-from-the-animals rule were the sea lions.
Sea lions, or lobos del mar (wolves of the sea) as they are called in Ecuador, have great personalities, are cute, cuddly looking and have no fear of humans (even underwater!).
Sometimes they seemed to be begging for a hug or a pat. But we also should point out that they have big sharp lion – or wolf-like – teeth. One look at those incisors and the six feet rule seems like a pretty good idea.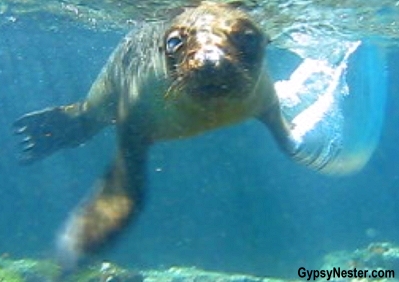 So to avoid making contact we found ourselves stepping and swimming away from the more friendly of these adorable creatures.
As hard as it was to keep from reaching out and petting one, we tried to keep in mind that a finger might just stay in the Galapagos if we did.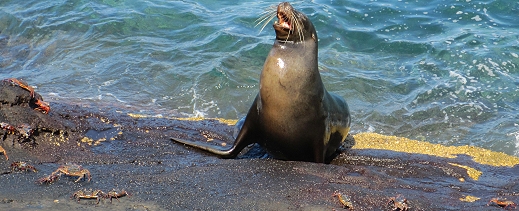 Prior to our Galapagos adventure we were unclear on exactly what characteristics distinguish seals from sea lions.
Though there are differences with their flippers, the easiest way to tell the them apart is by checking out their ears. Sea lions have external ear flaps, seals simply have holes on the side of their heads.
In addition to the hundreds of sea lions we came across, we were treated to a brief encounter with a Galapagos fur seal – actually a misnamed type of a sea lion – while riding along the cliffs of Genovesa Island in a Zodiac.
See our full adventure The Galapagos!
This guy looked more like a walrus than a seal lion and, with all of that fur, it was not easy to make the ear-flap-or-no-ear-flap call. So we'll have to forgive whoever misnamed them.
One warm afternoon we noticed a unique relationship between lava lizards and sea lions. When sea lions nap on the beach, they attract flies.
Lava lizards love to dine on the insects, and the sea lions apparently find the lizards to be less annoying than the buzzing bugs.
Very soon we have discovered why – David was bitten by a fly on this very beach – and it HURTS (no lasting problems, but really gets one's attention at the moment).

This sea lion decides to take a quick break on the swim platform on the back of our boat for the week, the Yolita II.
Several times we were enamored with sightings of sea lions sunning themselves on boats, including one that climbed aboard the back of ours, but our guide, Franklin, filled us in on why the fishermen of the region did not find this behavior nearly as cute as we did.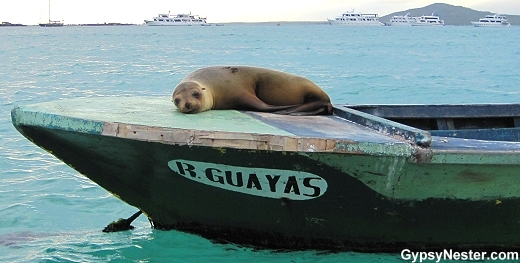 Many times, a whole herd will commandeer a vessel, and it is not rare for a boat to sink under their weight.
WATCH: Seal lions are so funny on land!

As lazy and cumbersome as sea lions seemed out of the water, once we donned our snorkels and fins we were able to see these guys in their element.
In the water they swim with ease, grace and agility.
The pups are like any children, they love to romp and play. Surprisingly even with us!
Several pups came face-to-face with us as if they were looking at their reflections in our masks. These brief frolics will go down as some of the greatest undersea moments in our lives.
WATCH: Mommy and baby sea lion find each other!

David & Veronica, GypsyNester.com
Click here for our entire live-blog of our adventure in The
Galapagos
Delve deeper:
See the incredible work done at Giant Tortoise Breeding Center
Check out the landscape of The Galapagos
Cavort with Sea Lions!
The Birds of The Galapagos – wild!
The Underwater World of The Galapagos
People live in the Galapagos?
Our tips for visiting The Galapagos Islands – including what to pack
YOUR TURN: Are The Galapagos Islands on YOUR bucket list? Have we inspired you to go?