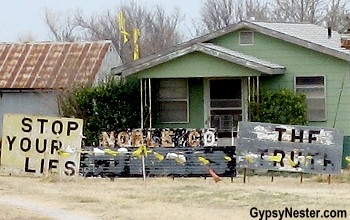 STOP YOUR LIES
NOBLE CO.
THE TRUTH
On a lonely stretch of John Wayne Road, about four miles outside of Perry, Oklahoma, David Nemechek has a bone to pick.
The Nemechek farm seems typical of the area, with one profound exception.
For the past forty years, Mr. Nemechek has used his freedom of speech in a most unusual way.
He has erected dozens of eye-catching signs protesting what he sees as a racial attack against his family of Czech descent "like done to the Jews – Czechs in WWII."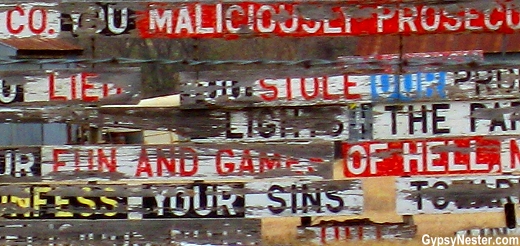 NOBLE CO. YOU MALICIOSLY PROSECUTED US /
YOU LIED, YOU STOLE OUR PROPERTIES /
_____ ____ LIGHTS, THE PARTY IS OVER /
YOUR FUN AND GAMES, OF HELL MUST STOP NOW /
CONFESS YOUR SINS, TOWARD US /
RELIGIOUS _____, ______, _____ A WITCH HUNT
These signs accuse Noble County, the entire county mind you, of "ethnical cleansing," "law discrimination" and the killing of his cattle.
These fascinating proclamations are fashioned in a haphazard manner, with mismatched colors, lines and letters, reminiscent of ransom notes hastily pasted together from magazine clippings.

Many painstakingly lay out dates and identifying numbers of the dead livestock, calling the perpetrators "bastards," "evil inbred German religious terrorists" and "liars."
WHY?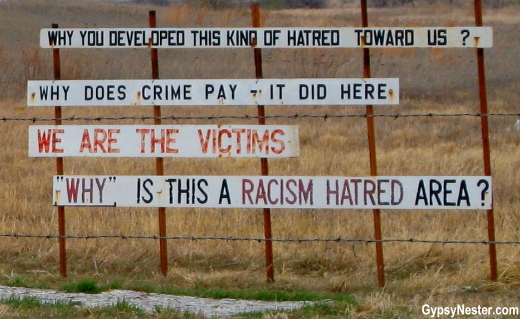 WHY YOU DEVELOPED THIS KIND OF HATRED TOWARD US? /
WHY DOES CRIME PAY — IT DID HERE /
WE ARE THE VICTIMS / "WHY" IS THIS A RACISM HATRED AREA?



WHY, YOU AND COM- MUNITY PROMOTING  YOUR NAMES AND DIRTYING OUR NAME, WHY?
Mr. Nemechek asks "WHY?" seemingly hundreds of times.
It seems that an attempt to answer at least one of the WHY?s was made at some point.
Mr. Nemechek must have been told that the cattle in question were infected with the Bovine Leukemia Virus (BLV), a common nemesis to ranchers in the United States, but he'd have none of that.
Evidently taking exception to this diagnosis, he insists that the cattle were killed by members of the community through one of his signs, shouting: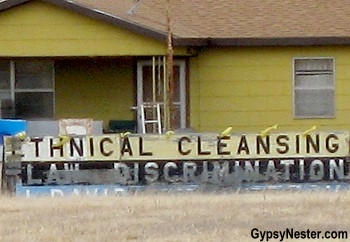 NOBLE CO. YOUR   STUPID MINDED RACIST HAVE / A RARE DISEASE B.L.V. IT STANDS FOR BULL S*** / SPREAD BY LIARS AND VICIOUS BASTARDS. THEY KIL- /
LED OUR CATTLE PURPOSELY – THEY CONVICTED US.
ETHNICAL CLEANSING
LAW DISCRIMINATION
The strange, yet eerily enthralling, display is not welcoming — as a matter of fact it's a bit scary and off-putting.
We had to do a couple of drive-bys before we gathered the testicular fortitude needed to pull over and hurriedly snap photos of Mr. Nemechek's manifesto.
Bopping up to his front door for an interview was most definitely out of the question.


IT'S RACISM
THEY GANGED UP ON US WRONGLY BLAMED US FOR ________
THIS  NEIGHBORHOOD WAS ________ FOR YEARS
Sadly, most of these unique works of art are fading away in the harsh Oklahoma sun.
Some of the signs are missing significant surface area, victims to the elements of the windswept prairie.
Perhaps their creator has just lost the fire in his belly.
We don't know what really happened out there in Noble County, but we genuinely hope Mr. Nemechek has gathered some solace in his signs.
David & Veronica,
GypsyNester.com