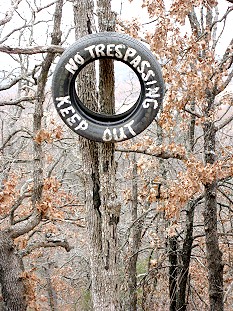 The journey to the "Creek County Frog" is an adventure unto itself. Was it that we in the area and thought we''d drop by? Could it be that we simply ADORE frogs and just had to see a really big one in rock form?
Or maybe it's that David has a more than unreasonable affinity for crazy quirky crap.
We're pretty sure that's it. Yeah, that's definitely it.
The sizable limestone amphibian lives smack dab in the heart of nowhere. The nearest settlement is Mannford, Oklahoma, home to a bit more than two thousand souls,  numerous Yeti and a number of genuinely spooky characters.
According to Wikipedia, the source of all knowledge, the Mannford area has a sizable Bigfoot population. Somehow we missed seeing them or we certainly would have some blurred, grainy pictures to show.
Another website is wholly dedicated to myriads of truly revolting ghost sightings. The accounts include "a badly mangled hunter dragging a dead wolf," "a seriously burned lady spotted glugging down blood from a jar," "an armed forces uniform walking around devoid of a body" and, our personal favorite, "a young lady with a cable around her neck was made out suspended in the air like a balloon," among the gruesome tales.
Makes one think that there are more ghosts than humans in Mannford.
Moonshine?
This would certainly seem to be the kind of place to steer clear of, but
alas, the Frog beckoned.
About five miles outside Mannford, we found ourselves on a backwoods road with no signage and one rickety mother of a bridge. Hesitantly (okay, Veronica may have threatened David with his life if he didn''t turn around right that minute, it's just a ROCK for God's sake), we crossed over, offered a silent prayer of thanksgiving and worked our way to Frog Road.
We were venturing into EPIC territory, the post-pollywoggal amphibian actually has its own road!
We passed by a home with an impressive life-sized ceramic deer family and an old commode in the yard (got to love some lawn ornamentation!).
Further on, suspended in the trees, old tires sported hand painted letters that read "NO TRESPASSING KEEP OUT." Undeterred, we arrived
at the Frog. (Note: If you get to the appliances dumped off into
the ravine, you''ve gone too far).
The Frog was a sight to behold. From high on his perch, he blankly stares out over his domain. We almost expected his brilliant white throat thingy to puff out with a loud croak.
Obviously, someone put a lot of love and care into the upkeep of the Frog, but we stood pondering whether it would have resembled a frog at all, if not for the paint job. After a great deal of study, we determined that the eye was the key to what made the impression work. If not for the eye, jutting unnaturally and majestically from the base, the formation would be just another big boulder on the edge of the road.
In awe, and wanting a closer look, we climbed the hill to look at Frog from all angles. He had been lovingly decorated all the way around his body and—HEY WAIT JUST A MINUTE MISTER!
The Frog is a FRAUD. On the back side, it was clear that his eye — the very essence of his froggly-ness — had been constructed from wood and concrete!
How many thousands of people have been duped by this counterfeit Croaker and the scheming people of Creek County? How could this BE? We felt like the MythBusters of weird crap on the side of the road. The truth
must be exposed.
Suddenly, an eerie pall came over us, our elation bubble popped. We felt
exposed, as if someone — no, someTHING — was watching us. Thoughts
of Bigfoot, wolf dragging hunters, blood glugging spirits, balloon ladies and empty army suits drove us to near panic.
What if the bridge collapses on our way out? Could the spirits be in cahoots
to protect the frog's secret from being revealed? Would we ever be allowed to get out with the secret of the Creek County Frog alive…?
David & Veronica,
GypsyNester.com