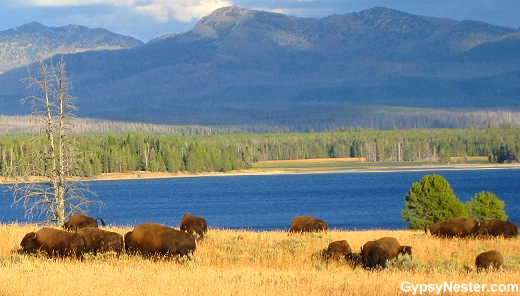 Buffalo at Yellowstone National Park
Whether you are a retiree or empty nester looking to enrich your life through volunteerism, an outdoor survivalist type wanting to get back to nature, or a college student looking to pump up your resume in a meaningful way, the Parks Service provides wonderful ways to help preserve America's natural heritage. And now is the time to prepare for next summer's adventure. Or if you can't volunteer, these great deals on Theme Park & Attraction Tickets will certainly come in handy.
From the National Park Service website:
"Volunteering is an American tradition that has made an immeasurable contribution to communities, organizations, and individuals throughout the country. Today's volunteers are active, dynamic, creative individuals who possess the skills, desire, patience, and time to accomplish a wide variety of tasks.

Volunteers-In-Parks are Very Important People (VIPs)! In Fiscal Year 2005, 137,000 volunteers donated 5.2 million hours to your national parks at a value of $91.2 million.

VIPs come from all over the world to help preserve and protect America's natural and cultural heritage for the enjoyment of this and future generations. Volunteers of all ages give of their time and expertise to help achieve the National Park Service mission."
What do volunteers do?
The opportunities are endless! Each Park has its own special needs — you may work in a gift shop, as a guide, caretaker, campground host, or at a research library. Help is needed clearing trails, maintaining vehicles and program development. Some locations have jobs assisting researchers with plant, animal and weather data or at archaeological sites.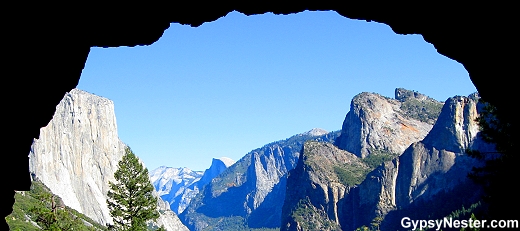 The Tunnel into Yosemite National Park
Where do volunteers stay?
Many Parks are isolated, so housing is provided for volunteers. Depending on the Park, volunteers accommodations include fully furnished houses, volunteer villages, seasonal homes, dorms, bunkhouses or RV and camp sites.
What is expected of volunteers?
In exchange for housing, volunteers work at least 20 hours a week. Some Parks ask for more, others allow splitting those hours between a couple sharing facilities. Volunteers are expected to attend training sessions to learn about the area they'll be working in. For us, that's an additional perk!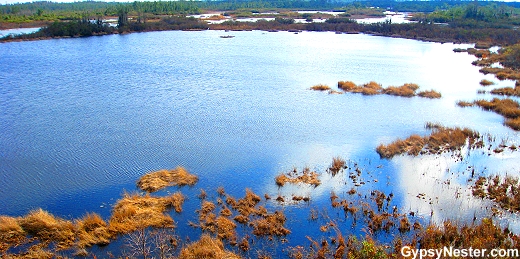 The Okefenokee National Wildlife Refuge
Where to get started
The National Parks Service has an online search of volunteer opportunities here: http://www.nps.gov/gettinginvolved/volunteer/opportunities.htm
Opportunities may also be found at Volunteer.gov:
http://www.volunteer.gov/gov/
A list of State Parks and volunteer information:
http://usparks.about.com/od/stparkvolunteers/a/stvolunteerlist.htm
Be sure to plan ahead. Volunteer opportunities are currently being posted at the sites above for upcoming summer positions.
WATCH: Kay, a veteran parks volunteer – and fellow GypsyNester – discusses how to apply, where one lives at the parks, what is expected of volunteers and, most importantly, why she does it!
YOUR TURN: Have we inspired you? Would you like to volunteer at a Park?