A big thank you to VBT Bicycling and Walking Vacations for providing this adventure where we can tour AND eat all the delicious food we want without worrying about the calorie count! As always, all opinions are our own.
Click here for part two of this adventure!
Where We're Headed and What We'll be Doing
After our successful bike tour of Sicily with VBT last year, we were itchin' to give a walking tour a go.
One of the finer aspects of an active tour like this is the ability to sample and eat incredible food without worrying (too much) about stepping on the scale when arriving back home.
We looked long and hard for the perfect pairing of spectacular scenery and incredible edibles—and believe we've found it!
A walking tour of the Basque Country of Spain (and a teeny bit of France) fit the bill. Seriously, melding Spanish and French cuisine—come on!
Chase us as we eat massive amounts of tapas (they're called pintxos here),  make a pilgrimage along the Way of St. James, sleep in a palace, storm a castle, pig out at a txoko (no apologies for the amount of eating we'll be doing!), hit the beach, visit the Sun King's crib and roam around Madrid!
DAY ONE: Walking Madrid
See more about our antics in Madrid here.
For a city of over three million people, Madrid is surprisingly walkable. That's good for us since we're considering our two days here to be a warm up for our walking tour of the Basque country.
Also good, the hotel that VBT has chosen for our extension, the NH Paseo del Prado, is right in the heart of the best that the city has to offer.
The famous Prado Museum is directly across the street, and just beyond that the Parque de El Ritiro.
We begin our jet lag fueled first day explorations in the park, wandering the tree lined paths until we come upon the Palacio de Cristal.
Just as the name sounds, this is a glass palace.
It was originally a greenhouse in this former royal retreat, but now plays host to an avant-garde art exhibit that includes a sinking Titanic and upside down Empire State Building.
The Plaza Cibeles is dominated by what must be the most spectacular city hall anywhere in the world.
Built as the headquarters for the postal service in 1919, the Palacio de Cibeles now hosts the city council in high style.
Hope those guys appreciate their digs.
From here the main thoroughfare leads us to the city's two main squares, Puerta del Sol and Plaza Mayor but first we take a slight detour down Gran Via, which Earnest Hemingway pronounces as a cross called Broadway and Fifth Avenue combined.
This is the high end shopping and entertainment strip and lives up to its name the Great Way.
Plaza del Sol is truly the center of town, actually for all of Spain, since it is where the mile markers begin for all roads in across the country.
It is also known for its statue of a bear and madrono tree, which has been a symbol of Madrid for at least seven centuries.
Just off the square we notice a churreria and recall our daughter, Decibel, describing the phenominal churros she had found on her trip to Madrid several years ago.
That was more than enough motivation for us.
Unlike the ultra-sweet donut–like versions we are used to, these are lightly fried crispy bread with almost no sugar.
A cup of melted semisweet chocolate comes for dipping and the result is subtle—yet out of this world.
With a little more walking under our belts, we decide to take a low-key tapas break on our way back to the hotel.
We have noticed that many places have water misting over their outside seating areas and it feels heavenly to escape the hot Spanish sun.
See more about our antics in Madrid here.
We opt for a combination plate of five tapas and take our chances as to what might show up. Classic Iberian ham, fish with garlic, crab, salmon, and some ridiculously strong blue cheese arrive and we are thrilled.
Well, maybe not so much with the blue cheese—perhaps our paltes aren't quite Spain-adjusted yet!
Oh, and we almost forgot, some of the best olives ever.
Time to sleep off the jet lag so we are ready to rock manaña!
DAY TWO: Following Hemingway's Footsteps in Madrid
Our big plan for today is to make like Ernest Hemingway and have lunch at Sobrino de Botín In addition to being mentioned in his novel, The Sun Also Rises, the restaurant is certified by Guinness as the oldest continually operating restaurant in the world. They haven't missed a meal since 1725.
To get ourselves in the mood for some serious eating we stop at the Mercado de San Miguel to browse the mouthwatering offerings.
This classic, covered market is over one-hundred years old and is a favorite gathering place for both locals and visitors alike.
It is all we can do to save ourselves and fight back to urge to try every tapa we see in the vast array of meats, cheeses, olives, breads, and seafood.
Quick, we better get to Botín! It is imperative that we have their signature dish, cochinillo asado—roast suckling pig.
After all, that's what Papa ate and wrote about.
Another specialty is sopa de ajo, a garlic soup laced with sherry and with an egg poached in the broth, and both are more than worthy of their fame and accolades.
For good measure, we also add some artichoke hearts with Iberian ham… unbelievable.
They must not have had this dish back in Hemingway's day or it would have deserved a whole chapter.
After an easy walk from the restaurant—we are here for a walking tour after all—brings us to the Cathedral de la Almudena.
This massive cathedral was built directly across from the royal palace in order to bring seat of the Church in line with the government but it took some time.
Even though the capital of Spain was moved from Toledo to Madrid in 156, it took until well into the eighteen hundreds to get started on the church.
It seems that the monarchs were too busy with their vast overseas empire to get around to allocating the funds until then.
Looking across the huge courtyard, it sure doesn't look as though they had any trouble finding the dough to build quite the house for themselves.
The Palacio Real is one of the biggest palaces in Europe and, even though it is the official residence of the Royal Family, they live outside of town and the palace is used for ceremonial functions.
As far as we are concerned, considering the afternoon sun and the stretch in our bellies, siesta back at the hotel is the only ceremonial function we are very interested right now.
But we did suck it up to peek at the Bullfighting Museum—only because Hemingway loved the sport. We abstain from it every chance we get.
Refreshed after siesta—so civilized—we head next door to the Palace Hotel, another of Don Ernesto's favorite haunts, and toast to Hemingway with a refreshing cava!
See more about our antics in Madrid.
DAY THREE: We're Among the Beautiful People of San Sebastián
Read more about our visit to San Sebastián.
We leave Madrid this morning to fly to Bilbao, and then drive on to the seaside resort of San Sebastián. We've made it to Basque Country.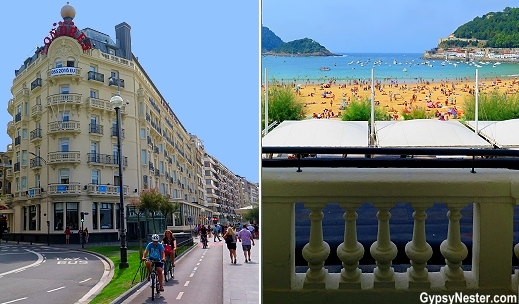 Our room at the Hotel de Londres y de Inglaterra  opens directly onto La Concha Beach…
…making for a view that is tough to beat anywhere in the world.
Figuring the beach can wait, we walk into the old town for a look around. First stop, the Ayuntamiento, or City Hall.
This stylish building was originally built in 1882 as a casino hall, where Europe's bourgeoisie and aristocracy came for parties during their summers in San Sebastián.
As we wander through the narrow passages of the old town throngs of fans are busy carousing after the morning's rowing competition.
It is among these revelers that we get our introduction to pinchos.
Pintxos, as is spelled in Basque, are a typical snack of the Basque Country and are generally made with small slices of bread topped with a mixture of ingredients.
A toothpick holds things together, which is where the name comes from, "pincho", meaning spike.
One thing we try is not spiked, but it can have a kick, pimientos de Padrón.
These pan fried peppers are to die for, and most are mild, but every now and then a hot one sneaks up on us.
As an added bonus, these are served with crispy, fried Iberian ham. Shut my mouth that's some good eatin'!
A late afternoon beach visit tops off our day, and it is almost the perfect way to end a day.
Until we experienced sunset, THEN it was perfect.
We feel like we are definitely rested and ready to begin our walking tour tomorrow.
See more of fabulous San Sebastian!
DAY FOUR: Hoofin' it Though San Sebastián
Today begins our official VBT walking tour, and we meet our leaders, Txaro and David, as we prepare for the morning's walk.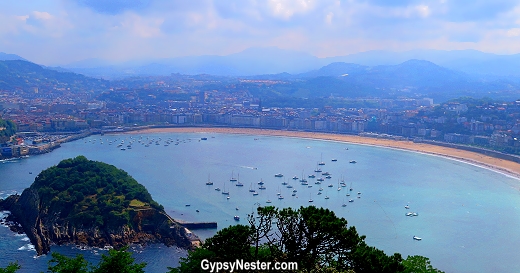 The plan is to cover the entire arc of La Concha Beach as we go from Mount Igueldo on one end, to Monte Urgull on the other.
Along the way we pass by the Palacio Miramar, which is the former summer residence of the Spanish monarchy but now is used for summer classes of the Basque University.
The palace was built in English style to give a nod to the help that the Brits gave in driving Napoleon out of the region, and the fact that the royal family was summering here helped turn San Sebastián into the popular resort that is today.
On the rocks at the base of Mount Igueldo we take a look at the Peine del Viento, which means the Comb of the Wind.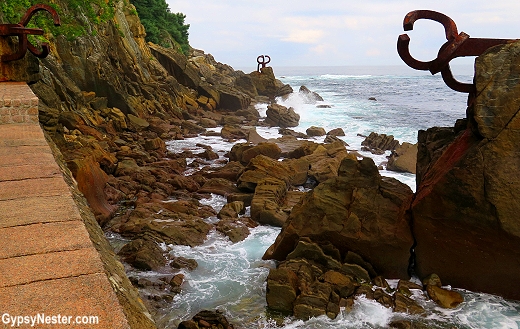 The piece was designed by local sculptor Eduardo Chillida to interact with the wind and waves, making sounds from their vibrations. Unfortunately—or perhaps fortunately—since it means we get to stay dry, the seas and breeze are too calm to create any resonances.
The easy way to the top of the mountain is by funicular, so we vote for that.
The old, wooden cable car has been ferrying folks to the summit for over a hundred years.
At that same time an amusement park opened up there and it remains one of the oldest in the Basque Country.
We take a turn on the little flume ride that skirts the top of the mountain, but the real attraction up here is the panoramic view of Donostia, the Basque name for the city of San Sebastián, spread before us with the Pyrenees as a backdrop.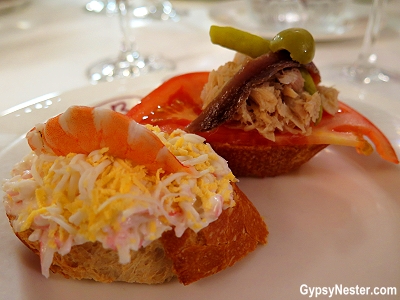 The return walk takes us past our hotel and into la parte vieja, the old city, where we seek the reward of some pintxos.
Txaro leads us into Bernardo Etxea and introduces us to the first of what we expect to be many great Basque meals.
We begin with typical pintxos, made with several varieties of seafood on bread, and are off to a fantastic start.
This is followed by salad, and then an assortment of vegetables that are prepared to perfection with garlic, shaved almonds, and the new must-have ingredient of our trip, jamón Ibérico, Iberian ham.
Feeling fortified enough to make the climb to the fortifications at the top of Monte Urgull, we set out again.
La Mota Castle dates back nearly nine hundred years to when it was built by King Sancho the Wise of Navarre, the founder of San Sebastián.
Along with its surrounding battlements, the fortress played a major role in defeating Napoleon's troops, so its place in history is held in high regard.
In 1950, in an effort to seize some of that good will, Generalissimo Francisco Franco commissioned a giant sculpture of the Sagrado Corazón, or Sacred Heart, to stand atop the ancient citadel. This has led to some mixed feelings among the residents, due to the overwhelming dislike of the deceased dictator in these parts, but the appreciation of the Christ statue overseeing the city.
This evening we truly kick the tour off with a welcome reception and dinner at our amazing accommodations, The Hotel de Londres y de Inglaterra and learn a bit about its storied past.
Queen Isabella II hid away here during a revolution in 1868, and a few years later King Amadeus I of Savoy stayed a while.
This was before it officially became the Hotel de Londres in 1902, but since then Henri Marie de Toulouse-Lautrec and the notorious spy Mata Hari have also been guests.
We're pretty sure (but can't be completely certain!) that Helen Mirren is one of our fellow guests (who'd ever thought we'd ever say that?). Otherwise, she has a eerie doppelganger. More sneaky stalking is necessary to confirm our sighting.
See more of fabulous San Sebastian!
DAY FIVE: From the Pig's Ear to the Horse's Mouth in the Basque Countryside

The sun rises over San Sebastian
This morning we are up and at 'em to get to the train station for a ride up into the mountains to Tolosa.
A typical commuter train takes us the half-an-hour trip to the town that once was the capital of Gipuzkoa, one of the three Basque Provinces in Spain.
This honor is now held by the much larger Donostia, or San Sebastián, that we just left.
Our walk through Tolosa reveals an historic old quarter of wonderfully preserved buildings lining narrow passages, until everything opens up along the bank of Oria Ibaia.
We follow the river for a while, looking back often for incredible views of the town behind us.
From the edge of Tolosa, we drive even higher into the Pyrenees.
Here we begin our journey up to a farm where the methods for raising pigs has remained the same for centuries.
These very special pigs, Euskal Txerria, are only found in the Basque region and the family we are visiting is integral in keeping tradition alive. And the pigs too, the other two indigenous pig breeds are now extinct.
These are free range pigs, allowed to graze at will. That's right, graze.
Left alone, pigs will happily graze on grass and they especially dig the nuts and acorns that fall from the trees.
One of the farm's owners, Maite, meets us at the barn and, through David's translation, she explains the entire process from piglet to pork products.  (We mean our group leader David translating, otherwise the interpretation might have been complete nonsense.)

While we listen, Veronica has basically adopted one of the piglets as her own. It's hard to argue with the fact that these two-month old guys are ridiculously cute.
From the barn we head inside the five hundred year old farm house for lunch.
Naturally pork is the star of the show, beginning with ham and two types of sausage.
Once again Maite describes the process, this time about the five years involved in producing the ham.
After a salad, a tray of pig's ear pintxos is thrust upon us.
Known as oreja a la plancha, literally grilled ear, this is a specialty across Spain, with the Basque version being a bit spicier than others.
Rather than serving it alone, this ear was allowed to join forces with peppers and anchovies on toasted bread, which was music to our ears.
Post lunch, we walk back down the hill to our lodging for the next two nights, the Iriarte Jauregia Hotel, just outside of the tiny village of Bidania.
We meet up with the proprietor, Iban Munoa, and hear the story of the hotel from the horse's mouth.
His family had been very influential in the area until all of their property was seized by the Franco regime and they had to flee to the French side of Basque country.
Once Franco was gone they could return, but without any of their previous possessions.
The family finally found this large manor house and moved in, and later Iban and his wife refurbished the old stone structure into the unique and elegant inn that we unexpectedly find today.
DAY SIX: The Day of Eating We Were Dreaming of
Our first order of business today is to meet Iban at the small parish church of Bidania.
It was built by his family before the civil war when they fled and at the same time, back in the late eighteen hundreds, his ancestors also built the first school that taught in the Basque language.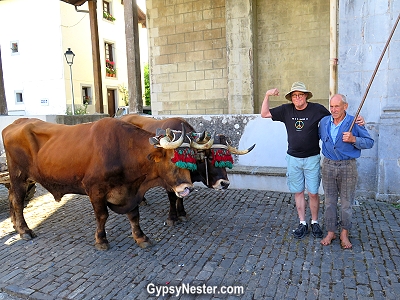 As a bonus, when we round the corner into the square we see a well-known and barefoot townsman, Miguel, exercising his oxen in front of the church.
He is keeping them in shape for an idi probak, which is Basque for oxen tests, a popular one of several Basque dragging games which are common throughout the region.
The game involves a team of oxen dragging an enormous chunk of rock from one side of a square to the other.
One of the stones is also in the square, however, this is a small one meant for a group of six or eight men to drag.
Entering San Bartolomé Church we are astounded, the humble exterior gives no indication of the elaborate interior we encounter.
The ornate alter is floor-to-ceiling covered in gold leaf and nearly knocks us off our feet.
Iban takes us through the entire church; even the behind the scenes areas such as the sacristy that lay people like us seldom if ever get to see.
We finish in the choir loft, which is unlike most in that it is designed for priests, or monks, to sit in a semi-circle to perform their chants, as opposed to a full choir singing to the congregation.
The time has come to walk again, and today we are excited to be heading even more off-the-beaten path and into the woods.
The trail takes us through the forest while our guide, David, regales us with Basque mythology.
First he tells us about Mari, the Earth Mother and creation force of Basque legend, but as the woods thicken we hear the tale of Jentil.
Jentil is a bit more disturbing beast—giant in size and covered with hair.
He lives in these mountains and likes to throw huge boulders to block men's paths, but is seldom seen by humans.
The woods are kind of creepy here and we are glad to report no monster sightings.
Having safely passed through the land of Jentil, we are ready for some lunch.
Today that means two of the Basque country's most iconic foods, Tolosa beans and sidra.
The beans, known as tolosako babarruna in Basque, are only grown in this area, and have been protected by the Spanish Denominación de Origen.
They are black, but turn purple when cooked, and are traditionally served with spicy ibarrako piparrak, pickled peppers from the neighboring town of Ibarra.
Sidra is more of an apple wine than our idea of cider.
In fact, that would be a pretty accurate translation of the name, sagardoa.
The pour is of utmost importance, it must be from high up and allowed to splash into the glass.
This gives the sidra a chance to aerate and bring out the fresh flavor.
Our walk today planted our feet on the Camino de Santiago, the Way of St. James (more on this tomorrow)…
… and our eyes on incredible vistas.
In what is turning out to be a day of food experiences, dinner tonight is specially prepared for us at the award winning Bailara Restaurant at our hotel, Iriarte Jauregia.
Their goal is to use local products from nearby orchards and farms as much as possible and combine Basque tradition with innovative new ideas.
The appetizers are phenomenal, seared tuna on a bed of amaranth with honey and mustard, duck tacos, and shrimp cookies served with avocado cream.
Our entrées of hake with Basque green sauce and Iberian pork cheek with oyster sauce and smoked shinkinbushi were outstanding as well.
But as we seem to be learning here in Spain, the small bites are often the best.
Continue here for part two of this adventure!
David & Veronica, GypsyNester.com
See more about our antics in Madrid.

Read more about our visit to San Sebastián.
See more about the Camino de Santiago.
See all of our adventures in Spain.
A big thank you to VBT Bicycling and Walking Vacations for providing this adventure where we can tour AND eat all the delicious food we want without worrying about the calorie count! As always, all opinions are our own.