A trip to The Galapagos Islands is guaranteed to make a birder out of anyone. The sheer numbers, and just plain strange features that isolation has brought upon these fabulous creatures would have been enough for us. Couple this with fact that we spent more effort backing away from them than trying to spot them – these birds have absolutely zero fear of humans – and we were instantly hooked!
WATCH: It's not enough to see them, you have to hear them! And the sheer numbers will astound you.


A Red-footed Booby and a Nazca Booby watching over their eggs
Genovesa Island has been nicknamed "The Bird Island" and that moniker is certainly fitting. Considering the proliferation of the red-footed and Nazca varieties of boobies, booby island was likely the original idea for a nickname… someone must have thought better of that nomenclature.

Even when they block the trail, don't touch the boobies!
There is a six-foot boundary rule for all animals on the islands. As humans, it was our duty to keep that distance.

A baby boobie. Like a puppy, this little cotton puff needed to grow into those feet!
See our full adventure The Galapagos!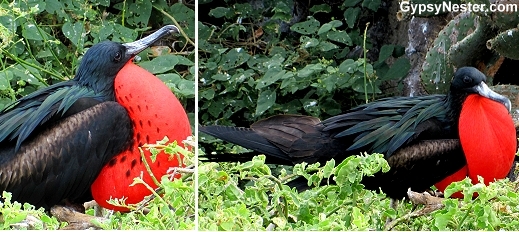 Male frigates doing their version of the singles bar scene. What girl could resist a bright red inflated gular sac like that?

A female frigate gets a bit frisky! And these two weren't even sporting red gular sacs – go figure! We were the only ones that remembered we were holding cameras.

Short-eared Owl enjoying lunch
A major highlight of our bird hike on Genovesa had to be when we spotted a Short-eared Owl eating a freshly captured Storm Petrel. These rare owls are diurnal, meaning they hunt during the day, and are the only owls known to exist that exhibit this behavior.
A zodiac ride along the cliffs of Genovesa Island beside the towering rocks afforded us intimate encounters with Red-billed Tropicbirds sporting their crazy-long tails.

Frigates were our constant companions. Dozens glided above our ship every day as we sailed through the islands.
See our full adventure The Galapagos!
Spotting one of Darwin's famous finches, the guys that started the evolution craze, was especially exciting when hiking up to Darwin's Lagoon. We got to see his house too.
We spied a Flightless Cormorant eating a Tiger Snake Eel. In the blink of an eye (but sadly, not of a camera lens) a pelican swooped down and, after a mighty tug-of-war, stole the cormorant's prey and took it to the sky. Talk about wild kingdom!
Click here to see our entire Galapagos adventure!
In a huge stroke of luck (and thanks to the amazing eye of our guide) we caught a glimpse of the tiny, extremely elusive Vermillion Flycatcher on a hike up to the caldera of Volcán Sierra Negra.
Taking a dingy into Elizabeth Bay, we immediately came upon dozens of Galapagos penguins diving and frolicking beside us while hunting for their breakfast. These are the only penguins that live in the tropics.

Galapagos penguins swim with lightning speed!
See more about what's going on underwater in The Galapagos!
Elizabeth Bay also provided our bird-watching missing link – the Blue-footed Boobie. Our trip would have felt incomplete without a sighting of this grade-school-giggle-inducing creature.
Click here to see our full adventure with Road Scholar – a not-for-profit organization – through Ecuador, Peru, The Galapagos Islands, Machu Picchu and much, much more!
David & Veronica, GypsyNester.com
Delve deeper:
See the incredible work done at Giant Tortoise Breeding Center
Check out the landscape of The Galapagos
Cavort with Sea Lions!
The Underwater World of The Galapagos
Our tips for visiting The Galapagos Islands – including what to pack
See our full adventure The Galapagos!
YOUR TURN: Are The Galapagos Islands on your bucket list?