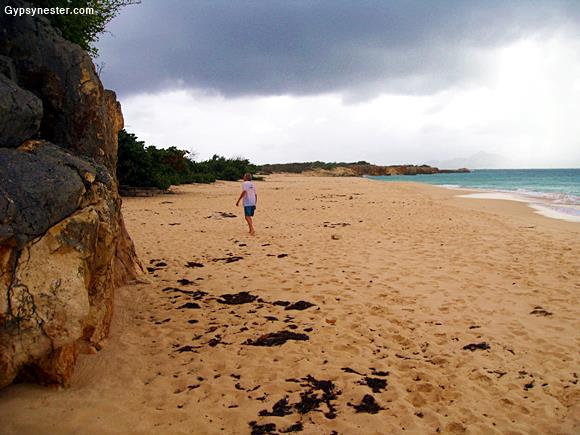 We have been to Saint Martin several times over the past fifteen years or so, but when we visited with Dream Yacht Charters last November we were surprised by something totally unexpected… an entire island that we had never heard of.
Hiding in plain sight, just off the Northeast coast of the French side of the main island, we discovered, or more correctly our exceptional captain Serge brought us to, the uninhabited yet indubitably captivating Île Tintamarre.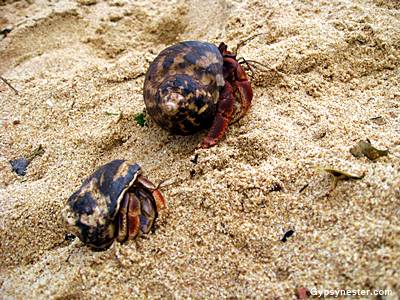 Our limited fluency in French linguistics led us to speculate on the name had something to do with the color of the sea, but we were way off. For no apparent reason the island seems to have been named for an old Acadian French word concerning making loud noise.
After going ashore, we learned that was only one of several oddities about this island.
Being so close to one of the Caribbean's most modern islands meant that we had flawless cell service, so we could whip out our phones and
Google on the go while exploring… so Google we did.
After some brief spelunking in a seaside cave on the beach where we made landfall, and an encounter with several of the island's seemingly infinite population of hermit crabs, we made our way inland to see if we could find some traces of the stories we had found online.
The island's history could best be described as quirky, which pairs perfectly with its topographic peculiarities. Unlike its much larger and mountainous nearby neighbor, Tintamarre is virtually flat. This feature influenced two unusual periods in the island's past.
The first began in 1902 when Diederik Christian, a Dutch noble who owned the island, came to establish a plantation.  Although his main motivation seems to have been to escape taxation, he did manage to build an operation that included some 150 workers and had some success growing cotton and raising livestock.
We found a few ruins left behind from the farming activity, mainly a gate and stone fences, but there are still the remnants of a few buildings too.
He also might have been a little loco, because before long he established his own currency and ruled the island as a self- appointed monarch. Either imperial ruling, or perhaps the seclusion, must not have agreed with him, because by 1931 he sold the island to L. C. Fleming and returned to his estate on Saint Martin.
Guess he figured paying the taxes was worth it.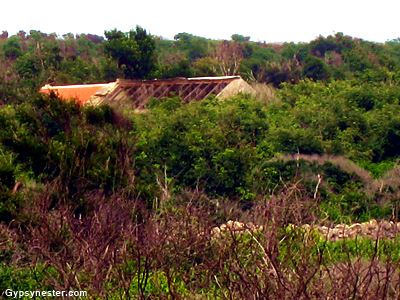 At this point France reclaimed the territory, which led to another unusual occurrence. Since the French Caribbean islands fell under control of the Vichy government during World War II, Tintamarre became a safe haven for Nazi submarines.
Seems the U-boats would rest on the shallow bottom just off shore while recharging their batteries and stocking up on fuel and provisions.
Not long after the war the second flat land inspired era began. An eccentric aviator by the name of Remy de Haenen rented the island and created an air traffic hub of sorts. He also may or may not have been involved with selling supplies to the German subs.
Once again the level ground contributed to the project by making the clearing of an airstrip an easy undertaking. After picking up some surplus military planes and a flying boat from PanAm, by 1946 Remy had his airline, Compagnie Aerienne Antillaise, up and flying.
Unfortunately, the pioneering flight service encountered three severe accidents in 1947, setting it back drastically. Then a huge hurricane in 1950 did it in once and for all.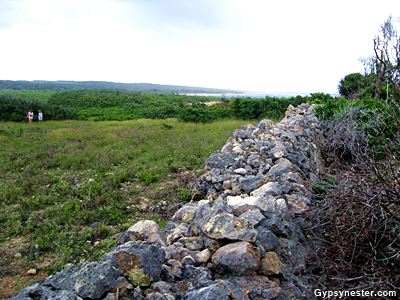 While nearly no trace remains of the airport, we had very little trouble visualizing the runway cutting through the overgrown island bush as we walked across the Western end of the strip.
There is one last oddity that Île Tintamarre has been known for, mud baths. Somehow rumors spread that the messy muck along the southern shore had healing powers and folks began to flock to it. Adding to its fame was the fact that most chose to shed all of their clothing for the experience.
However, a few years ago the French authorities proclaimed the goop poisonous and banned the public from partaking in its dubious health benefits. While many ignore the directive, we chose to heed the warning and head back to the boat.
We felt quite confident that an evening aboard would be every bit, if not more beneficial than wallowing in the mud.
That, and dinner was waiting.
David & Veronica, GypsyNester.com
Read more about our sailing adventure across the Caribbean here:
Look out below! Holding Our Breath Beneath the BVI
The British Isles… Virgin That Is
Catamaran Cruising the Caribbean 
A big thank you to Dream Yacht Charter for providing this adventure. As always, all opinions are our own.