A big thank you to Dream Yacht Charter for providing this adventure, as always, all opinions are our own.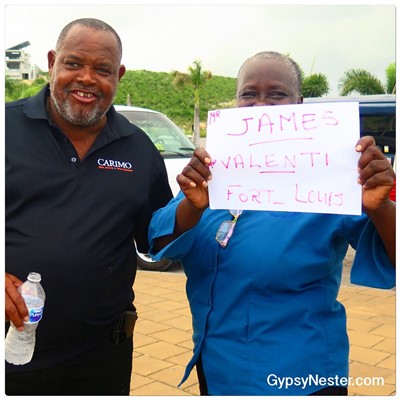 As soon as we stepped off the plane in St. Martin we felt at home.
The warm tropical breeze filled our senses and immediately took us back to when we lived on St. Croix in the US Virgin Islands. Having spent nearly a decade down here, we have learned a few things about the Caribbean.
One is that often the best places to visit are not the ones that are easily accessible to most tourists. If you come on a cruise ship you are likely to miss many of them as you hurry from one major port to the next.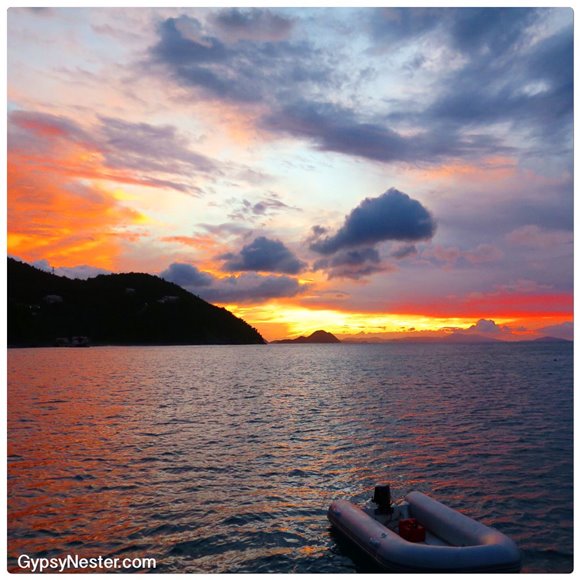 Our itinerary for an eight day jaunt across the British Virgin Islands and St. Martin aboard the sailing catamaran Dream Canouan included stops or overnight anchorages at several out of the way places such as Jost Van Dyke, Sandy Cay, The Baths on Virgin Gorda, Anagada, the caves at Norman Island, and Grand Case, none of which are even remotely possible to reach on larger ships.

A few of these are some of the most prominent points of interest in these islands. We woke up our first morning at the Baths, where stunning rock formations of gigantic stones rise above the surface of the water, and quickly learned that beneath the waves can be every bit as fascinating.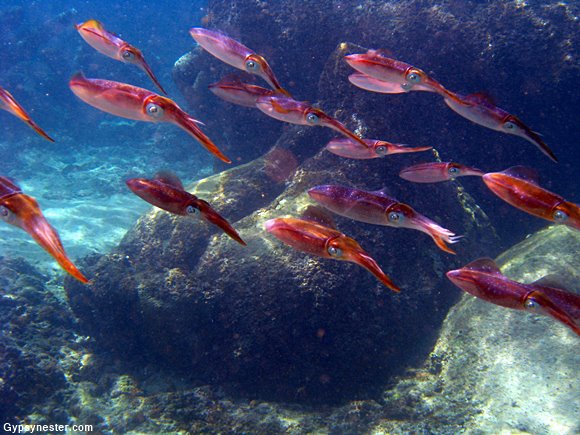 Snorkeling between the massive boulders, we found many of the colorful tropical fish that we remember from our days of living down here, but also came upon a school of squid. Never having seen them other than on a plate, we were mesmerized by their neon colors and effortless flowing motions.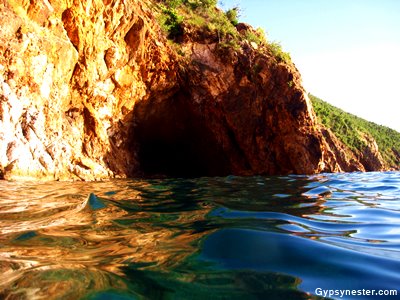 We spent that night at the legendary pirate hideaway, Norman Island. Without a doubt pirates did use the island as a base, but whether the stories of hidden treasures that have been found in the past, or might still remain, are less certain.
Didn't matter to us, we were thrilled at the prospect of discovering natural riches beneath the sea in the caves of in Privateer Bay, then enjoyed the added bonus of a swimming circumnavigation of the rocks known as The Indians on our way to the next stop, Jost Van Dyke.
An unexpected surprise awaited us there, because we met perhaps the BVI's most renowned citizen, Philicianno Callwood, better known as Foxy. In 1968, with an eye to the future of sailing yachts coming to on his idyllic island, he opened Foxy's Tamarind Bar.
We first learned of Foxy's while living on St. Croix, as their Old Year's Night Celebration (that's New Year's Eve outside of the islands) was legendary across all of the Virgin Islands and throughout the Caribbean, but never made it over.
During our afternoon anchorage, we were lucky enough to sit a spell with the man behind the legend and he most certainly did not disappoint. After cordial introductions he regaled us with tall tales and bawdy ballads in the style of a true troubadour.
His welcoming manner and humor made it clear why his fame has spread far and wide over the past half century; even Queen Elizabeth of England is a fan and awarded him with the MBE (Member of the British Empire).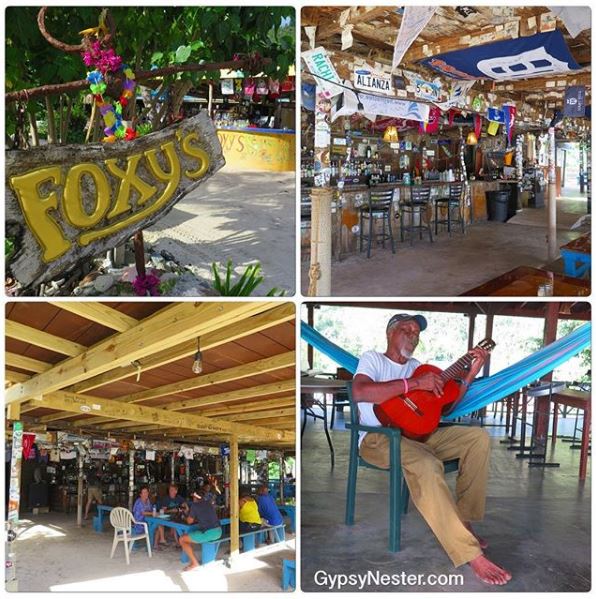 The establishment was certainly impacted by last year's hurricanes, but escaped the worst of it and is up and running in full swing. Recovery was no doubt easier for open air structures such as the many beach bars and restaurants that dot the coasts of these islands than for some of the more substantial buildings.
Foxy showed us where his family's homes had been damaged, yet the resilience of these islanders was inspiring to see. Throughout the BVI we were not only impressed by that, but also by the same warm and welcoming spirit that he exuded in almost everyone we met.
The following morning found us offshore of an uninhabited dot of sand known as Sandy Cay. For modern folks such as us, it was an extremely rare opportunity to visit a place where absolutely nobody lives. For some reason the theme song from Giligan's Island kept popping into our heads.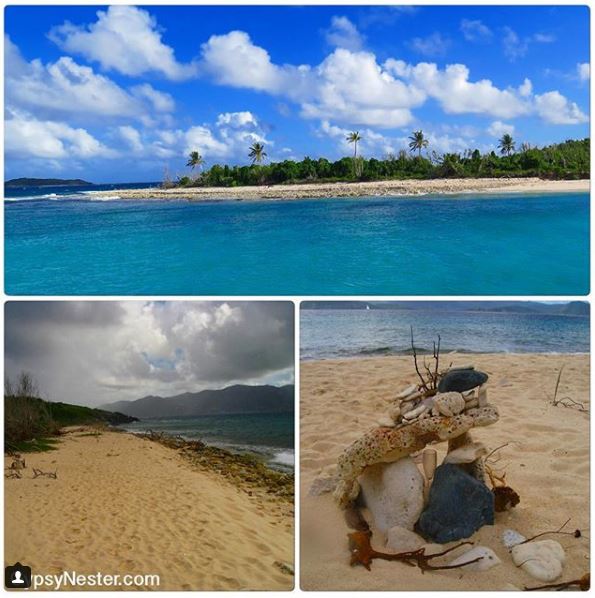 Fortunately, no storm and no stranding was involved, but we did find an odd monument left behind. Perhaps some stranded castaways had been here.
For a change of pace, and scenery, we made our next call at Anegada. This island is geographically completely different from its sister Virgin Islands since it is a flat, choral atoll. The reef that formed it continues off of the southeastern tip as Horseshoe reef.
This is the largest in the Caribbean and forth biggest in the world, but unfortunately we didn't get to snorkel it because is also the lobster capitol of the region. We arrived during the season, meaning the reef is off limits to everyone but fishermen.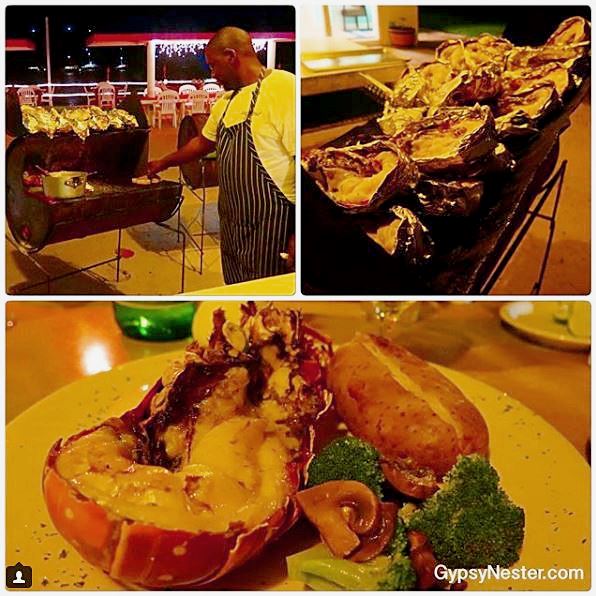 It also meant that an abundance of the delectable crustaceans were available for consumption. We took the dingy in for a dinner of incredible fresh seafood and more of the hospitality that we experienced from nearly all of the British Islanders that we encountered.
On our way back to Saint Martin, we passed by the private islands, Necker and Eustatia, owned by Virgin Records and airlines billionaire Sir Richard Branson, and Google mogul Larry Page respectively.
We have to say that we now understand the desire to own your own secluded piece of paradise better than ever. Still, all in all we'd rather be seeing it from a boat.
The only bad part of the trip was having to put shoes back on at the end.
David & Veronica, GypsyNester.com
See more of our amazing trip here.
A big thank you to Dream Yacht Charter for providing this adventure, as always, all opinions are our own.