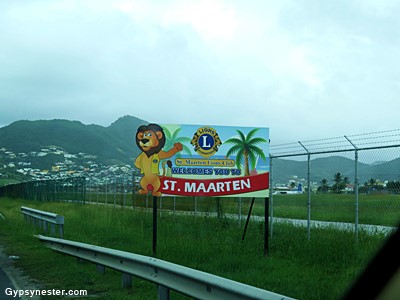 Sometimes a split personality isn''t necessarily a bad thing. In the case of St. Martin, the schizophrenia can be crazy, but hey, crazy can be good.
Sint Maarten/Saint Martin is the smallest island in the world that is governed by dual sovereign states, divided nearly equally between France and the Netherlands. While certainly Caribbean, the old world character traits have remained uniquely preserved.
The French side is laid back, but intense about fine cuisine while the Dutch side is fun-loving and focused on nightlife.
It's like a miniature tour of northern Europe. Add the numerous other little islands so close that you can see everyday life on them and it's an inspiring place for a GyspyNester.
We were literally itching with the exploration bug. But exploring the neighboring isles would have to wait for another time. This visit was a celebration of just 25 hours. One for each year of our marriage.
We checked into our hotel on the Dutch side, a huge complex of high-rise rooms, swimming pools, eateries and a few too many love-handled speedo guys. Not exactly our cup of tea, but very posh and a befitting change of pace for our celebration.
Usually we try to stay a bit lower to the ground. After sundown, we hailed a cab and headed out for Grand Case on the French side—with our taxi driver Matt at the helm.
Matt' is the man—! A veritable treasure trove of local information. He answered all of our queries with humor and honesty. We found out gas is cheaper on the French side, but is too "light" (low octane) for his taxi.
We were also heartened to learn that we could ship one of our daughters to the French side, doll her up and have her find a nice man. Once they are married, she can hen-peck him until they move themselves and our beautiful grandchildren to Paris and buy a villa with a guest room for us.
Find Matt when you visit, he's a true artist, a chuckhole dodging Botticelli, a master. He knows stuff.
The border between the two countries of the island is in a fairly remote area—the best way to tell that you've crossed over is that the road immediately changes from a typical tropical island pothole laden mess on the Dutch side to icy smooth on the French side. No gates, no guards, no problem.
With our back-roads tour of the island behind us, (Matt knows the short cuts) we arrived at the little French village of Grand Case. A goal of ours is to moor a boat off the shore of this wonderful little area and proceed to gain 20 pounds. There were so many wonderful restaurants packed into the quaint, narrow streets it is a Herculean effort to choose just one. But, alas, we had just the one evening.
We decided on L'Auberge Gourmande, a lovely gem among a glittering tiara of deliciousness. Highlights were a epic scallop swimming in an asparagus soup, monk fish with wasabi mashed potatoes, and an amazing array of chocolate for dessert—white mousse and hot baked fondant.
If you looked up hot baked fondant in the dictionary, it would read "Molten chocolate cake with orgasmic properties." Each plate had those wonderful French touches—a flower of caramelized shallots, dots and dashes of sauces and spices, and pools of butter, butter, butter. A bottle of Pinot Gris, "Les Maquisards" Domaines du Château de Riquewihr, created a nice counterpoint to the nose-stinging wasabi.
After coffee Matt was waiting for us, as advertised, and we headed back to the Dutch side to wander the pleasantly garish Maho Bay area of neon, casinos and entertainment galore.
The next morning we took a stroll (note that we didn't say romantic stroll) along Tortuga Beach, and spent some time dodging aircraft. Tortuga beach is directly under the flight path of landing aircraft.
It's a constant barrage. The beach is literally the last thing a pilot sees before the beginning of the runway.
Before we are judged too harshly, we are fully aware how cheesy this touristy diversion is but the cheesiness is totally beaten down by the sheer awesomeness of it.
Here's how it's done: Lay on the warm, white Caribbean sand, position yourself under a jumbo jet filled with Canadian tourists and get doused with waves whipped up by the jet wash. Try it sometime — then dare to judge us.
Here's hoping that every one of our anniversaries will include a rush like this. Next year, who knows?
But no doubt we'll find a way to fill those 26 hours no matter where we are.
David & Veronica,
GypsyNester.com