Thanks to Road Scholar for providing this lifelong learning adventure through the Canadian Maritimes! As always, all opinions are our own.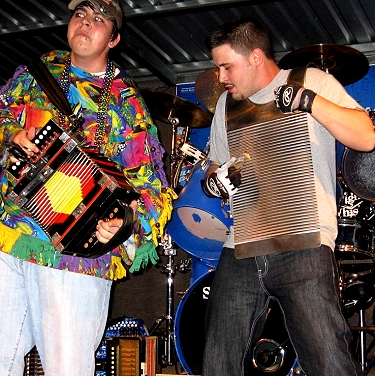 Since our first trip to South Louisiana, over two decades ago, we have been enamored with Cajun culture.
We have returned numerous times to enjoy the food, music, landscape, and people of this unique region. They work hard, play hard, and stay deeply connected with family, friends, the land and their history.
There is something quintessentially southern about the Louisiana bayou country known as Acadiana, so it seemed strange that we would go north of the U. S. border to discover its roots and origins.
The Cajuns' ancestry traces directly back to Canada's Maritime Provinces, so there was no better place to begin our investigation than in Nova Scotia at the Grand-Pré National Historic Site. It was along this coast on The Bay of Fundy that the first French settlers to come to the new world arrived in 1605, before any arrived from England.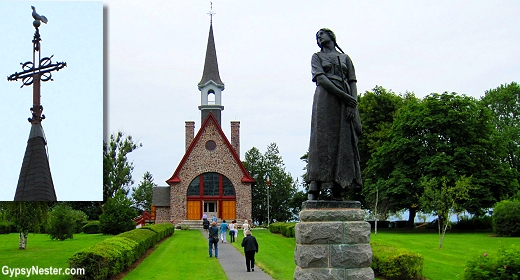 Through the 1600s the colony became known as Acadia, or Acadie in French, and grew to cover all of Nova Scotia, as well as parts of New Brunswick and Prince Edward Island.
The name is thought to stem from one of the earliest maps of North America, when explorer Giovanni da Verrazzano labeled the entire Atlantic coast from Virginia northward as Arcadia.
The theory is that the R was dropped at some point, or possibly the name is from Samuel de Champlain, who founded Quebec City and New France in 1608, and called the coastal French territories La Cadie.
As we entered the Visitor Center we noticed a display demonstrating how these colonists reclaimed the salt water marshes, rather than clearing the forests. By building an ingenious series of dykes and canals they converted the once useless swamps into fertile farmland.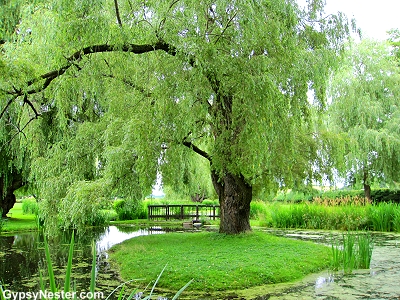 More than anything it was that skill that set the Acadians apart from the other French settlers that soon followed and populated Quebec.
Though they were joined by language and ancestral homeland, they remained distinctly different, and do to this day.
The Center overlooks a vast plain of this reclaimed land, and as we walked the impeccably maintained grounds of the Grand-Pré National Historic Site, we came to understand the significance of this area and the events that took place here.
It's no wonder Henry Wadsworth Longfellow chose this as the setting for his epic poem Evangeline.
The story, while fictitious, describes the plight of the Acadians in intense, personal terms, through the eyes of lovers, Evangeline and Gabriel, who were torn apart by circumstances beyond their control.
The poem came to be regarded as a classic, and because of it Grand-Pré has become central to Acadian and Cajun legend and lore.
Both the author, and his heroine Evangeline, are honored with statues at the Historic Site.
See our entire journey through the Canadian Maritimes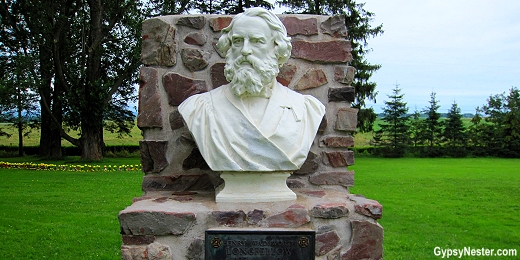 The tale takes place at the culmination of years of conflict between the English and Acadians after British control of the colony began in 1710.
Many of the Acadians were not content to accept foreign rule, most simply desired to remain neutral in the ongoing hostilities between Britain and the rest of New France.
Some others engaged in guerrilla warfare against the English.
By the mid-1700s all were required to sign an oath of allegiance as England began to dominate, and demand loyalty to the crown from the vanquished Acadians.
But many refused, arguing that they wished to stay out of the struggle for control of The New World.
Some fled into the wilderness areas of Cape Breton and New Brunswick, while others escaped to Quebec, but thousands were forced to leave Acadia in what became known as Le Grand Dérangement, the Great Upheaval, or Great Expulsion.
The deportations took place over several years, and from a number of locations, but Longfellow likely chose Grand-Pré as the site to be immortalized since it was the first place where thousands of Acadians had their possessions confiscated, their homes and farms burned, and were shipped south to the American colonies.
The refugees were not welcome there either, so they were sent away and scattered across the globe, winding up in Europe, Haiti, The Falklands, Saint Pierre and Mequelon, and Guyana.
See more photos and info about Port-la-Joye/Fort Amherst
Later more Acadians were deported from all across Acadie and sent directly to Europe, with as many as half dying on the voyages.
We had the chance to visit and learn about several of these other sites in our travels throughout The Maritimes, including Port-la-Joye on Prince Edward Island, the Fortress of Louisbourg on Cape Breton Island, and Fort Beauséjour near Grand-Pré.
See more about beautiful, red-cliffed Prince Edward Island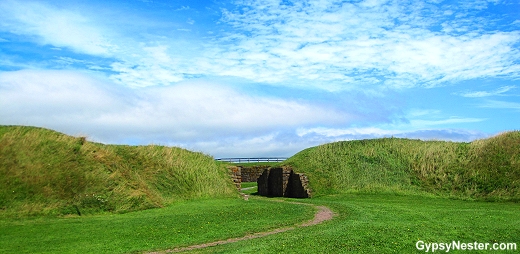 Fort Beauséjour in New Brunswick
After years of exile in foreign lands, some Acadians managed to assimilate into their new surroundings, some found their way back to Canada, and many ended up migrating to Louisiana.
That is where the story of Evangeline continued, as the lovers arrived there separately, unbeknownst to each other. They spend the rest of their lives searching across America for one another, with their paths coming agonizingly close, but never crossing until too late.
See more photos and info about Port-la-Joye/Fort Amherst
Even though it was written one hundred years later, Longfellow's masterpiece served to enlighten the world to the tragedy of Le Grand Dérangement, but perhaps more than anything it helped connect the Cajuns to their Acadian roots.
A fascinating bridge that spans a continent from south to north.
David & Veronica, GypsyNester.com
Delve Deeper:
Explore Cajun Country in Louisiana with us!
Discover Port-la-Joye / Fort Amherst
See our entire adventure in The Canadian Maritimes
See all of our adventures in Canada
Thanks to Road Scholar for providing this lifelong learning adventure through the Canadian Maritimes! As always, all opinions are our own.