The unexpected surprises that lurk around the next corner are one of the things that can make travel so interesting.
Boy, did we get one of those in the mountains of northern Georgia when we came upon the old fashioned Bavarian village of Helen.
Tucked into a valley on the banks of The Chattahoochee River, we suddenly found ourselves driving through an anachronism of epic proportions. Every building, down to the gas station (and tattoo parlor), looked like Heidi ought to walk out the door any second.
Two thoughts leapt to our minds… how did this happen, and I'll bet we can get a good bratwurst.
Our initial theory on the first point was that a bunch of immigrants must have moved here long ago and, because of the isolation, the town took on characteristics of their native country. We'd seen similar situations before, in Holland, Michigan and Solvang, California, but that's not what happened here.
Helen began as a mining town when gold was discovered in them thar hills back in 1828. After the gold dried up, timber was king and a huge sawmill dominated the town.
But during the depression that went bust too. By the sixties, ghost town status seemed eminent. Then, in 1968, some local businessmen had a big idea to remake the entire town into an alpine Bavarian village. The next year a zoning law was passed.
Their gamble paid off as Helen now hosts over a million tourists a year.
A huge portion of those visitors come in the fall for Oktoberfest, which has been celebrated for forty-two years.
The holiday season is becoming quite popular too, with a Christkindlmarkt, a parade, and The Festival of Trees.
On the warm December Saturday that we arrived, the Christkindlmarkt — an open air Christmas market tradition that began in Germany and Austria over five hundred years ago — was swarming.
See more about the history of Christmas markets and our explorations of these markets around the world!
After a bit of browsing it seemed like a good time to check on the other of our two thoughts, bratwurst.
Across from the market, overlooking King Ludwick's Biergarten, we found the Old Heidelburg, an excellent replica of a typical Gasthaus.
With a quick scan of the menu we put in an order for a couple sausages, sauerkraut, and some potato pancakes.
As wrong as we were with our initial theory about why Helen looks like a hamlet in Deutschland, we were right about our likelihood of finding a bodacious brat.
Oh, yeah, and the pancakes were delicious too.
Whilst chomping away, we discussed a couple of curious attractions involving animals that we had noticed on our first pass through town, and decided they were both on our after lunch "must see" list.
Since the Black Forest Bear Park was right down the street, we headed there first.
Note: We've been notified that this "attraction" has closed.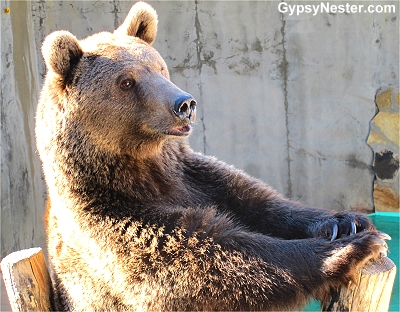 After forking over five dollars each, we were told about the different types of bears in the "park," black, Asian, cinnamon and even grizzlies (grizzlies!), then were pointed in the direction of some stairs.
At the top there were plates of apples and bread for feeding the bears, one dollar each please. We grabbed one and walked over to look down into the bear enclosures.
This was hardly a park, bunker would be a better term.
While it was interesting, and likely the only chance we'll ever get to feed a full grown grizzly, there was an overall pitiful air to the place.
In their defense, the park has rescued orphaned and injured wild bears, and the animals seem well cared for, but seeing these massive creatures confined to concrete cells and reduced to begging tourists for a morsel of food didn't feel too good.
And it certainly didn't conjure up any visions of Germany's famous Schwartzwald.

Click here to enlarge photos and more about Black Forest Bear Park
Looked like if we wanted to get some real forest time we would need to head out of town.
Lucky for us Anna Ruby Falls is just a few miles up the road.
From the visitor center it is a half mile hike, through a real
forest, up to the beautiful twin waterfalls. Cascading down Tray Mountain, Curtis Creek drops one hundred and fifty-three feet and York Creek falls fifty before they join at the bottom of the cliffs to form Smith Creek.
Along the trail we found an incredible examples of the tenacity of life.
This tree was not to be denied by a minor detail like a lack of soil, so it grew to full size from within a crack in a boulder.
Amazing.

Click here to enlarge photos and more about Anna Ruby Falls
We had high hopes that the second of the animal acts would be more uplifting than the bear exhibit. It seemed likely since these critters were alleged to be living the high life as Goats On The Roof.
When we pulled in and checked the top of the building, there they were, as advertised, a bunch of goats grazing on the roof.
A sign indicated that the goats might be hanging out up there because they are actually aliens waiting and watching the sky, but we think that the fact that the roof is made of sod and hay could have more to do with it.
Perhaps in an effort to keep the goats from eating clear through the roof, for a mere fifty cents we were given an ice cream cone filled with goat chow. The goats knew the drill and made their way down a walkway to ground level where they ate right out of our hands. Not something recommended with those thousand pound grizzlies.

Click here to enlarge photos and more about Goats on the Roof
All of this feeding had us ready for something a bit more substantial than our midday sausage snack.
Back in the center of town, hidden in a quaint little alley, we found The Old Bavaria Inn.
While a schnitzel seemed the obvious choice, we opted instead for sauerbraten and goulash, both served with red cabbage sauerkraut, and the specialty of the house, spatzle.
Sauerbraten means sour roast, so the meat has been marinated, or more accurately pickled, for several days before cooking. Tender and delicious, we had no complaints, but the highlight of the meal was the spatzle.
These little egg dumplings stole the show, especially when introduced to the gravy from the goulash and sauerbraten.
But their time at the top was short lived because an apple strudel, flown in from Munich no less, and a cup of glühwein arrived to take the spotlight.
Glühwein, meaning glow wine, takes its name from the red hot irons once used to heat, or mull, the mixture of red wine and spices, and is a traditional drink for the holiday season.
We could sure taste the cinnamon, cloves, and especially the star aniseed that gave it a hint of licorice flavor. Really warmed the cockles of our hearts, which we then learned is very strange saying since cockles are a type of shellfish. What did we do before Google?
With hearts warmed and bellies filled, we finished our day with a stroll through the decorations and lights of our merry surprise discovery and bid Helen "gute nacht und auf wiedersehen."
David & Veronica, GypsyNester.com
See more about the history of Christmas markets and our explorations of these markets around the world!