Excerpt from Going Gypsy: One Couple's Adventure from Empty Nest to No Nest at All. Reprinted with permission from Skyhorse Publishing.
Once upon a time…
When a twenty-two-year-old beanpole bass player with four years on the road under his belt, and all of the happy hedonism that goes along with that, meets an innocent eighteen-year-old Valley Girl who sneaked into a bar, the ensuing romance is likely to have a shelf life of exactly one night. But somehow that didn't happen.
Even with the eagle-eyed clarity of hindsight, we can't pinpoint the exact reason. It could be that we were all Shakespearean star-crossed. Could be we were both ready for a big change in our lives and just happened to collide. Could be we were just too dumb to know the odds; we certainly didn't set out to defy them.
We are inclined to believe a fourth choice—all of the above. The one-night stand was going on in the next room with the roommate and the keyboard player while we fell into friendship instead of fake, temporary love.
But the road beckoned, and the band had to be back in Nashville, so that was that. Just two ships passing in the night. No one would ever know what might have been.
But that wasn't that. Through the magic of pen, paper, envelopes, and stamps, they kept in touch. The Beanpole wrote to his new blue-eyed beach baby friend because something told him that couldn't be that. A voice was whispering in her ear too, so The Valley Girl wrote back.
Before long, an old-fashioned, long-distance romance developed, almost entirely through the US mail. She says she fell in love through those letters. The Beanpole was already there when he started writing.
A few months later, fate—and a good bit of specific action seeking a band working on the West Coast—brought The Beanpole back to California for a face-to-face reunion. With this open-ended employment in the Golden State, young love had time to take its course.
Our story took a less fairy tale–like turn from there. The gig fell apart. What followed was a two thousand mile trek back to Music City in a $200 land barge named The Sharkmobile that had no reverse and no air conditioning, then a brief cohabitation and a "We ought to get married," "Okay," engagement. The next thing we knew, we were in the middle of a folding chair–bedecked wedding in a tiny, windowless, tile-floored church basement. Not exactly the groundwork for happily-ever-after.
* * * * *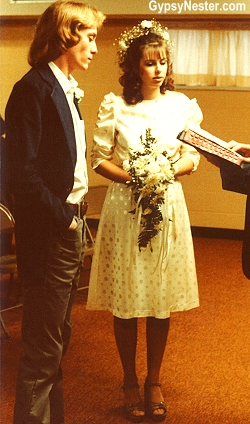 The odds of any marriage reaching ever-after are about fifty-fifty at best. Add to that a teenage bride and a road musician groom, then multiply that by being dead broke, and Veronica and I certainly seemed doomed. Good thing no one told us.
Before long we were calling our parents from a pay phone (our home phone had been shut off due to lack of funds) to tell them that they were about to become grandparents. I have often wondered what they must have been thinking.
Back when that beanpole bass player met The Valley Girl's father, right before they ran off together, I remember being intrigued by the lack of any shotguns involved. But then, her dad did have an old hippie vibe about him. Old? He was a lot younger than we are now.
Even meeting my future mother-in-law went well. My new love wasn't living at home, so I guess I wasn't officially robbing the cradle, but still I expected to get grilled. Didn't happen; Mom took right to me. Her stepfather didn't say much at all.
By the time we were expecting their first grandchild, I had won over Stepdad, and we were joking that Mom liked me better than her own daughter.
As for us, few things can motivate reasonable human beings like the prospect of parenthood. We went with stunning velocity from laying around the love nest to up off our asses. Suddenly we were responsible for a life other than our own. We began to form tangible long-term goals.
In time, two more little ones arrived, and we learned that busting butt is what parents do. Find a way. A mother of three could start a company in her home because she learned how to make websites before most people had even heard of the Internet. A dad could successfully navigate a path in an occupation that regularly leaves the crushed carcasses of marriages and families in its wake.
Life's twists and turns took us from Nashville to the Virgin Islands, always in search of the best situation for our family. In general, we met our goals but realized that they revolved around getting the kids raised and started on their own lives.
That is the short story of how, after twenty-some-odd years, we found ourselves living on a tropical island in the Caribbean about to become childless again, and wondering what to do.
We didn't have a clue, but somewhere in the recesses of our brains we must have known that the time had come to do something just for us.
I know that sounds selfish, but any parent knows that once the kids arrive, there's not a lot of room left for the "us" in a couple.
And our time arrived way ahead of schedule. Let's just say that Veronica and I prove that even the best forms of birth control are only 99 percent effective, but in hindsight we wouldn't have had it any other way.
We had the stamina to survive three little ones back then, and now they're full-grown and we're still young enough to enjoy our new life together.
That was our answer. That was what to do. Rediscover that pre-kid couple who, thirty years ago, didn't have enough time together. Because now, we had all the time in the world…
David & Veronica, GypsyNester.com
Excerpt from Going Gypsy: One Couple's Adventure from Empty Nest to No Nest at All. Reprinted with permission from Skyhorse Publishing.
YOUR TURN: One a scale from 1 – 10, just how crazy are we?