When we spied the signs along Interstate 90 for The Spam Museum in Austin, Minnesota, we jumped at the chance to canned-ham it up!
Like moths to a flame, soon we were pulling off the highway toward the light.
Situated right next to the Spam packing plant, the first thing we (or anybody with a working olfactory organ) noticed was
the unique and not-so-savory smell.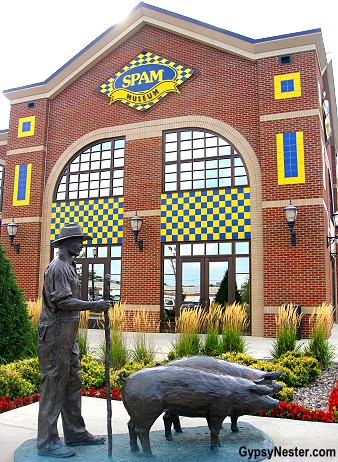 A whole museum dedicated to a canned meat? Our wondering eyes had to see, we never pass up a cheesy tourist diversion.
Passing by the bronze pigs being led to slaughter, through the front doors, we were greeted by three thousand Spam cans stacked in a stunning display in the lobby.
This museum is no cheesy collection.
The Hormel folks have done a fine job of capturing the history of their preserved meat-food product through displays of packaging, ads and pop culture references.
See more about what to do around The Spam Museum
Hall after hall of the stuff while the infamous Monty Python Spam-Spam-Spam-Spam song played over and over (and over) again.
Ah memories… the dancing can ads, the smell of frying mystery meat, the bloody fingers nearly severed by the twist key top's ribbon
of razor sharp metal… good times.
Honestly, everything we ever needed to know about Spam was at the tip of our lid-scarred fingertips. And, if at any time, we had a question, a friendly Spambassador was ready with a snappy answer.
Special attention is given to the love-hate relationship between GIs and Spam.
From what we could gather, the good ole US of A would never have had a chance while fighting WWII if not for this magical blend of ham and pork by-products shoved into wind-up cans.
An entire exhibit is dedicated to an unseen soldier in a tent bitchin' about all the spam he and his fellow men-in-arms must consume in the field.
Seriously folks, if an army moves on its stomach and Spam was keeping those bellies filled… it follows that we would all be speaking German if not for Spam.
Something to ponder as we head towards our next roadside distraction, uh attraction.
David & Veronica, GypsyNester.com
See more about what to do around The Spam Museum
YOUR TURN: Are you a fan of Spam? Are you itchin' to ham it up at the museum? Isn't it a hoot?