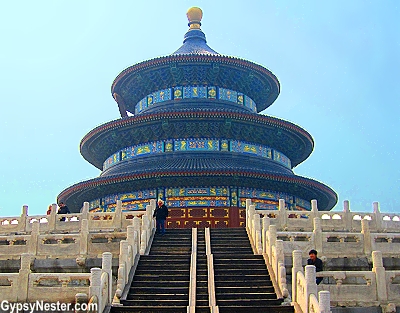 We stepped back into ancient history at The Temple of Heaven.
Beginning six hundred years ago, at the same time that The Forbidden City was built, Emperors of the Ming and Qing dynasties used this site for annual ceremonies to pray for a good harvest.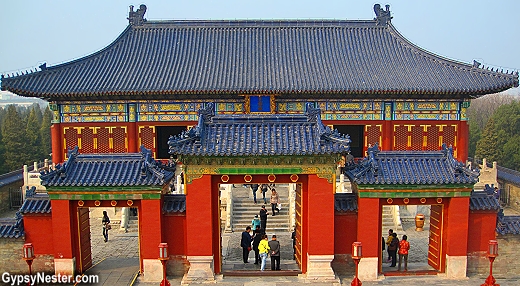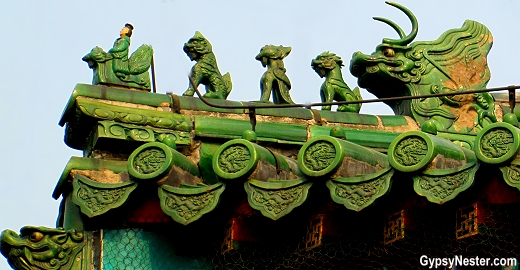 We walked through a large park to reach the sacred site, where we were offered any manner of trinkets, souvenirs, and knock off watches by enterprising entrepreneurs.
This was not unique to this spot though, it happened every time we got off the bus. Certainly seems as if capitalism is catching on.
But we found the groups along the walkway playing games much more interesting than a fake Rolex.
Spirited bouts involving grand, energetic placement of cards or pips had drawn large crowds of both players and spectators, and made for an entertaining stroll to the temple.
Perhaps the word temple is misleading, there are actually several buildings making up the complex.
The Hall of Prayer for Good Harvests stands out, and above, the rest as the focal point.
Every bit of the impressive circular building is wood, and it was made without any nails. Unfortunately what we see now is a reconstruction, since the original was struck by lightning and burned in 1889.
David & Veronica, GypsyNester.com
See more of our adventures in China!
Click here for our full live-blog as we traveled with Holland America aboard the ms Volendam – through Hong Kong, China, South Korea and Japan