The Boucherie is not necessarily a part of the Mardi Gras celebration, in fact it most likely predates Mardi Gras activities here in South Louisiana, but in recent years many communities have included the old fashioned hog slaughter in their weekend of Mardi Gras events.
Back in the days before refrigeration, families would get together to share a butchered hog because the meat would go bad before one family could eat it all. Before long this became a pretty good excuse to throw a little party.
We had planned on attending La Grande Boucherie des Cajuns in St. Martinville the Saturday before Mardi Gras but Mother Nature had other plans, dropping several inches of rain throughout the area that day.
So we adjusted and scurried up to Eunice for an hour or so during the Courir de Mardi Gras in nearby Church Point.
A somewhat smaller affair than the Grand one, but every bit as interesting and entertaining, not to mention tasty. After watching every part of the pig get cut for a specific purpose, we had the chance to sample some of the outcome.
The ribs, chops and shoulders are considered the best parts and get smoked, bar-b-qued, broiled or made into tasso. Then the bacon gets cut away and the fun starts after that. The belly gets cut up, tossed into a huge vat of boiling lard and cooked into cracklin. Yes, they are a heart attack waiting to happen.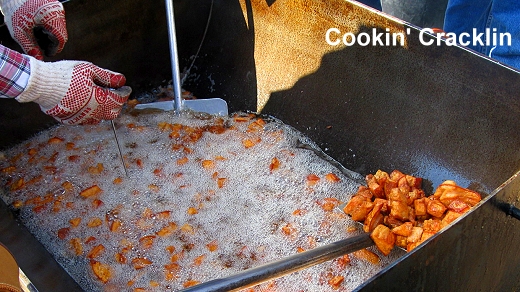 The backbone meat is cut away and cooked up in a stew served over rice. The head cooked down into hoghead cheese, and the intestines cleaned and stuffed. The stuffing is made from the rest of the scraps, cooked up with rice and spices, and bingo… boudin.
We managed to try a bit of everything and it was all good, we gare-un-tee!
(click here to find out more on Mardi Gras outside of New Orleans)
David & Veronica, GypsyNester.com
Delve deeper:
See our entire journey discovering Mardi Gras outside of New Orleans
Visit the crazy Courir de Mardi Gras, in Church Point – chicken chasing!
Check out the authentic celebrations in Eunice and Mamou
Watch dogs celebrate Mardi Gras at the Krewe des Chiens Dog Parade
Find out how to get booze at a drive-thru window
Join us at the parades in Jeanerette and Lafayette
Learn more about the Acadian, Canadian, and Cajun connection
See our thank you to the mysterious person at the Dog Parade who commited a wonderful act of kindness!