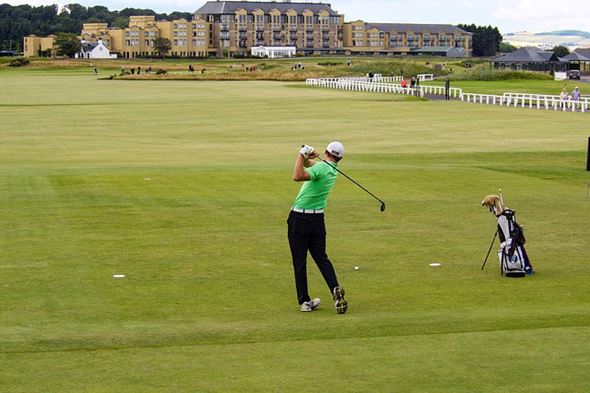 Sport has always been playing a vital role in Scottish culture. They not only invented some of the most popular sport games but also highly contributed to the history of the best sports achievements. That's why it's hard to speak about golf or rugby without picturing the Scottish being a part of that.
Many different countries are proud precursors of world-famous sports disciplines. Scotland for sure can boast about a long list of Caledonia-originated sports. Some of them are only Scottish traditions, but others gain big worldwide popularity year by year. Below you can check which disciplines are especially important to Scotland.
Golf
Scottish golf is undoubtedly the most significant sports hallmark and the most popular discipline coming from this country. Golfing in Scotland originated in the 15th century, and as you can imagine, it was previously played by wealthy men from royal families. As time went by, golf gained huge popularity among other countries.
It is no wonder, since the game is a high competition, yet a big challenge for many people, even the experienced golfers; not to mention the high level of sophistication that Scottish golf brings to the world of sports. However, it's quite an investment, starting with various kinds of golf clubs and unique clothing, and ending with useful accessories, such as a golf umbrella and golf grips.
"Golf is an exercise which is much used by a gentleman in Scotland… A man would live ten years longer for using this exercise once or twice a week." Dr. Benjamin Rush (1745 – 1813)
There is a reason why this sport has spread everywhere, and many people decide to invest in golf courses. Scotland is fondly considered the home of golf that has originated from many great, world-famous clubs, such as Royal Dornoch or Royal Troon. You can find over a hundred golf courses around there that can effectively teach you how to play this beautiful game. Most of them come from St. Andrews – the town known for its numerous golf courses, including the Old Course.
Curling
Another sports discipline that Scotland can be proud of is curling. In this game, players slide stones on an ice sheet towards a marked area consisting of four concentric circles.
The origin of curling dates back to 1541 and gained more significant popularity in 1924 in Chamonix.
The very first curling championship took place in Falkirk and Edinburgh in 1959, known as the Scotch Cup. And since 1998 it's been a part of the Winter Olympic Games which includes women's, men's, and mixed doubles tournaments. Curling is played all over Europe, but other countries, like China, Korea, Brazil, Australia, or Japan, are also big fans.
Caber Toss
There is no game more Scottish than this one! Caber toss is a traditional athletic event where the competitors have to toss a massive tapered pole called a "caber," but this time the far is not the better, it's all about the proper technique, strength, and balance.
According to The Culture Trip, "Contrary to popular belief, the caber toss is not about distance – it's all about the position and how it lands. Envision a clock face, and place the caber thrower at 6. The aim is to have enough strength and control to make the caber land at 12 exactly. "With the men wearing kilts and the traditional music in the background, caber toss definitely plays a big part in Scottish rich heritage.
Shinty
Long story short about shinty rules. It's a ball and stick game played on the grass that can be easily compared to hockey or bandy. The team has 12 players with the goalkeeper included. The main objective of the game is to score a goal to the competitors.
The shinty game was previously a winter tradition, particularly associated with New Year's Day, when whole villages were gathering and playing against each other. However, 2003 appeared to be a big turn in the history of the game. The clubs voted to switch shinty competitions from winter to summer season, basing the decision on a very harsh, cold weather.
Shot Put
Another typical game coming straight from Scotland is shot put. It's a favorite heavy athletics discipline of all Highland games with straightforward rules. The competitors need to throw a 20-26 lbs stone as far as possible.
With the growing Scotland Highlands culture, people made up different legends connected to several sports. Apparently, the shot put comes from the mighty stones. Michael Brander, in his book called "Essential Guide to the Highland Games", describes the tradition of the "stones of strength" and their superpowers.
Conclusion
The great land of Scotland made a significant contribution to the history of sports. Some of the disciplines developed there are famous worldwide, and some are more local, yet still practiced as a tribute to old Scottish traditions and customs. It is definitely an exciting experience to go there to see their unique sports championships!
We are happy to present this collaborative post to offer valuable information to our readers.