Thanks to Women at Woodstock for inviting me along and providing this nurturing experience! As always, all opinions are my own.
I have to admit to my reservations before agreeing to attend Women at Woodstock.
When was first invited, I literally thought UGH. Is a women's retreat for me?
It didn't sound like my thing – at all.
Then, I dug a little deeper and became intrigued. I'm always looking to beef up my writing skills, so the writing workshops were really exciting to me, and the business stuff looked invaluable.
But, oddly enough (and I hate to admit this) it was the estrogen-infused events that prodded me to accept the invite.
Obviously, I needed some girl time, STAT.
So we pointed BAMF toward New York, took in some fall festivals and enjoyed the riotous autumn colors before David dropped me at Emerson Resort and Spa where the retreat was held.
All for ME? My glorious writing den for three nights!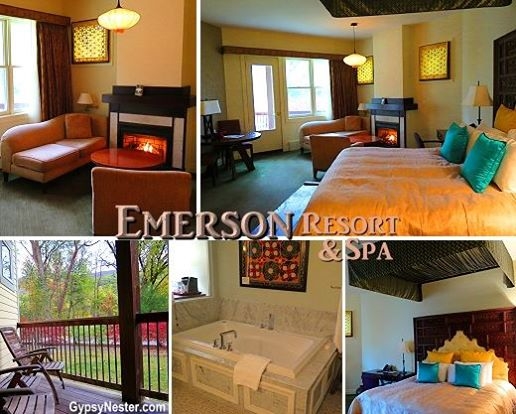 I was to meet my fellow retreat-ers that night at a pre-dinner wine hour. A combination of not wanting to leave my blissful room, a pre-game bout of painful social awkwardness, and a hyperawareness that I would want to write about my experience (which, in retrospect, put me in a weird outsider/a-little-too-judge-y headspace), made me not exactly the best dinner company.
The odd, nomadic lifestyle that I live (and love) is not especially conducive to making intimate, long-term connections. Something that I miss, and am sorely out of practice in pursuing.
After dinner, I made a beeline to the workout room to blow off some steam and shake off some of my social awkwardness. While on the treadmill I sent a litany of self-indulgent "Camp Granada"-type texts to David. Hello muddah, hello faddah…
Much like the parents at the receiving end of "Camp Granada," David encouraged me to stick it out, stop acting like a baby, and to take off my reporter's cap so I could let myself go and experience the goings-on as I was supposed to.
So I did. I went back to my room, lit a fire and laid out my big girl panties for the next day.
Heeding David's advice to go all in, I started the morning with an I-would-never-normally-attend-this-kind-of-thing workshop entitled "From Trauma to Love, Past to Present" led by Anoek van Praag, a woman who defies a pigeon-holing description from a mere mortal like me.
Anoek speaks of love, life, sex, fear conquering — and the passion (and science) of it all — with such frankness, that I soon found myself blurting out a (very) personal childhood experience to a group of women I barely knew. I was horrified, where did that come from?
My afternoons were spent with Victoria Zackheim in her writing intensives. The joy of writing oozes from Victoria's pores, and she whipped up storylines faster than my brain could process them.
My mind was stretched beyond repair (in a good way!) and, on those days in the future when I find writing a drudgery, I have a new muse to call up. (How'd I do Victoria? An entire paragraph without one single overflowery, trumped up, underwhelming, unnecessary adjective! Right?)
My next horrifying blurt was emitted during Ivy Slater's class on "Conquering Your Fear of Money."
Her ah-ha approach to helping us explore our relationships (and hang-ups) with the almighty dollar was brilliant, teetering on the edge of psychotherapy. Well, if psychotherapy was fun.
My blurt came out something like this: YOU MEAN I'M NOT THE ONLY ONE WHO FEELS LIKE I DON'T DESERVE SUCCESS?!?! To which the entire room basically said: WHAT?!?! NOOOOOO!
Oh, wait (finally, the epiphany): Blurting = Bonding! I'd become so rusty, I hadn't realized what was happening. I was beginning to trust the bond that was developing between me and this group of fascinating women. Progress.
I found myself being a much better dinner guest that night.
Fed — both body and soul — I found myself in my room by the fire again. This time, writing my butt off.
On day two, I was feeling my oats.
I found myself volunteering to speak (and receive honest feedback) in Susanna Baddiel's "Personal Impact Training"…
hobnobbed with the uber-talented photographer Lisa Levart…

See more of Lisa's incredible art
and the inspiring, wide-open and kind Amy Ferris, author of Marrying George Clooney: Confessions from a Midlife Crisis. Amy walks into a room, and the entire place lights up with warmth, humor, and a freak-of-nature-ish sort of groovy energy.
I corralled Ann Voorhees Baker, founder of Women At Woodstock, to get her vision of these gatherings. Her answer?
"To contribute to the coalescence of the community of women over fifty, to create an environment where women help each other achieve goals they have had, but may never have pursued."
Here is just a brief taste of the amazing connections I saw going around me:
— When Kathleen Welby-Moretti found out that she was being honored, along with singer Natalie Merchant, for her work on the short film, Shelter, she needed to craft a speech on the fly… during the retreat. Victoria Zackheim quickly jumped in to assist her. (Click this link to see Shelter, it's free and it's amazing).
— When the ladies who took Ann Fry's "Business Incubator" workshop stood up at dinner to pitch their start-up ideas Shark Tank-style (toothless sharks), the outpouring of ideas, contacts and suggestions from the audience was inspiring to watch.
— When it was announced that Glad Rag Bags, a start-up that was bandied around in a prior toothless WAW Shark Tank, was now a thriving business, it was taken as a group success. (Glad Rag Bags is a limited line of designer handbags created from reclaimed items. The company practices fair trade and donates proceeds to good causes)
— When the writers among us got together, we learned of each other's new projects. My excited-to-read list has grown to include Amy Ferris's Dancing at the Shame Prom, and Victoria Zackheim's Faith, and Dr. Susan R Meyer's Fifty Over Fifty: Wise and Wild Women Creating Wonderful Lives
On the final night, a group of us sat down to listen to each other's written work.
I decided to throw my name in the hat – the first time I would read aloud from Going Gypsy.
It was the first time I'd opened my mouth in front of a group of people without nerves – actually I looked forward to it – no, I was excited. I knew I had a soft place to land if I screwed it up.
That's the greatest gift my new tribe has given me – and it's huge.
My hope is that I've given back a fraction of this gift.
Veronica, GypsyNester.com
Get your girl on and your goals in motion! Visit the Women at Woodstock website and be sure to sign up for the newsletter while you're there for info on all future events.
Thanks to Women at Woodstock for inviting me along and providing this nurturing experience! As always, all opinions are my own.
YOUR TURN:  Have you ever been to a retreat? Did you have a similar experience? Is Women at Woodstock a type of retreat you'd consider?