This year marks a turning point for us. We've fully handed over the Christmas planning process over to our adult daughters, led by The Piglet. We're in full tell-us-where-and-when-to-show-up mode.
Don't get us wrong, we feel comfy in The Piglet's very capable hands, but it is weird. We hardly know what to do with ourselves.
Things have been slowly evolving as we've changed locations – we no longer host Christmases at our home (mainly because we don't have one!) instead, we all gather in New York City where the girls live. In the process, we've added a few new traditions while some old ones have fallen by the wayside.
Pondering Christmases past, we are reminded of the ghosts of blending our own traditions when we first formed a family.
How we compromised by dropping some food traditions – Veronica's Bohemian dumplings and sauerkraut (nobody else in the family ate it!) and David's Midwestern staple, green bean casserole, or by jealously guarding others – we always had two kinds of potatoes, mashed and twice-baked.
To be honest, our holiday feasts had become turkey-and-carb fests – who has room for veggies when there's more stuffing to be eaten?
Agreeing on the meal was the easy part, generally more is always better, but coalescing childhood traditions was a little trickier. Veronica's family opened presents on Christmas Eve, David's on Christmas morning. Do we do midnight mass or go to church on the day of?
When does the tree go up? (Taking it down was less of an issue, we both agreed preferably pre-Valentine's Day.)

Our best (worst?) Christmas portrait! See the story here
Then there was the added stress of pleasing our extended families, especially once we had kids.
We didn't live near any of the grandparents, so deciding who to see and where to spend Christmas always added another layer of stressful decision making.
After several years of wrangling, we felt that staying home, forming our own traditions, and hosting out-of-town visitors that wanted to drop in for the holidays was our best bet.
Remembering this, we don't want to add any present-day ghosts of parent-centric stress to our daughter's preparation process.
Though it's hard to let go of the holiday planning, we've opted to go with the "how can we help?" attitude rather than the "what if we…?" approach.
We certainly hope that's what we are doing anyway – as parents of adult kids we inadvertently step over that fine line between helping and meddling more than we care to admit.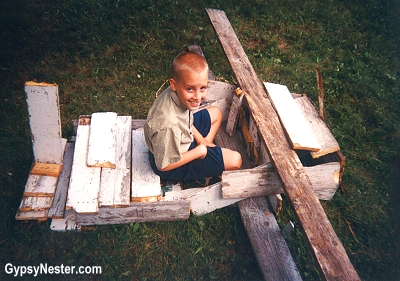 One the bright side, The Boy has a job he loves!
On a sad note, we are disappointed about celebrating our first Christmas without The Boy joining us.
The responsibilities of his new job are keeping him in Alaska this year, but we are comforting ourselves by imagining that he just might get to see Santa while they are both flying around up there. He'd better take pictures!
Although it's not our first Christmas without the whole brood together (we celebrated David's parents' 60th wedding anniversary in Florida at Christmas-time two years ago and the girls couldn't make it), it just doesn't seem right without everyone being there.
On the plus side, we are really looking forward to a new blend of traditions and friends. The Piglet's boyfriend's family will be visiting NYC for the first time and we couldn't be more excited to meet them. They will be coming in from Paris carrying their own customs, and we are really looking forward to a cultural cross-sharing of holiday festivities.
We know next to nothing about Christmas ceremonies in France and are having so much fun grilling The Piglet's beau on his family's celebrations.
We have been put in charge of the Bûche de Noël, a traditional uber-cake shaped like a yule log, and have had a blast finding the perfect French bakery with the proper Bûche to make our new friends feel at home.
Thankfully, we will be in New York – home to many Bûche choices – 'cause baking a Bûche would surely result in a disaster!
We look forward to another holiday that will reinforce our understanding that "Home is where the heart is."
That adage has become very real for us over the past six years since selling our house and adopting this nomadic life. For us, home for the holidays has nothing to do with a brick and mortar structure.
Home is family. Home is love.
We hope that your holidays are filled with home – wherever that may be.
David & Veronica, GypsyNester.com
YOUR TURN: How have your holidays changed over the years? Have you blended traditions to make your own? Any tips?