Are you going on a much-needed vacation and are looking for a beautiful place to stay in? Why not consider checking into a quaint and one-of-a-kind boutique hotel at your destination? Boutique hotels offer unique interiors and layouts and aim to make you feel at home.
What are some of the best boutique hotels in the world?
Annandale Scrubby Bay in Pigeon Bay, New Zealand
• The Annandale estate farm is situated on the Banks Peninsula, and you get a beautiful view of the Pacific Ocean. This remote and exquisite location can only be accessed via a helicopter ride or a four-wheel drive. The airport closest to Annandale is Christchurch International Airport, about an hour's drive away from the estate.
What can you expect at Annandale Scrubby Bay?
• Amenities: The design and feel of the four-bedroom rustic bungalow are very cozy and modern at the same time. Fronting the boutique hotel is a beautiful pebble beach, bordered on both sides by the lushest hills. Annandale has a jacuzzi, a swimming pool, and a deck from which you can view the Pacific Ocean. The four bedrooms are clad in wood yet very modern in design. The kitchen is well equipped with a breakfast bar, and there are appliances available for cooking and dining, such as an oven, grill, microwave, dishwasher, and sink. A laundry room is provided with a washing machine.
• Unique features: The estate covers 4,000 acres and is actually a working farm. As guests, you can enjoy tours of the island, hiking activities, or riding a bike along the Pigeon Bay Walkway. If you're feeling adventurous, you can go kayaking or join nature cruises and see the dolphins, fur seals, and blue penguins. If you're looking for indoor activities, you can sign up for private cooking classes with the Annandale chef and sample Kiwi cooking.
• Cost: Rates for staying at the Annandale Scrubby Bay estate start at SG$5,335.71 or US$3,871.91 per night.
Mojo Nomad in Aberdeen Harbour, Hong Kong
Mojo Nomad is located in Aberdeen Harbour, so you get a beautiful view of the harbour and the surrounding bustling city. Imagine feasting on the glittering city lights at night! What is perfect about Mojo Nomad is that it is very accessible. Travelers can easily tour Hong Kong and get back just as easily to relax and unwind at this boutique hotel at the end of every shopping and food trip-filled day.
• Amenities: Mojo Nomad has modern facilities at very affordable rates. Their rooms vary in sizes, so this beautiful and modern boutique hotel is the perfect choice whether you're traveling solo, with a few friends, or with a big group of your family and relatives. Rooms are equipped with practical amenities such as comfortable reading lights, individual storages, WiFi, daily cleaning services, and individual toiletries. Mojo Nomad is for you if you're an on-the-go traveler who's looking for the comforts of home at your hotel.
• Unique features: At Mojo Nomad, you have a wide variety of beautiful places to visit. If you're inclined towards the arts, the best independent art galleries are just a few minutes' walk away from Mojo. Visit Blindspot Gallery, the Empty Gallery, Rossi and Rossi, Sin Sin Fine Art Atelier, and de Sarthe Gallery. Sample the wonderful local seafood scene by taking an exotic sampan ride to Jumbo Kingdom. Talk about a rich cultural dining experience! A trip to Hong Kong will, of course, not be complete without a trip to Ocean Park located in Aberdeen. Ocean Park will offer a variety of adventures and shows that will delight children and adults alike. Thirsting for nature? Aberdeen Country Park boasts of Hong Kong's vast network of nature trails, all of which are lovely to hike on. With all the tourist destinations at your fingertips, choose Mojo Nomad to be right at the center of all the action.
• Cost: Rates start for as low as HKD250 or US$32.50 per night.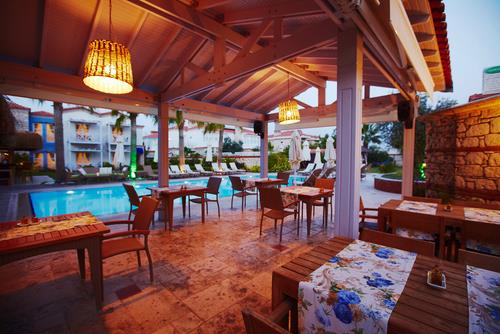 Villa La Coste in Provence, France
Villa La Coste is located in beautiful Provence. The nearest major airport is Marseille, and from there, it takes another 40-minute drive to get to the hotel. Once you're there, you are welcomed with a breathtaking view of the most vibrant landscape. This modern hotel is dominated in shades of white and surprisingly features a gallery of interesting artworks and bespoke furnishings. Perfect personal service enhances your whole experience at Villa La Coste.
What can you expect at Villa La Coste?
• Amenities: Villa La Coste boasts over 600 acres of grounds that include an art gallery, a very modern winery, an Asian-inspired spa, library, laundry area, and WiFi in all the facilities. The rooms are equipped with complete appliances to ensure a relaxing and enjoyable stay. Private pools are installed in some of the suites.
• It is worth noting that the public areas of the hotel can be awesome for use in warm weather, and there are available elevators that can conveniently take guests to the spa as well as the restaurants. Pets are also welcome to stay with their owners at Villa La Coste for an additional fee of €25 per night. More importantly, provisions are made for children of all ages. Extra beds may be added to any of the suites. Villa La Coste is quite ideal for vacationing families.
• Unique features: If you may want to see more beautiful architecture, visit Hotel de Caumont in nearby Aix-en-Provence. It is a grand hotel built in the 18th century and has been restored. If you prefer to see Provence's natural resources, visit Calanques National Park, a coastline that runs on for 20 kilometers and is quite well known for its striking white cliffs. You can go for wild swimming in the inlets of crystal-clear emerald waters, definitely a memorable experience. Don't leave without visiting the town of Saint-Remy-de-Provence, where the talented and eccentric Vincent Van Gogh stayed for a year and produced some of his most beautiful artworks there.
• Cost: Rates for staying at Villa La Coste start at SG$923.99 or US$670.50 per night.
Nay Palad Hideaway in Siargao Island, Philippines
Beautiful tropical forests filled with rich vegetation, bright-blue waters, and powdery-soft sand will delight your senses when you enter this boutique resort. Choose to stay in one of the nine intimate villas and avail of luxurious massages. Partake of the cuisine of the freshest seafood and join the island excursions.
Sayak Airport in Siargao Island is a 40-minute car drive from the hotel. Nay Palad Hideaway schedules courtesy airport transfers via private jeepney, to give you the full Filipino transportation experience.
What can you expect at Nay Palad Hideaway?
• Amenities: Nay Palad Hideaway is complete with all the facilities, such as a private beach, a games pavilion, outdoor movie house, library, and the standard WiFi everywhere. Rooms are well equipped with air conditioning and minibars. Noteworthy are the quaint hanging daybeds and the ornately carved headboards, all of which are made of locally sourced materials. The villas give a very calming vibe and are quite airy, and the Deluxe Villas boast of the most unforgettable ocean views.
• The spa has six huts designed to look like a tiny tropical village and filled with treatment rooms that are so quiet and private. Avail of the very healing Filipino massage and the petal-filled bath.
• Unique features: Nay Palad Hideaway is the perfect destination for a variety of water sports and activities. Visit the Sea Pagoda, a majestic thatch-roofed platform that also serves as the take-off point for your snorkeling. Make sure you take a trip to the island of Janoyoy and the surrounding mangrove, which you can access by foot. There you can enjoy seeing the native flora and exotic reptiles.
If you're feeling more adventurous, go for the water-skiing, wakeboarding, and banana boating on the peaceful waters surrounding Nay Palad Hideaway. There are likewise a variety of options for land-based activities, such as exploring Tob Tabon and Bito caves and the picturesque fishing village of General Luna.
• Cost: Rates for staying at Nay Palad Hideaway start at SG$2,606.68 or US$1,891.56 per night.
Make your much-needed vacation worth remembering by staying at a boutique hotel and explore the surrounding beautiful areas. The adventures are limitless!
We are happy to present this collaborative post to offer valuable information to our readers.