If you've ever been tempted by silhouettes of kangaroos at sunset, crystal clear beaches, and other idyllic images of the 'Land Down Under', look no further than its 'Top End': Darwin, Australia's only tropical capital city. Darwin's rich cultural and ecological history means you'll be able to experience Australia at its finest. We were blown away by how much there was to do, and how accessible all of this was from the city's central business district. Take the road slightly less travelled and discover what Darwin's got to offer with our little tour guide made specially for you.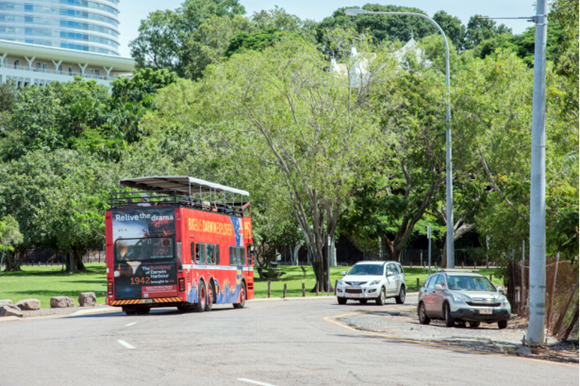 Darwin City
Immediately after stepping foot off your flight, you'll realise exactly how accessible Darwin actually is in comparison to Australia's other major cities. Darwin's layout is streamlined for international tourists in particular, with the city's international airport being smack dab in the centre between the city's CBD as well as three different national parks. Serviced apartments in Darwin, and other affordable accommodation, are only a short drive away.
From here, you can also easily access everything that Darwin city has to offer, from the Museum and Art Gallery of the Northern Territory and the George Brown Botanic Gardens. Take it from us, Darwin is a city that can be experienced entirely on foot. In fact, take a walking tour and unveil all the city's hidden historical gems. Early 20th Century architect Beni Burnett's last remaining piece of work, the Burnett House, as well as Darwin's 1934 QANTAS Hangar, now repurposed as a showroom for vintage cars and bicycles, are two notable examples of the area's many cultural sites.
Seaside Bliss
As a coastal city, Darwin has lots on offer not only for urbanites, but also for all you more adventurous travellers (and eaters) out there. Enjoy the open air and uninterrupted views of the Timor Sea in one of Darwin's many waterfront restaurants and cafes. Here, they present freshly-caught local seafood and all the finest Aussie cuisine and sweet eats.
After soaking in the seaside hospitality, take a walk (or a boat) around the wider Darwin Harbour. visit Aquascene – the city's well-established wild fish feeding sanctuary – and come face-to-face with some 'crocs' at Crocosaurus Cove. But don't worry too much about their teeth here! City crocs have some decorum. They'll even smile for photos with you.



© Instagram: Crocosaurus Cove
Conquer The Outback
Or you could get up close and personal with the wild crocs?! Bordering the east side of Darwin's Litchfield National Park is the Adelaide River, a popular location for barramundi fishing and 'jumping tours'! You have the option of either taking a 'chopper' (helicopter) above the river and observing the wildlife from a bird's eye view, or watching trained 'crocodile hunters' lure crocs out of the water like jumping salmon. Just imagine these sixteen-foot prehistoric beasts plunge up out of the water and snap up an entire chicken leg right in front of you!
At any rate, while you're out here you absolutely must hire a car and drive out into the wider bush, because that's where Australia really comes alive. Take your own picture perfect snapshots of all the unique flora and fauna, and drive across the great Australian outback. If you're feeling adventurous enough you could even make the trek to Uluru, and experience the red rock's famous red sunsets.



© Shutterstock: Kakadu National Park
There is simply too much to experience out here in the 'Great Southern Land', which is undoubtedly why Australia is rapidly becoming a must-have destination on everybody's bucket lists. It is truly a land like no other, which deserves an itinerary that caters to the immense amount of sights that you'll need to take in. And if you don't have time to fit in the cross-country roadtrip (because let's face it for a country this size it'd take literal months), Darwin's accessibility and rich surroundings makes it the perfect streamlined Aussie getaway.
We are happy to present this collaborative post to offer valuable information to our readers.