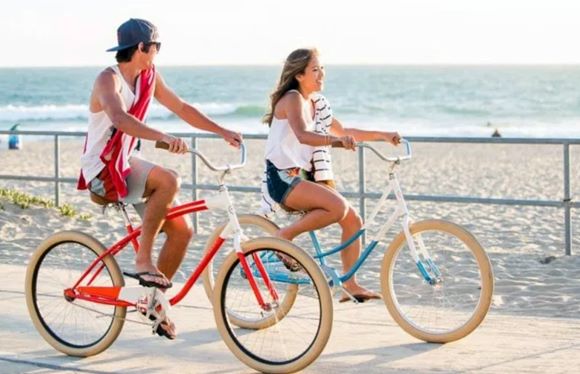 A beach cruiser is a perfect vehicle for taking long, quiet rides on the beach and leaving reality behind. Perhaps one of the most pleasant parts about owning a beach cruiser bike is that your comfort is almost definitely guaranteed. You are not restricted by any dress codes or speed limit, and if you're lucky at all, you're doing your biking on the beach with the best single speed bikes.
California and are two of the most popular cities with open to the public picturesque beaches. So, this article will be highlighting for you, the best places to ride beach cruiser bikes in some of the best beaches, including in California, Coney Island and Alabama.
Venice Beach Bike Path
The Venice beach bike path is awesome for biking, jogging and even skating. The path offers a beautiful view and renting bikes allows bikers an easy ride at their own pace. This is a great way to journey between Venice board walk and Santa Monica promenade.
Alabama's Coastal Connection
Take this memorable route along the beautiful beaches and calm waters of the Gulf of Mexico. The route takes you along the Highway 182 bike lane, and offers spectacular views including the Gulf State Park Beach Pavilion.
Coney Island Beach
Coney Island beach, New York City, is a popular NYC beach experience spot, especially during festive and celebratory seasons. Coney Island might draw more attention due to its beaches and sunny activities but, there is much more to be gained with a trip to the Brooklyn beach. The boardwalk is usually teeming with bikers and walkers, and for a much more scenic experience, you may opt to take a trip down Ocean Parkway, America's first bike path which was founded in 1894.
Long Beach, California
California is popular as a city with lots of sun and sandy adventures. Long Beach offers bike riders do all these with the Shoreline Pedestrian bike path which measures at a length of 3.1 miles and a width of 17 feet. The bike paths were made for the ultimate cycling experience, as there are classes offered for different levels and intensity of biking. The bike path is a connecting one with options of stretching miles to reach the Los Angeles River Bikeway.
More California Beaches
It is a well-known fact that California offers some of the most beautiful coastlines in the US, and California offers residents and tourists many options in beach bike riding. The city has made it easier for bikers by sectioning off areas that are marked for bikers only, with no automobile traffic. This makes it much safer for bikers and allows for more options when picking a biking path. The Venice Boardwalk is popular for its vibrancy and unpredictability in terms of sights and stores.  Santa Monica State Beach, San Gregorio State Beach, Cayucos State Beach, and Coronado Beaches are some other popular options around the US for riding beach cruiser bikes.
Beaches and bikes go hand-in-hand, especially in the summer when the weather is tranquil enough to allow for a long cycling experience. Many of these beaches have speed limits and safety regulations that make for a family-friendly area to bike. If you are a man, you can choose from best cruiser bikes for men.
We are happy to present this collaborative post to offer valuable information to our readers.