Thanks to Viking River Cruises for inviting us along and providing this adventure! As always, all opinions are our own.
As the last stop on our cruise down the Danube, the German city of Passau had plenty of interesting attributes to explore, but it shall be forever etched in David's memory as The Home of The Half-Meter Würst. In his mind, the best würst ever!
But before we dig too deep into his obsession with this supreme sausage, let's take a look at the city from whence it came.
Often called Dreiflüssestadt, meaning the City of Three Rivers, Passau sits at the confluence of the Danube, the Inn, and the Ilz rivers. St. Georgsberg Mountain looms directly above that coming together of the waters, making it a perfect place to build a castle.
So back in 1219 Ulrich II, the prince-bishop of Passau, set about constructing his fortress Veste Oberhaus as a show of the power of the Holy Roman Empire.
For five hundred years every assault was repelled — that's how good the location was — but finally, it was overtaken. After that, Napoleon used it while attacking Austria.
Our longboat, Skadi, was docked just across the Danube from the castle, on the peninsula formed by the three rivers.
This is the oldest part of the city, so we confined our visit to this lower ground. This central section of the city is dominated by archways.
There are the usual arches incorporated into the structures and doorways, but many span the entrances to small side streets.  Exploring further, we found several arched tunnels — most big enough to drive cars through — that passed completely under entire buildings.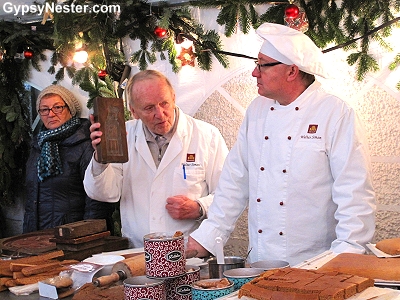 Our frosty morning was warmed up with a stop at Confiserie Café Simon and a demonstration of making gingerbread.
Just the smell brought a warming ember to our chilled cockles. The baked treat is known here as Lebkuchen, which means loaf of life.
A fitting name that demonstrates how our English translation is a misnomer–there is no ginger in gingerbread. The original simple recipe consists only of rye flour, honey, and spices such as clove, nutmeg, and cinnamon.
A more spicy version known as Gewürzlebkuchen (gewürzle means spice) includes molasses.
WATCH:

Do you love cooking classes like we do? Click here to see our classes from around the world!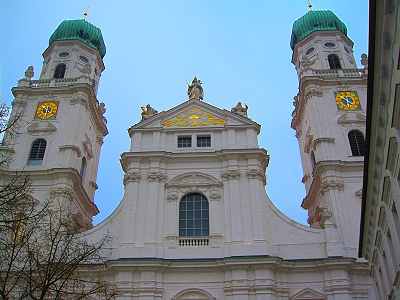 After sampling several styles, we walked just a few blocks to St. Stephen's Cathedral, the town's crown jewel.
As with many cities in Europe, a church has stood on the site of the cathedral for over one thousand years, in this case since the year 730.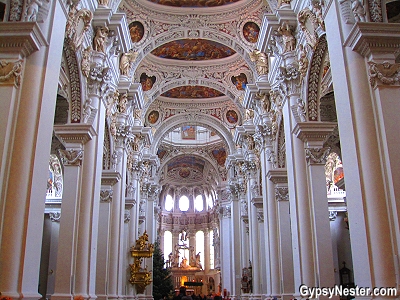 The current church was constructed in the classic baroque style from 1668 to 1693, after a massive fire destroyed much of the city in 1662.
Walking inside we were blown away by the intricate stucco work on the columns and arches, and the classic frescoes on the ceiling…
…but the interior is dominated by the pipes of the organ.
At one time this was the largest cathedral organ in the world, and still is the biggest in Europe.
The 17,774 pipes have been worked into the structure so that the instrument has become a part of the church.
Unfortunately, we didn't get a chance to hear the pipes in all of their glory, but it is not hard to imagine the power.
In the plaza in front of the cathedral, a Christmas market was set up which turned out to be the best one ever, at least from David's perspective.
It prominently featured something he never knew existed, an almost unimaginable delicacy of delectable meat, and meat by-products, stretching over one-and-a-half feet long, the 1/2 meter würst!
How could any other sausage possibly measure up?
But alas, he could only drool longingly as we passed booth after booth offering fifty centimeters of spiced meat on a bun, for we had already picked out a nearby gaststätte to have lunch.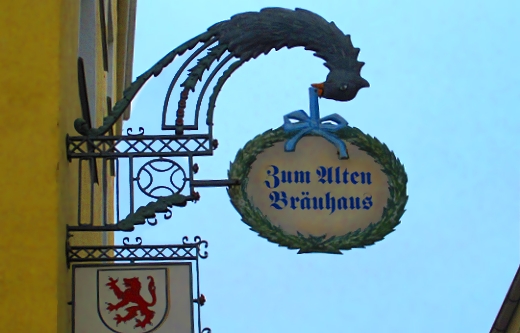 Love this sign? See all about Guild Signs!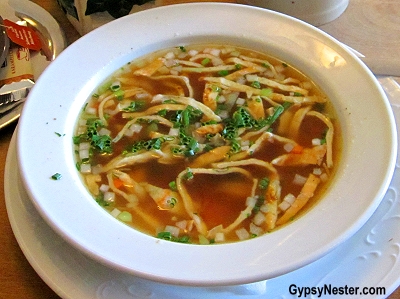 Zum alten Bräuhaus, which means The Old Brewery, is a classic old-fashioned tavern with absolutely authentic local dishes.
It was obvious that the pfannkuchensuppe, or pancake soup — while completely delicious — was not going to distract David from his würst instincts.
No way pancakes cut into strips and served like noodles in a broth was going to satisfy the longing deep within his belly.
Perhaps a different sort of pork product could suppress his obsession; we tried Ofenfrischer Schweinsbraten mit Kruste, dazu Knödel und Kraut, which translates exactly to: Oven Fresh pork roast with crust, with dumplings and sauerkraut.
That seemed to be working; he hadn't mentioned the foot and a half of sausage once since his plate arrived.
However, thoughts of the half-meterwürst had not been vanquished, only silenced. His mind still reeled contemplating the sheer measurements involved.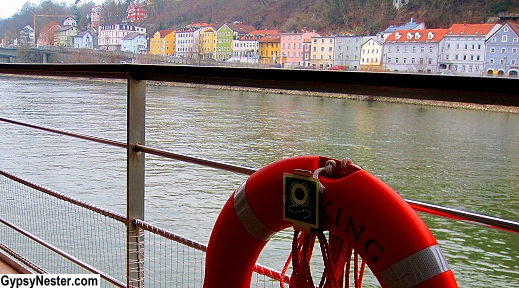 Sometimes he can be his own würst enemy. After walking around town a bit more, we headed back to the ship for a power nap.
However, Sausage Boy had other plans, a würst-case scenario. As soon as Veronica nodded out, he was hightailing it right back to the market in pursuit of the long links.
Luckily he kept the presence of mind to capture his conquest on film, giving birth to the half-meter-würst selfie.
A difficult proposition considering that the sausage was almost as long as his arm. But he persevered, wanting that photo in the würst way.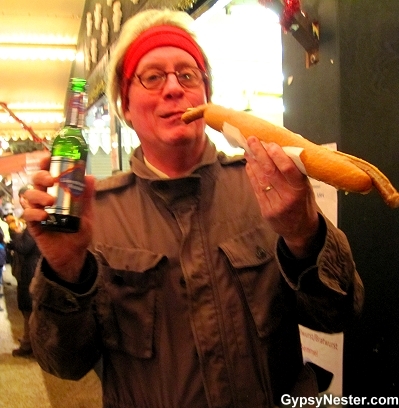 Finally, a helpful German woman offered to snap a picture, which was very kind and greatly appreciated, but lacked the powerful perspective of meat and bun shot from an arm's length.
After seeing both photos, we think everyone will agree that the half-meter-würst selfie is truly a work of art.
It would be difficult for anything else to measure up.
David & Veronica, GypsyNester.com
Thanks to Viking River Cruises for inviting us along and providing this adventure! As always, all opinions are our own. See our entire Christmas cruise along The Danube with stops in Budapest, Bratislavia, Vienna, Durnstein & Melk, Salzburg, and Passau.
Your turn: We're considering creating a hashtag, which is better? #1/2MeterWurstSelfie or #MeAndMyMeterWurst? Or maybe the more general #WurstCaseScenario? What do you think?