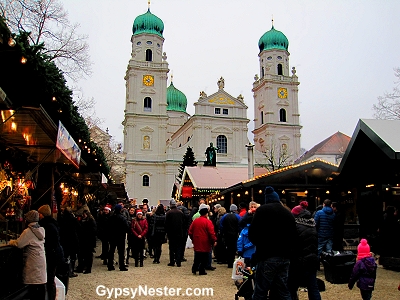 In the plaza in front of the cathedral in Passau, Germany, was a Christmas market which turned out to be the best one ever – at least from David's perspective.
It prominently featured something he never knew existed, an almost unimaginable delicacy of delectable meat, and meat by-products, stretching over one-and-a-half feet long, the 1/2 meter würst!
How could any other sausage possibly measure up?
But alas, he could only drool longingly as we passed booth after booth offering fifty centimeters of spiced meat on a bun, for we had already picked out a nearby gaststätte to have lunch.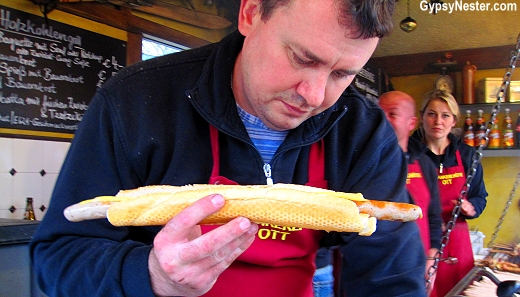 That worked; he hadn't mentioned the foot and a half of sausage once since his plate arrived.
However, thoughts of the half-meterwürst had not been vanquished, only silenced.
His mind still reeled contemplating the sheer measurements involved.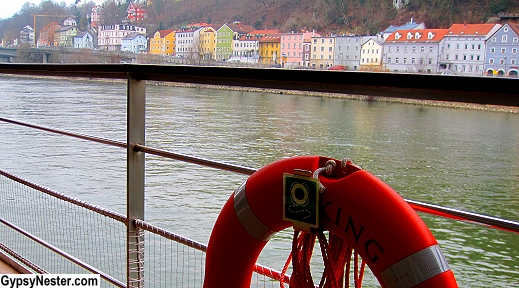 Sometimes he can be his own würst enemy. After walking around town a bit more, we headed back to the ship for a power nap.
However, Sausage Boy had other plans, a würst-case scenario. As soon as Veronica nodded out, he was hightailing it right back to the market in pursuit of the long links.
Luckily he kept the presence of mind to capture his conquest on film, giving birth to the half-meter-würst selfie.
A difficult proposition considering that the sausage was almost as long as his arm. But he persevered, wanting that photo in the würst way.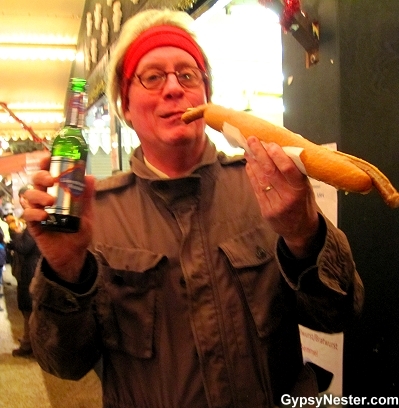 Finally, a helpful German woman offered to snap a picture, which was very kind and greatly appreciated, but lacked the powerful perspective of meat and bun shot from an arm's length.
After seeing both photos, we think everyone will agree that the half-meter-würst selfie is truly a work of art.
It would be difficult for anything else to measure up.
David & Veronica, GypsyNester.com
See more about the history of Christmas markets and our explorations of these markets around the world!
See all of adventures in Germany!
Your turn: We're considering creating a hashtag, which is better? #1/2MeterWurstSelfie or #MeAndMyMeterWurst? Or maybe the more general #WurstCaseScenario? What do you think?