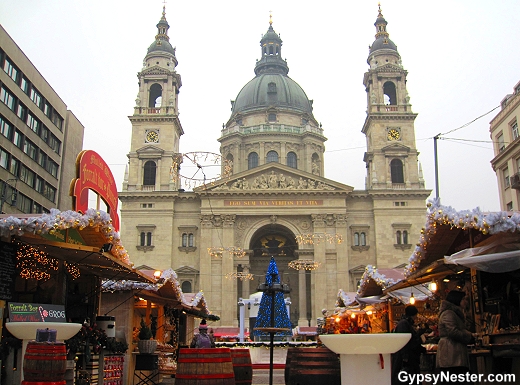 Szent István Bazilika, Saint Stephen's, serves as the main church for Budapest. It is named for Saint Stephen I of Hungary, who tradition says became the country's first King on Christmas in the year 1000. He was canonized in 1083 by Pope Gregory VII for bringing Christianity to Hungary.
The church is quite new compared to most of the great cathedrals of Europe, completed in 1905 after fifty-four years of construction.
See our entire adventure in Budapest
The Climb to the Top of the Dome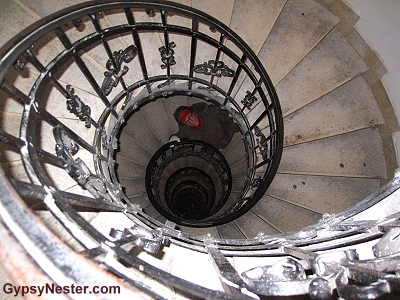 Without really knowing what to expect, we bought tickets to go up in the tower.
Climbing the seemingly endless stairs, we were feeling certain that there must be something really good at the top.
Three hundred sixty four steps later we were not disappointed.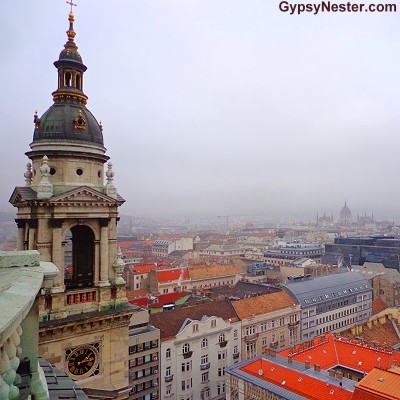 From the top of the cathedral dome we had a 360 degree panoramic view of the entire city.
It looked to be the highest spot in town, but we discovered later that the dome on the parliament building is the exact same height.
This was done intentionally, to show the equality of political and religious power. By law, no building can be erected higher than the ninety-six meters of these two domes.

The Christmas market in the plaza in front of the basilica – note the skating rink!
See our entire adventure in Budapest!
The Holy Right Hand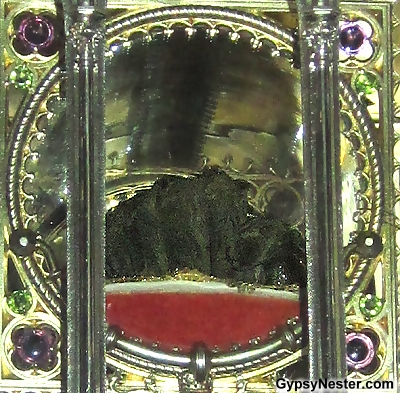 Inside the basilica, the king who became the patron saint of Hungary is honored in several ways, including a display of his right hand.
Yes, the one thousand-year-old mummified hand of Saint Stephen is kept in a glass case in a small chapel at the back of the church.
We know this to be true because we saw it with our own eyes. Just slip a coin into a slot and a light comes on to reveal it, looking like it had the worst case of frostbite ever.
We had to get out of there.
David & Veronica, GypsyNester.com
Thanks to Viking River Cruises for inviting us along and providing this adventure! As always, all opinions are our own.
Delve deeper:
See our entire adventure in Budapest
Check out the bustling Budapest Christmas Market
Discover more about Fisherman's Bastion & Matthias Church
Continue along with us on our Christmas cruise along The Danube with stops in Budapest, Bratislavia, Vienna, Durnstein & Melk, Salzburg, and Passau.