By Susan Doktor
Many gypsy nesters relate a common experience: the toughest part of being a gypsy nester is actually making the decision to become one.
And that's not surprising. No matter how much we may love to travel, most of us have always had someplace to come home to. Often, our very identities are tied up in our homes. We've spent umpteen hours planting the gardens that reward us each spring. Years building our dream kitchens. We've traveled miles and miles, collecting objects that reflect our spirits and experiences. We're neighbors who sit on the boards of neighborhood associations and lend a hand to other neighbors. And we wonder, how exactly do we give all that up?
Well, countless gypsy nesters do and live happily ever after. But for others, it's too big a jump to make all at once. So they take a different path to the gypsy lifestyle—one that slopes gradually and doesn't involve making quite so scary a leap. Many make downsizing—trading a big, empty nest for a small one they visit periodically—part of their gypsy lifestyle plan. If you're hesitant to commit completely to nomadic living, that's a strategy that might work for you, too.
Downsizing: Everybody's Doing It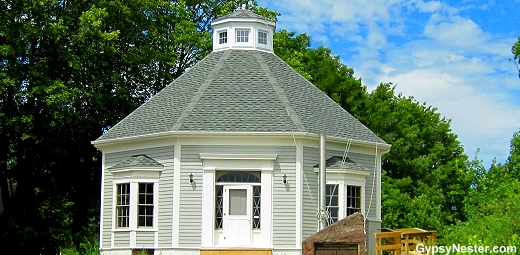 For most people, the very phrase downsizing calls to mind empty nesters and people of retirement age. That's not an unreasonable association. According to Forbes, baby boomers aged 65 to 73 made up the largest portion of home sellers in 2020. A study by Homes.com found that 23% of homeowners downsize once their children grow up and move on. For many gypsy nesters, their homes represent their largest financial asset—one they use to fund the years of travel they have ahead of them.
But other real estate industry statistics reveal that downsizing cuts across generations. That's because the most common reason for downsizing is to save money—something people of all ages need to do at various times of their lives. And the decision works for most people who make it. Rent, utility, insurance, and tax savings are some of the benefits of downsizing. Over the past several decades, real estate prices have climbed steadily. In 2020 alone, they jumped 11%. Depending on how long you've owned your home, the amount of equity you've established might surprise you. Even if you take some of the profit you reaped by selling your home to buy another, your downsizing decision could go a long way toward paying your expenses as you travel the globe.
If you decide to downsize soon, you have another real estate market dynamic working in your favor. During the COVID-19 crisis, mortgage interest rates have plummeted, reaching record lows in the mid-2020s. They're still below rates we've seen for a decade and economists predict that they're likely to stay that way. That means the money you make from the sale of your large home will go farther when you make mortgage payments on your new, your smaller one. Shop around for the lowest mortgage rate you can find and crunch the numbers carefully to see how much you'll stand to gain when you downsize.
You Have Options
Downsizing comes in many shapes and sizes. For some people, it can even look like upsizing. Swapping an expensive condo in the city for a rural ranch home with acreage is one way to downsize. And so might be trading a sprawling suburban home for a pied-à-terre in town that's walking distance from restaurants and entertainment. Simply moving to a less expensive real estate market is another way to downsize. You can buy a six-bedroom home in Toledo, Ohio for less than half of what it would cost to buy a one-bedroom condo in Westchester County, New York. There are as many solutions to downsizing as there are empty nesters who want to pare down.
How Far Can Downsizing Take You?
We all choose our own ways to travel, of course. Some of us opt for top-notch accommodations and must try every Michelin-rated restaurant we come across. Others travel frugally—staying at hostels or cooking by a campfire. Travel experts estimate that the cost of traveling the world for an entire year typically runs between $15,000 and $25,000. Let's say that after you downsize (in whatever way you choose), you walk away with $100,000 in your pocket. Depending on the travel choices you make, you could indulge your wanderlust for almost seven years. If you decide, like more and more people are doing nowadays, to live the life of a working, digital nomad, that travel budget will take you even further. And you'd still have somewhere to come home to.
How Far Can You Downsize?
That depends, in part, on how many of your possessions you're willing to part with. As we've discussed, many gypsy nesters find letting go of their "stuff" one of the hardest parts of launching their new lifestyle. But if you're willing to whittle it down to just the most practical plus a few precious items, you might be interested in the tiny house movement. This "living small" phenomenon began in Europe, but by the 1990s, also gained traction in the US. Today, you can purchase a ready-built tiny home for an average price of $45,000. Are you handy with power tools? You can save money by buying a tiny house DIY kit for around $20,000. You can even order one on Amazon. Tiny homes are tiny—they're usually defined as having an area of less than 400 square feet. But they offer outsized financial benefits.
The Tiny House Society has done quite a bit of research into the advantages of tiny homeownership. It turns out that people who live in tiny houses are more financially secure than other Americans. Nearly 70% of tiny homeowners have no mortgage. Some 60% have no credit card debt whatsoever. And tiny homes are actually increasing in value at a higher rate than traditional homes, which may make them an even better investment than traditional homes.
Here's another intriguing fact about tiny homes: many of them are portable! If seeing your kids and grandkids is one of the main reasons you'd want to take a break from the gypsy lifestyle, imagine being able to drive your home from one place to another at will. You can spend Christmas in your tiny home parked in your son's backyard and Fourth of July at your daughter's place. Many grown children find the notion of having their parents wander the world a little unsettling. Having mom or dad's tiny home parked behind the garage could be reassuring to them and make the separation easier for them to abide emotionally.
Follow Your Dream and Your Instincts
One of the greatest gifts you get from gypsy nesting is freedom. Freedom to ditch the daily grind and make every day an adventure. The chance to choose where you want to wake up every morning and toggle between metropolitan and rural experiences. If you've been hesitating at the threshold between traditional, home-based life and a full-on gypsy experience, keep in mind that it's not necessarily a binary decision. With a little bit of planning, you can have the best of both worlds. You cross through that doorway over and over again, in both directions. And the door won't slam behind you.
Author Bio: Susan Doktor is a journalist, business strategist, and principal at Branddoktor. She writes on a wide range of topics, including finance, real estate, and travel. Follow her on Twitter @branddoktor.