A big thank you to Visit Norway for providing this historical adventure! As always, all opinions are our own.
At the end of our Norway in a Nutshell tour we found ourselves in Bergen, the country's second largest city.
With over a thousand-years of history that has always been connected to trading on the sea, it seemed like the best place to begin our exploration of the town was at the harbor.
We made the easy walk from our home base, the sleek and stylish Scandic Hotel Ørnen, to the busiest port in Norway in just a few minutes.
There's Norway, and then there's Bergen (or so the locals told us!)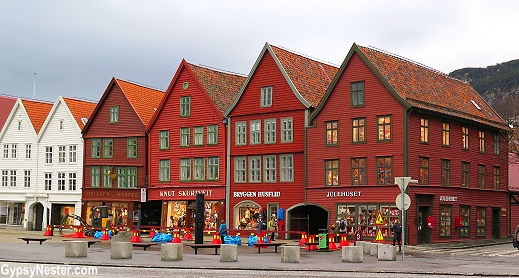 For much of its existence Bergen was a part of Denmark.
In fact, Norway has only been fully independent since 1905, before that the Scandinavian kingdoms formed alliances, and sometimes fought, while the seat of power was either Denmark or Sweden.
In the case of Bergen, much of its power and stature came from Germany, through the Hanseatic League that we first learned about on our Eurail adventure when we stopped in Lübeck.
This society of traders formed a city within a city along the waterfront that became known as Bryggen, meaning wharf, which has been restored and preserved as a UNESCO World Cultural Heritage site.
As we worked our way through the maze of tiny alleys and walkways among the storehouses, we began to get a feel for what it must have been like seven hundred years ago when all of the fish and humans were piled in here on top of each other.
Thousands of pounds of fish were processed and shipped south from these cramped and chaotic buildings every season.
For a look at the inside of one of these structures, we popped into the Hanseatic Museum.
The building has quite a history its own self.
It was built in 1702 after one of the many fires that have ravaged Bergen through the years, then in it 1872 became a museum.
The ground floor still has dried fish hanging from the rafters, but we have no doubt that the aroma is nothing more than a hint of the reeking olfactory assault that took place back in the heyday of Bryggen.
Boiling out cod liver oil and pressing dried cod into barrels no doubt kicked up quite a stink.
Climbing up the steep, narrow, and dark staircase we reached the second floor, which has bunks for the workers, offices for the managers, and trading space for the business at hand.
Up one more flight and we were in the nicer quarters, where the bosses stayed as far from the mess below as possible.
Protecting the harbor
Back outside we walked toward the open sea, past the rows of wooden warehouses, to the mouth of the port where the Bergenhus Fortress stands guard.
This was the site of the royal residence dating back nearly a thousand years, but the surviving buildings are slightly newer, from the middle of the thirteenth century.
The Håkonshallen, named for King Haakon, and the Rosenkrantz Tower are still standing after surviving severe damage during World War II.
Norway was occupied by Germany during the war, and Bergen became an important submarine base for the Nazis, but the damage was caused by an accident, not hostilities.
On April 20th, 1944, the Dutch ship Voorbode, loaded with a quarter of a million pounds of explosives, caught fire in the harbor.
The resulting blast killed 158 people, wounded nearly five thousand more, and destroyed 131 buildings with hundreds more sustaining severe damage.
Sabotage by the Norwegian resistance forces was suspected, especially since it took place on Hitler's birthday, but that was only a coincidence.
The view from the top
Heading back inland, we only had to walk a few blocks to get to one of Norway's most popular attractions, the Fløibanen.
This funicular railway climbs a thousand feet up the side of Fløyen, one of the seven mountains that surround the city of Bergen.
The basic idea of a funicular is very similar to an elevator.
Two cars are attached to each other by a cable so that they counterbalance each other.
As one goes up, the other comes down.
All we know is that it worked just fine, and gave us an amazing panoramic view of the city, fjords, and surrounding mountains.
Even with the damp conditions we could see for miles.
Actually, considering that Bergen gets about seven feet of rain each year, we had to count ourselves as lucky that it wasn't pouring on us.
See all of our adventures in Norway!
Awww… quit yer crying
Bergen is famous for more than rain, the city has also been known as a cultural center for centuries.
Several collectors have established museums over the years, including one of the largest collections of Edvard Munch paintings anywhere outside of Oslo, but the city is better known for its contribution to music.
In the main shopping area we came upon a statue of a man playing violin. Being curious, we inquired and discovered that this was Ole Bornemann Bull.
While something less than a household name these days, he was huge back in his day, the mid 1800s.
As a worldwide star he played everywhere, including the good ole U.S. of A.
He liked the states so much that he decided to establish a New Norway in northern Pennsylvania.
He built a castle and founded cities, but before long his plan went bust. The land wasn't very good for farming, so Ole Bull returned to Bergen and most of his citizens moved on to Minnesota and the Dakotas.
His legacy lives on though, since the one-time settlement has become Ole Bull State Park.
Nearby we encountered another statue, this one depicting an upset-looking, naked boy crying in a pond.
This wonderfully expressive guy is called Grinegutten, which means Crying Boy in Norwegian, and we felt strongly that he has every right to be cranky.
After all, he's been left stranded standing in the middle of a fountain in his birthday suit for over sixty-five years. The audacity of it all!
We also felt strongly that Norway's second city left us feeling a whole lot happier than this little guy.
David and Veronica, GypsyNester.com
DELVE DEEPER:
See all of our adventures in Norway!
See our full journey through Norway by rail – spectacular!
A big thank you to Visit Norway for providing this historical adventure! As always, all opinions are our own.