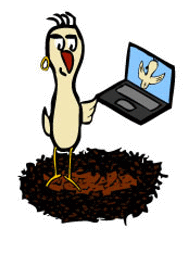 I am drool resistant, attract dirt, love to wallow, don't mind eating things off of the ground and sometimes need changing.
I fit right in with kids.
I am a sucker for the little buggers, most likely because a good part of me still is one. I can get down to and play at their level with no effort whatsoever. So… I guess I want grandkids more than Veronica does.
As she pointed in "Grandchildish Behavior," she doesn't want to push things and neither do I. I am a firm believer in letting our adult children live their own lives. But while I agree with her points in the essay, I can't help thinking about how fun it would be to have some new little rug rats running 'round.
I think of the possibilities. Sofa cushion forts to be constructed, trash can lid dog sled races to be run, old lawnmower / tricycle / roller-skate / beanbag chair vehicles to be made and crazy mud-filled attempts at tunneling under the neighbor's house to be dug.
All accomplished with nothing more than a sack lunch and a big idea.
A huge advantage to grandchildren, the icing on the face (oops, cake)… they have to go home at some point and Veronica and I get to go on with our GypsyNesting lives. All the fun without all that pesky responsibility.
Even better, since we've sold the nest, when the sippy cup does a slo-mo two and a half gainer with a lid releasing twist across the room, I would just be a spectator. I'd give it an 8.5 with wild applause.
That peanut butter and jelly face print on the hall closet door? Nice likeness.
The terrarium complete with amphibian wildlife in the bathtub? Cool.
That chemistry / cooking experiment involving chocolate pudding, Cheerios, a two liter bottle of diet Pepsi, a bag of frozen peas and the blender? Nourishing and builds character.
As long as I don't actually join in on the mess making, something I've been known to do, it's not my problem. I might offer to help clean up… but I don't have to.
There is also an educational factor for our kids. No child ever really knows what their parents went through until they have children of their own.
No, I'm not wishing the old "I hope you have a kid just like you someday" revenge on them… actually, I hope they are that lucky. I'm just saying that it is, without a doubt, the world's biggest learning experience.
So I definitely look forward to the day when I can roll all over the living room floor with my kids' kids… at their house.
I will boldly face the possibility of projectile vomit all over my shirt (I certainly was a target for it in my daddy days), gum-based food products in my shoes, melted mystery candy-like substances in my pockets and the inevitable stains everywhere else. It's nothing a little Tide and a Kenmore can't handle.
I only hope my chiropractor can handle my achin' back when the time comes.
David, GypsyNester.com
Need some great, cool, and different ideas on gifts to give to grandchildren? Here are 10, or  check out these incredible places to go together.
This post may contain sponsored links.