Having just seen the movie "Sling Blade" on video with its classic line "Mustard's good on 'em to me" we  simply could not resist a trip to Mt. Horeb, Wisconsin and its world famous Mustard Museum.
Much to our delight, what  we discovered was a confluence of cheesy tourist diversions.A veritable treasure trove of camp with metal monsters, trolls, the great outdoors and of course, mustard.
Before we even made it into town we were granted a wonderful surprise. Rounding a bend in the highway, we encountered a rolling,
attractively landscaped yard hosting giant scrap metal sculptures. Closer inspection was definitely called for.
After a few dangerous minutes gazing over the creations from the side of highway 78, we decided to pull a little way into the drive. The Tin Man of Oz fame, who doubles as a mailbox, showed us the spot. We were given a welcoming wave from the couple up by the house so we got out and walked across the little bridge to say hey.
Wally and Shirley Keller built their home and have lived in this picturesque valley in south central Wisconsin since the '70s. After retiring in 1995, Wally began fashioning these fascinating pieces from old farm machinery — just for fun — but has since sold over a thousand of his intriguing creations.
When asked if he had any formal training in art, Wally simply smiled and replied, "Well, I can spell art."
The Keller's proudly showed us around, introducing us to  the enormous Nine-eyed Crown Bug, Parts Man, Temple Lion, Pegleg the Pirate and a veritable herd of  dragons and dinosaurs.
In addition to these colossal sculptures adorning the front yard, a myriad of smaller critters dwell in the garden out back.
Wally employs kinetic energy in many of his creatures, giving them interesting movement and sound. Folks in these parts have come to know the Kellers well and will special order works or drop off an unneeded hunk of scrap metal or two. Many a morning Wally wakes up to discover these late night offerings next to his workshop.
With the Tin Man in our rearview mirror, we headed out for the last few miles into the mustard Mecca. Driving into town on Main Street it quickly  became obvious that something strange was afoot. Ever feel  like  somebody's watching you? Well, in Mt. Horeb they actually are.
Dozens of diminutive, below the bridge dwellers of all shapes and sizes — wooden trolls, metal trolls, big trolls, little trolls, painted trolls, ceramic trolls, you name it, all lining the roadway they call the Trollway.
But the main event of Mt. Horeb has got to be the Mustard Museum.  A hotdog's best friend, a soft pretzel's comrade, a sandwich's  constant  companion, the condiment that never goes bad on you, when the fridge is totally empty, wait, what's that way down in the bottom corner of the door, it's a little crusty but it's still good… mustard!
Right when we walked through the door it hit us. David literally said, "wow, it's really yellow in here." Why? Because it freaking IS.
For those who think of mustard as a plastic squeeze bottle of bright yellow goo, the Mustard Museum will give some food for thought.
Over five thousand different mustards are on exhibit in the museum and more than five hundred on sale in the shop. The shop also houses the world's only mustard vending machine.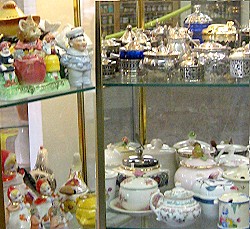 Mustard in tubes, cans, jars, boxes and bottles. Seven large, tiered  display cases are crammed with swanky antique mustard pots on permanent loan… just like one of them fancy big city museums.
It's going to be quite the chore to move all of this mustard memorabilia when the museum is relocated in October.
Informative exhibits showcasing mustard in medicine, mustard's love
affair with sports and mustard advertising through the ages line the walls.
On the medical front, it looks as though mustard, as a treatment for pulmonary diseases, snake bites and skin rashes is no longer on the forefront of the healing arts, but some folks still swear by mustard rubs and baths. Go ahead and smear on some French's or draw a tubful of Plochman's if you think it will help. Seems like an awful lot of squeezing but we'll be standing by with some pastrami at the ready.
Wanting the full mustard experience — without actually wallowing in it –we decided we must procure some for our personal consumption. We proceeded to the tasting area.
After choosing several we thought we might like, we were led to a table in the back where tiny samples of assorted mustard styles are offered on little plastic spoons. We can honestly say we''d never had mustard straight before, silly rabbit — mustard's a condiment.
Even David''s weird little friend back in grade school, Donny The Mustard Eater, made sandwiches out of it — he never ate it straight up. The samples could ha've used a chaser.
Perhaps a bratwurst.

We took a crack at eye-watering horseradish style, tongue-burning  habanero and sickly sweet honey varieties.
We passed on the "Bite Me" and the "Smack My Ass & Call Me Sally," but like Goldilocks, found a just right German stone ground and a not too ferocious jalapeno. Now that's good eatin'.
Jars safely tucked into our bag, it was off to University, Poupon U — right there in the shop. At least their swag is. With a slogan like "building character dollop by dollop" they must be good.
Ah, if only our offspring had known about Poupon U before they chose those other institutions of higher learning.
To complete our visit, we stepped into the Mustard Piece Theater. Today's
(and everyday's) feature: quirky old retro videos on the making of mustard mixed in with goofy celebrity sound bites. It's great — Jonathan Winters, Joanne Worley and Woody Allen proclaiming their undying love of mustard.
As we were leaving we met the curator, author and all around wacky guy, Barry Levenson. When asked why the museum is moving from Mt. Horeb to Middleton, Wisconsin this fall, he answered, "It's the only way to get there."
Thanks Barry.
David & Veronica,
GypsyNester.com