A big thank you to VBT Bicycling and Walking Vacations for providing this adventure, as always, all opinions are our own.
As a home base for a few days, we settled into the normally sleepy town of Hondarribia on the Spanish side of the border with France.
We say normally sleepy because a wakeup call had shaken the city into a flurry of activity.
The Alarde, a huge festival commemorating the city's survival of a siege by the troops of King Louis XIII of France back in 1638, happened to coincide perfectly with our arrival.
Read all about our Alarde adventure here.
Canon fire announced a parade of horses and riders, riflemen, tool toting men in huge sheepskin hats and long black beards known as hatxeroak, numerous fife and drum corps, and throngs of townsfolk sporting red bandanas that seemed to fill the entire city.
This also happened to be our guide Txaro's (pronounced like Charo of Cuchi-Cuchi  fame ) hometown, so she helped us feel like locals with a couple of insider activities that would elude the usual visitor to this historic Basque community.
She was our exclusive expert guide through the city. We began at our hotel, Obispo, which means bishop. The name is for the square that the hotel shares with the church of Our Lady of the Assumption and the apple tree.
A statue of Don Cristóbal de Rojas y Sandoval, who served as the Archbishop of Seville, and chaplain to King Charles V, stands facing the hotel.
Both the church and hotel date back to the fourteen hundreds, and are contemporary with the defensive city wall. The hotel even incorporates the wall in its construction.
Moving on through the town we made a stop at the city hall, where the ancient walls bear the scars of many cannon balls that have bounced off of the stones over the centuries.
Nearby, we found a sixteenth century home where the wedding between Louis XIV of France and Maria Theresa of Spain was arraigned in 1659.
Although the planning for the royal nuptials took place here, the ceremony was held across the river in France at Saint-Jean-de-Luz in the Church of St. John Baptist.
Later, we found ourselves in the midst of a most wonderfully weird continuation of the Alarde festivities that we had encountered the day before. Suddenly we were engulfed in another parade, this time with giant dolls and creatures with enormous heads, the gigantes y cabezudos.
Taking our cue from the locals, we chased the odd figures into a large square where hordes of children mocked the scary looking cabezudos. In return, the kids were chased around and "beaten" for their mischief. Traditionally the cabezudos carry whips, but here in Hondarribia a netted, nerf-like ball is used.
Our evening was to be a truly unique experience. Txaro took us to a txoko, which is a very common members-only, private gastronomic society type of club that in the past were only open to men.
The idea is get together to cook, and of course eat, while trying out new recipes and ideas along with a healthy dose of socializing.
When Basque culture was suppressed under the reign of Francisco Franco, txokos became safe havens where members could share their language and traditions as well as their love of cooking.
Times have changed, so now many of the clubs welcome women and Txaro is a member of the Sociedad Klink Elkartea, so she could include us as guests. This meant that we got to spend an evening in a most quintessentially Basque fashion.
We all pitched in making dinner, sticking to fairly simple dishes, beginning with salad. Then Txaro showed us how to make tortilla de patatas, egg with potatoes, that is much more like an omelet than what we think of as a tortilla.
We finished with two main courses, chicken with carrots, leeks, and garlic, along with salt cod in a cream sauce.
None of this required being a gourmet chef to prepare, but we still had one of the best meals of the trip, and like the old Shake-N-Bake commercials, it was even better because we helped.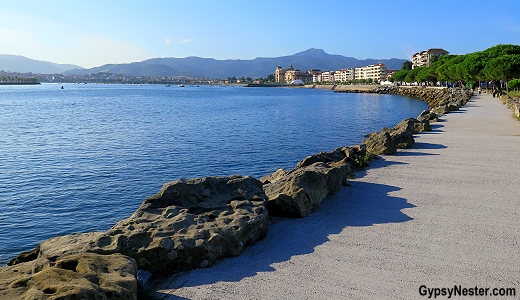 By our third day in Hondarribia we were actually starting to know our way around and felt a little like locals. We began with a morning walk to the marina with a history lesson along the way detailing the fishing and whaling traditions of the region.
The practice of heading out to sea in search of fish goes way, way back around here. In fact, there are stories of Basque fishermen sailing as far away as the Grand Banks off the coast of Newfoundland hundreds of years before Columbus ever dreamed of heading west toward the New World.
The afternoon turned out to be perfect for a climb up to the Hiruzta winery. What better excuse for a chilled glass of rosé than a bit of a hike on a hot day?
So we sipped the most common white wine of the region, txakoli, and partook of some pintxos, especially the gilda – peppers, anchovies, and olives on a skewer.
Unlike much of what we had been seeing, Hiruzta is quite new, only being here for about the last ten years.
We whiled away a couple of hours enjoying the perfect spot for gazing out across the vineyards in the valley and reminiscing about our adventures across the Basque Country before heading back down the hill for a farewell dinner.
Bittor Alza, the owner of the Hotel Obispo that has felt like home for these three days, treated us to an amazing meal. Better yet, he not only cooked, but gave us a detailed demonstration in their open kitchen.
We learned to make the classic Basque green sauce for hake, and how to skin and de-bone the fish. He also showed us a trick or two about sautéing onions just right, so that they caramelize evenly without burning. These will go with some duck breasts that turned out good enough to make us all daffy.
And anything but dessssth-picable!
See more of our adventures in the Basque Country here.
Read about all of our travels in Spain.
David & Veronica, GypsyNester.com