About a year ago, we first saw the Toyota Venza boomerang kid commercial with the son whining about mom going to bed without making his dinner – only to find out that the 'rents were out living their lives.
We thought: wow that is right up our alley. They are marketing this car directly at us.
We have giggled through all of the ensuing ads and their GypsyNesting tone, but it wasn't until a few weeks ago that the Venza drove its way into our hearts.
That was when we got an e-mail out of the blue asking if we would be interested in going to California for a "glamping" event. Glamping is a sort of hybrid camping, glamour camping.
Not something we had heard of, but we are always up for something new. Toyota would pay our expenses and provide a brand new 2013 Venza while we romped and played up the west coast from Santa Monica to Santa Barbara. How could we say no to that?
Next thing we knew we had tickets to L.A. booked for us, luxury hotels in Santa Monica and Beverly Hills reserved for our first and last nights, and a cabin at a premier glamping resort near Santa Barbara for the nights in between.
Upon landing at LAX, we were whisked to the Lowes Hotel on the beach right across from the Santa Monica Pier.
Then, something magical happened. While we were checking in, we took a quick peek at Twitter and found a welcome tweet to each of the guests.
It was like we had made out the guest list ourselves! It was a veritable who's who list of our Boomer Travel World: Donna Hull of My Itchy Travel Feet, David and Carol Porter of The Roaming Boomers, Jason Oliver Nixon of Sky Magazine and Wayne and Pat Dunlap of Unhook Now.
All people we have admired for quite awhile, but never had the chance to meet in real life!
This was going to be the best week ever.
Want to see more great pics and info on the Santa Monica Pier? Click here!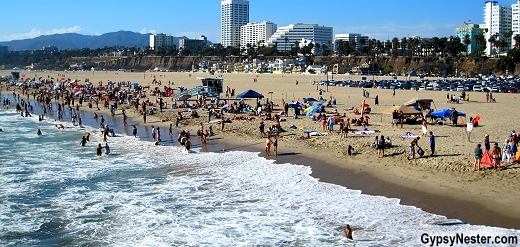 After a stroll along the surf and checking out the pier, we met our Toyota hosts, hugged our fellow boomers and walked over to The Lobster for an incredible seafood dinner.
When a restaurant is named The Lobster, it's hardly necessary to look at a menu. The drawn butter flowed like wine… as did the wine.

Want to see more great pics and info on the Santa Monica Pier? Click here!
The next morning we got our introduction to the Venza.
Designed in California and built in Kentucky, it's a nimble cross between SUV and sporty coupe that easily held everything we could need while looking good along the way.
After perusing all of the available colors, we picked one in an eye-catching metallic green called Cyprus Pearl.
Our Pearl turned out to be a real gem, taking us up the Pacific Coast Highway in open-up-the-sunroof-and-turn-up-the-tunes California cruzin' style.
We explored without a care because the onboard navigation always knew exactly how to get us where we were going.
It even had one of those newfangled stereo/cell phone/talking computer touch screens that was voice controlled so we could talk into it while driving. We messed with it a lot, even had some deep conversations.
Pearl knows the answers to almost everything, but not in a stuck up kind of way.
When we set out we were enticed by a photo contest – a scavenger hunt of sorts – where we were pitted against our fellow boomers to find the best locations along the way to shoot ourselves having fun with the Venza.
The gauntlet was dropped, and we headed up the coast – GypsyNester style – finding the wildest, wackiest and most ginormous stuff along the Pacific Coast Highway:

Being our crazy competitive selves, we were the last to meet back up with the crew at the El Capitan Canyon Resort.
The Capitan knows how to put the glam in glamping. Yurts, tents and cabins with all of the creature comforts most any creature could crave.
All of this luxury, and we were still able to commune with nature as quail, deer, and even a coyote wandered through our campsites.
That night we drove our Venza into the wine country of Santa Barbara County, to the Sanford Winery for an informative tour and decadent dinner in the barrel room with all of the aging vintages.
In the morning, back at El Capitan Canyon, we hiked up a hill overlooking the ocean and fed some of the resident llamas.
Later in the day we took a drive up the steep, narrow, winding Camino Cielo to the top of La Cumbre Peak in The Santa Ynez Mountains.
Then mounted mountain bikes for a spectacular brake-burning ride all the way down to the sea some twenty miles and 4000 feet below.
We were so invigorated we felt like performing a reenactment of the old Toyota "Oh, What a Feeling!" commercials in front of the Santa Barbara mission.
1, 2, 3, jump!
Freeze frame.
BBQ by campfire brought a pretty perfect day to a close. With all of the calories we burned that day, we would have settled for anything, but El Capital Canyon rolled out an amazing catered affair. Complete with s'mores.
The nice cozy bed in our cabin was much more welcoming that night than a sleeping bag in a pup tent would have been. Our days of "real" camping may be over.
As glamorous as the glamping may have been, things were about to step up another notch as the next day had us headed to Beverly Hills and the new SLS Hotel.
The Venza fit right in. Good thing for us, because if we had pulled up in BAMF we almost certainly would have been mistaken for The Clampetts.
Luckily we had packed us some Sunday-go-to-meeting clothes so we could doll up properly for our dinner at one of L.A.'s trendiest new eateries, The Bazaar by José Andrés.
Chef Andrés creates some incredibly innovative dishes, all served tapas style so the table gets to partake together. The meal became an event as we sampled round after round of delicious tidbits (including liquid olives), great for conversation as well as culinary curiosity.
The next morning, exhausted by all the fun and glampour, we channelled our inner movie star, donned our SLS robes, and ordered up breakfast in bed.
Not certain that we quite fit in among The Glampous People, we found that as the week drew to a close, we were glad we said yes to giving it a go.
We spent the rest of the morning brainstorming how to fit our new friend Pearl into our suitcase.
WATCH:

David & Veronica, GypsyNester.com
YOUR TURN: Can you BELIEVE we got to do this? What would have been your favorite part? Is Glamping something you'd like to try?