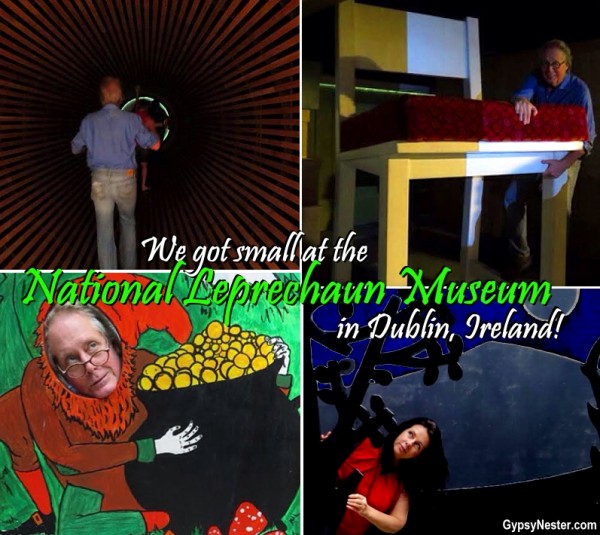 We thought we knew all we needed to know about leprechauns before we arrived at the National Leprechaun Museum.
As American kids, we learned from the authoritative source of Lucky Charms commercials just how mischievous they could be.
We'd spent hours dreaming about how we'd spend that pot o' gold at the end of the rainbow – should we be lucky enough to find it.
Turns out that we knew next to nothing.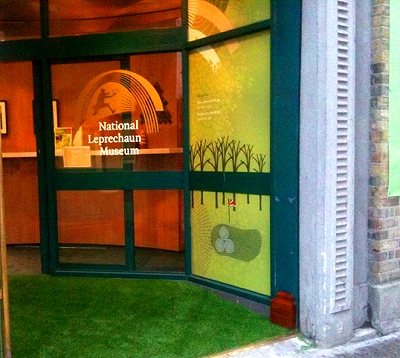 Thinking the museum was likely to be a magically delicious, cheesy tourist diversion — and we LOVE cheesy tourist diversions — we made a beeline to it as soon as we reached Dublin.
Actually, it was the first attraction we visited in all of Ireland.
The museum has its fair share of cheese – to be sure. The first hall we entered was filled with great memorabilia, including a retro example of our beloved American Lucky Charms boxes.
But this is not a museum in the traditional sense, it is more of a multi-sensual experience. Because the Irish are natural storytellers, it 'twas the storytelling that made our visit shine for us.
Once we had our fill of the pop-culture history of leprechauns through ceramic miniatures, cereal boxes, movie posters (remember Darby O'Shea and the Little People?), and eerie-looking dolls, we were led by a dynamic young storyteller named Patrick through a magical portal.
A faerie tunnel that shrunk us smaller and smaller, until we became wee folk – diminutive enough to comprehend the legends we were about to hear.
Tales of happenings that full-sized humans simply can't wrap their big ol' brains around.
The realm of the leprechaun is shadowy and, when our doubting eyes had adjusted, we could see that a seemingly impossible transition had indeed taken place.
We had entered a room where simply taking a seat was quite an ordeal.
Land o' Goshen, we were tiny!
But Patrick insisted we sit, so we hoisted our way up onto the comfy chairs and he set us straight on the facts — and some of the misconceptions — about the little people of Ireland. Among them:
– A leprechaun wouldn't be caught dead in green; they sport red jackets and hats.
– They are incredible shoemakers and you can always avoid one by listening for the sound of his cobblers hammer.
– There are no female leprechauns. We wanted to ask how they reproduce, but there were kids in the room.
– They are not the gregarious fellas of Lucky Charms lore, taunting folks with their riches. They are loners – grumpy misers who just want to make shoes and hoard their gold in private. We aren't certain who they sell said shoes to, and had to wonder how we might get our hands on a pair.
– If you are (un)lucky enough to catch one, you may be granted wishes, but watch your back – they are known for their shenanigans.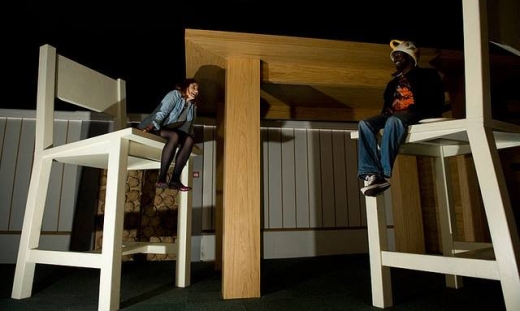 Jumping down from our lofty height, we were led through the middle of rainbow (a first for us!) and beheld what our adult selves thought we'd never see – the mythical pot o' gold.
While straining for the sound of a shoemaker's hammer with one ear, we listened as Patrick imparted a cautionary tale with the other:
In a field of many trees, a human man sneak-attacked and caught a leprechaun.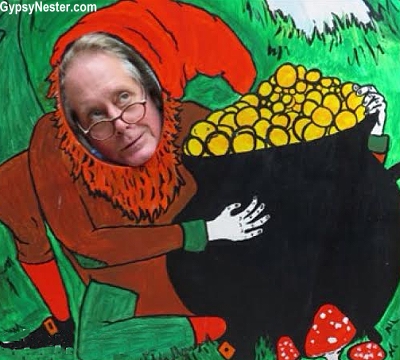 The human insisted the leprechaun show him his hidden gold in return for the little man's freedom.
The agreement was made and they made their way to a tree where the bounty was buried, but – alas – the man had no shovel!
Releasing the cagey leprechaun, the human doffed one of his red garters and hung it on a branch of the tree to mark his score.
He ran like the wind all the way home and back (most likely giggling greedily along the way), only to find upon his return that EVERY tree in the field had been marked with an identical garter.
We're assuming lots of pointless digging commenced.
See what we mean about shenanigans and watching your back?
As we journeyed deeper into the supernatural world, the surroundings became ever more shadowy.
We traipsed though the ebony land of banshees, fairy folk, and púca while sitting on toad stools and listening to Patrick relay their sagas.
Once the tales had all been told, we stepped through a door and burst outside into the bright daylight. We were momentarily stunned.
Returning to the realm of our normal-sized lives was an adjustment after experiencing the land of the leprechauns.
With an Irish blessing we were sent forth from the opaque faery landscape and into a land where the sun seemed too bright and the streets held no magic.
Asking for the road to rise to meet us didn't seem to help all that much, but at least the wind at our backs was always our own.
David & Veronica, GypsyNester.com
See all of our adventures in Ireland!
A big thank you to Ireland.com for providing this wee adventure. As always, all opinions are our own.