In the midst of all of our travels, sometimes we can lose our connection and become a bit disconnected. Like any couple, we need to constantly adjust in order to recharge and stay centered.
That can be difficult with our lifestyle of nearly constant motion. That is why we were so intrigued when we learned about The Art of Living Retreat Center.
This serene sanctuary tucked away in one of our favorite parts of America, high in the pristine forests of North Carolina's Blue Ridge Mountains, looks to be a perfect place to relax, unwind, and rejuvenate.
The more we investigated, the more we were impressed with their mission to facilitate a journey of self-discovery along the path to complete wellness and health. The goal is to provide true nourishment in mind, body, and spirit.
That certainly seems to dovetail nicely with our ongoing explorations of the world around us. The inspiring surroundings at The Art of Living Retreat Center generate an environment that pairs perfectly with their team of genuine and engaging thought leaders.
The tranquility, wisdom, and knowledge are meaningfully integrated to direct visitors along the road to contentment and transformation.
An Ancient System
An integral portion of the process can be realized at America's premiere Shankara Ayurveda Spa, where centuries-old science is utilized to bring life into balance.
This was new to us, so we had to look into Ayurveda.  We learned that the word means knowledge of life and longevity, and the origins have been traced back over seven thousand years to teachings on the Indian subcontinent.
According to Hindu tradition, the creator god Brahma delivered the secrets to Dhanvantari, who then became the patron to those seeking sound health. Yet, as ancient as these practices may be, Ayurveda is one of the only medicinal systems from those times that is still widely followed today.
Dr. Deepak Chopra describes it this way: "The two main guiding principles of Ayurveda are that the mind and the body are inextricably connected, and nothing has more power to heal and transform the body than the mind."
For the Art of Living Center it means that when the world around you is at peace it's easier to find true connection within.
Still, we had to dig a little deeper. We wanted to be sure that we would find plenty to occupy us and that we would not be leaving all of the creature comforts we have come to appreciate behind.
Not to worry, Art of Living retreats can be experienced with all of the amenities of a hotel style room, or even a completely self-contained apartment for a longer getaway.
Active Mind and Body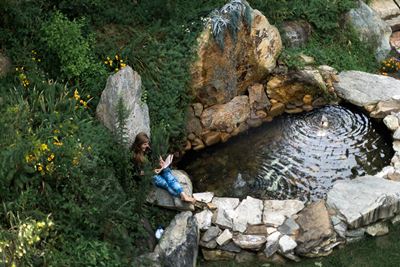 We also found plenty of options for us to stay active, which we find imperative to keeping the mental and physical balance we need. In addition to the spa, yoga, and meditation, there are plenty of outdoor activities ranging from an easy going hike on a nature trail to exciting climbing, kayaking, or whitewater adventures.
For those times when we might be feeling a little less adventurous, there are more pacific pursuits such as pottery, kirtan, or listening to local Appalachian music.
Nourishing Body and Soul
Of course eating was also on our minds. Isn't it always? So we had to check out the dining and what we uncovered was more than satisfying. The chefs blend the fresh flavors from the center's own mountain-top vegetable garden with lively influences of Indian cuisine into an outstanding vegetarian menu.
Previous guests have declared that the food "was delectable and seemed to have healing qualities." Can't ask for much more than that from a meal!
No matter where we are in life, empty nester or still in the throes of day to day parenting, one thing we have become acutely aware of is the need to find peaceful time to reconnect as a couple, with each other and our world around us.
So now we're ready to book our rejuvenating respite at The Art of Living Retreat Center.
David & Veronica, GypsyNester.com