For a long time roads weren't an option in South Louisiana. This was some wild country back in the day, not Bourbon Street wild, but wilderness wild.
The incredibly wet, squishy ground made boats the way to get around and bayous the only reasonable routes for transportation. Back then, Bayou Teche was the Superhighway.
Following The Teche, we set out to discover the real Acadiana.
Our odyssey began in Breaux Bridge, which gets its name from a footbridge across the bayou built by Firmin Breaux back in 1799.
The town, officially dubbed "The Crawfish Capital of the World" by the Louisiana legislature, is said to be the first place where mudbugs were ever offered on a menu, and the birthplace of Crawfish Étouffée. Well then, let's eat!
We headed for Rocky and Lisa Sonnier's Bayou Boudin & Cracklin, a real slice of Cajun culture on the banks of Bayou Teche.
The menu is flexible, depending on the time of day and day of the week, but there is always boudin, pronounced approximately boo-daah, and cracklins.
Traditional boudin is made with sausage casing and stuffed with a delicious mixture of pork, pork liver, onion, spices and rice.
This particular afternoon the Sonniers were serving up some seafood boudin alongside the standard variety. Crawfish, shrimp and crab are used in place of the pork products, and seeing as how we were in the capital and everything, well, what else could we order?
Good thing too, because there ain't no better boudin, anywhere, anyhow, I guarantee. Big chunks of crawdad tail and shrimp stuffed into natural casing, a little hot sauce and a cold beer and ooooweee, it don' git no better dan dat.
Since Rocky is known in these parts as the Cracklin King, we had to take a crack at a crackle too. Most people might call these pork rinds but that would be like calling The Queen Mary a boat. These are fresh fried and have a flavor no bagged pig skin could ever match.
Long live the king.
Rocky and Lisa also offer cabins overlooking Bayou Teche, for a real Cajun bed and breakfast experience.
I tell you what, nothing says good morning like a plate full of cracklins and a gator on your porch. As tempting as a stay in the "Fifties Cabin," described in the brochure as the "Most modern with Elvis and decorations from the 50's" sounded, we decided to move on.
Wait, what?
Did that say we actually get to stay with Elvis? So THAT's where he's been hiding.
Bellies filled, we headed south tracing The Teche through St. Martin Parish down into Iberia Parish. In the town of New Iberia, The Shadows-on-the-Teche is certainly worth a look.
This beautiful example of an antebellum mansion from the early 1830s is now a museum. Better yet, it's right on the way to the promised land for pepper sauce lovers, Avery Island.
Every bottle of Tabasco sauce ever made came from this little island.
A massive salt dome, said to be the size of Mount Everest, lies just beneath the surface. The huge formation pushed this spot up above the surrounding swamp.
The deposits led to the island becoming the site of America's first commercial salt mine. Turns out that this just so happens to be a perfect place to grow peppers too.
Prior to The Civil War, Edmund McIlhenny married into the Avery family, moved onto the island bearing their name, and started a life of salt and peppers.
After the war, he began experimenting with a sauce made from those peppers. It seems that he got the formula right, because untold millions of bottles have been sold in over 160 countries around the world.
The first thing we noticed upon arriving to the island was the smell. It simply reeks of Tabasco, which is not a bad thing as far as we're concerned.
After a few minutes, we got used to it and didn't even notice. Either that or our smell buds had been completely fried.
The tour through the factory was short and sweet. After a brief film, we all headed down a hallway with windows overlooking the shop floor. As we walked along, we observed every phase of Tabasco production.
We got to see the big barrels of mashed peppers being aged for the required three years.
Next we saw the liquid from that properly aged mixture being drained off and stirred into giant vats with vinegar and salt from the island's own mines.
At the end of the hall, we watched while the final product was squirted into bottles, labeled and boxed up for shipping to the far corners of the globe.
A member of the McIlhenny family still personally oversees every aspect of the operation. The peppers are grown with seeds, chosen by a real live McIlhenny, from each season's best plants.
Meticulously tended in their patches around the island until harvest time, the peppers are hand picked at the perfect point of redness.
Each pepper picker carries a "petite baton rouge" (small red stick) to match the exact McIlhenny-decried shade of crimson. This attention to detail continues throughout entire production process.
There is of course the obligatory crap shop at the end of the tour. Anything and everything Tabasco is available here.
The usual souvenir items, plus countless varieties of Tabasco sauces, condiments, canned goods and prepared foods.
Now we both like hot stuff as much as the next guy, but the gift shop had a few items that tested our limits. Not everything needs Tabasco.
Let's just say that ice cream and soda pop aren't improved by the addition of the hot sauce.
Sharing Avery Island with the Tabasco plant is a botanical garden and bird sanctuary, Jungle Gardens and Bird City. In the 1890s, just before taking over as President of Tabasco from his father, E.A. "Mr. Ned" McIlhenny started this refuge in an effort to save the snowy egrets.
These beautiful birds had been hunted to near extinction for their decorative plumes. From Mr. Ned's initial eight birds, the colony has thrived and now thousands migrate here every spring.
These Jungle Gardens are lovingly landscaped with azaleas, Japanese camellias, Egyptian papyrus, bamboo and of course live oaks dripping with Spanish moss.
A shrine to an ancient Buddha, a gift to McIlhenny back in 1936, stands as the centerpiece of the "Jungle." It really is a beautiful place and we had a fantastic afternoon.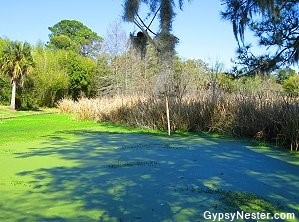 Ah Southern springtime! Blue skies, colorful wild flowers, the kudzu coming in and the algae pond scum greening up so nicely.
Beautiful, and made even better by the fact that we didn't get attacked by a single carnivorous swamp dweller.
For most visitors this should never be an issue, since they drive through the gardens in the safety of their cars, but we had the bright idea to ride our trusty bikes through the jungle.
The folks at the front gate gave us the green light, and it seemed like a great way to experience the landscape until we rounded a corner and found ourselves about ten feet away from a six foot alligator.
Yup, this is a nature preserve so there are no fences or cages. No motes or walls or any other barriers. The gators roam free to feed on any stray cyclists that might wander too close to the water.
No mention of this when purchasing a ticket. I guess they figured it doesn't take too much brain power to understand that steering clear of large, sharp toothed swamp reptiles is a good idea.
Plus they did put up a few little signs around the watery spots that say: Alligators Are Dangerous.
Seems like plenty of precaution, if not for the fact that we had just come from the Tabasco tour and smelled like delicious sauce.
Do we know if anyone has ever been eaten?
In no mood to find out we gave the gators plenty of room, and enjoyed the rest of our ride without incident.
We even hung out with Buddha for a while. Very peaceful, Zen even.
Once the sun started getting low we headed back out to follow the bayou. Later we learned that alligators don't really think of humans as a delicious dish.
No mention though, rather the smell of vinegar, peppers and salt might change their minds.
Do gators like Tabasco?
David & Veronica, GypsyNester.com