Thanks to Eurail for providing the 15-day rail pass that inspired this crazy adventure! Also HUGE thanks for the support from I Amsterdam, Visit Stockholm, Visit Norway, and Amsterdam Book Now! As always, all opinions are our own.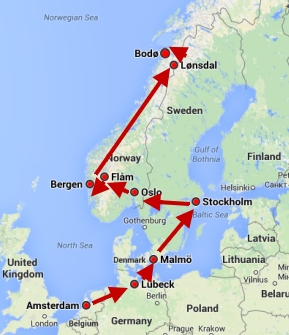 Are we crazy? It's possible we've finally gone off the rails.
When Eurail contacted us to see if we'd like to take advantage of a 15-day rail pass, David the Train Nut's pupils got wide and his answer was a resounding YES!
Veronica was all aboard too, and started dreaming of a wintertime jaunt to sunny Spain. David, however, had other plans. He suggested Scandinavia.
Veronica was not so onboard with this. Right. Let's head north into the cold and dark. Why, pray tell? Then David said two words: Northern Lights.
That did it. Join us LIVE as we embark on a wintry expedition from Amsterdam to above the Arctic Circle with stops in Luebeck, Malmo, Stockholm, Oslo, Flam (via fjords by boat), Bergen, Lonsdal, and Bodo.
Day One: Amsterdam!
Morning: Arrival and visiting Anne Frank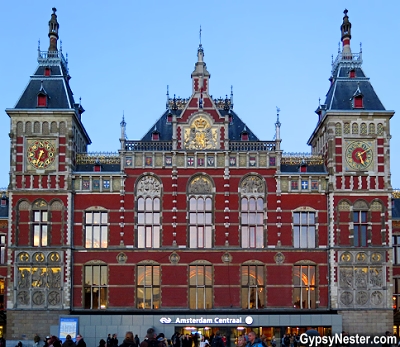 We begin our fifteen-day Eurail pass adventure in amazing Amsterdam.
Coming out of Centraal Station is quite an eye-opening experience!
The city is bustling with pedestrians, trams, and a crazy amount of bicycles scurrying every which way. We use our handy Iamsterdam city card to board a tram and we're off.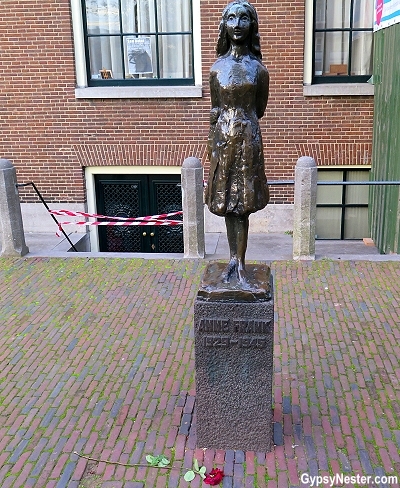 For us, our first stop has to be the Anne Frank House.
This is the actual building where the Frank family, along with their friends the Van Pels and Fritz Pfeffer, stayed hidden from the Nazis for two years.
The "house" was actually several upstairs rooms that were sealed off from the work space and offices below, in the business that Otto Frank owned.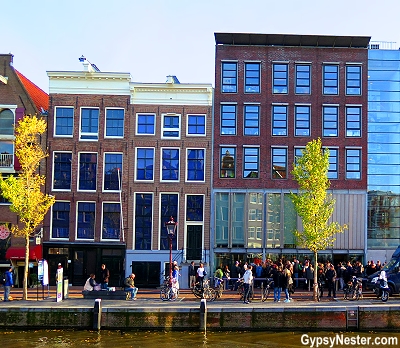 Anne called it the Secret Annex in her famous diary.
The story unfolds in quotes from Anne's diary as we walk from room to room.
Without any furnishings, we think the feeling of the small space is actually accented.
Otto, the only one of the eight to survive the war, insisted that the house be left this way, just as the Nazis left it after capturing them and removing everything. He was instrumental in preserving the house, and also in getting his daughter's diary published.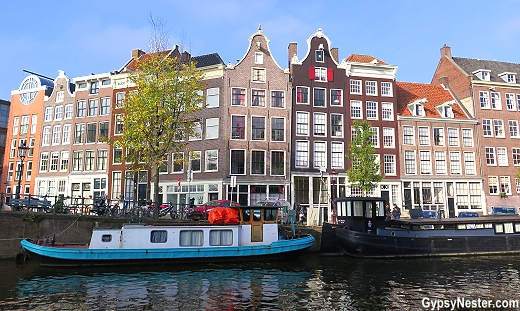 The view from the building that housed the Secret Annex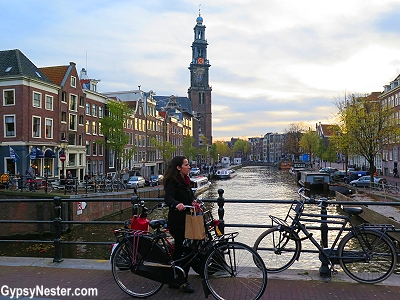 The canal that runs in front of the building
Anne Frank's story is heartbreaking, and made even more poignant by two facts; that the allied forces were only a matter of weeks away from liberating all of Europe when she passed away, and that she expressed the desire to be a famous author, which she accomplished only after death.


Anne Frank's diary has been published in over 70 languages
Read more about the Anne Frank House and how it made Veronica feel to visit
Make sure the you have time to take this must-do, emotional tour when visiting Amsterdam – the line to enter can be hours long. An option is to get advanced tickets, but there is often a waiting list, so plan ahead. The link for tickets is here.
Late Morning: Talkin' Tulips
On a much lighter note, the Amsterdam Tulip Museum is right across the Prinsengracht, or Prince's canal, the outermost of the famous Canal Ring.
We walk over the bridge and into a colorful collection of all kinds of blooming bulbs.
We quickly discover that there is quite a flowery history to the tulip and its relationship with Holland.
Brought from Turkey by biologist Carolus Clusius over four hundred years ago, tulips caused such a craze that the first ever speculative commodity bubble was inflated as people began trading the bulbs with reckless abandon.
Before long a single bulb was bring prices well over the annual salary of reasonably wealthy merchants.
At the peak, ounce for ounce tulips were selling for about one hundred times the price of gold.
But what goes up must come down, and the crash of Tulipmania was spectacular.
After the fall back to earth, the flowers became reasonably priced once again and found a spot in almost every garden.
<–To ward off another crash, we run to the Amsterdam Stock Exchange and take the bull by the horns.
Afternoon: Wondering around, trying to stay out of trouble (rather successfully we may add!)

The royal palace
We hop on a tram again for a look at Dam Square. This is the site of the original dam on the Amstel River, which is where the city gets its name.
Around 1170 a bridge over, and a dam across the river was built, giving the village the name Aemstelredamme.
We must say, it is a dam big square, filled with thousands of pigeons, and surrounded by the Royal Palace, the War Memorial, and the Nieuwe Kerk, or New Church (which is new because it is only 600 years old).
Not far away is the Oude Kerk, Old Church, which is not only the oldest church, but the oldest building in town.
Eight hundred years ago no doubt this area — known as De Wallen because of the city walls — was very different. But over time, the church became surrounded by the now famous red light district... follow us into the Oude Kerk to see more about this quirky church!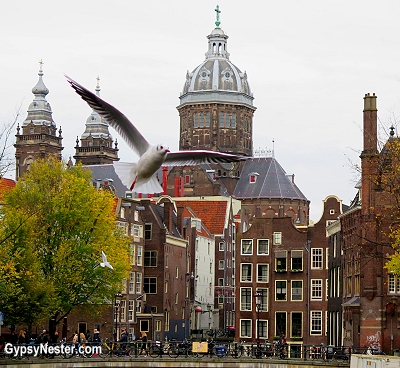 Amsterdam has a long relationship with the world's oldest profession, having legalized it two hundred years ago, and looking the other way for a long time before that.
In this section of town things are particularly out in the open.
<–We don't feel comfy photographing the ladies of the red light district, so here's more pigeon and architecture for ya!

A coffee shop with an adjoining snack bar for when
the
munchies hit. Clever – get 'em coming and going!
More recently, "coffee shops" that sell marijuana and other cannabis products have sprung up.
Beginning in the seventies, these were operating outside the law, again with the authorities tolerating it as long as things didn't get out of hand. But now they have become registered businesses and are taxed and regulated as such.
We will not be participating in any of the offerings from either group of entrepreneurs (not that we're judging, we're just more comfortable with a cold beverage and each other's company). 😉
Evening: We can't believe we get to stay here!

The view from our porthole!
Another intriguing aspect of Amsterdam are the multitudes of boats lining the banks of the canals – there are about 2,400 of these semi-seafaring gems docked along the walls of the city.
Most now serve as homes, and we are lucky enough to be staying in one!
Click here to see the groovy history of houseboats in Amsterdam and photos of what our boat looks like on the inside!
See all of our adventures in Amsterdam!
Day Two: A City of Canals
Morning: Water, water, everywhere!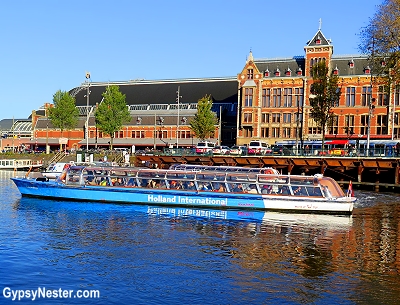 For an introduction to the canal system and an overview of the city often called the Venice of the North, we hop on one of the many tour boats for a guided cruise.
Once again our Iamsterdam city card comes in handy, since the cruise, as well as dozens of museums and other attractions, are included with it.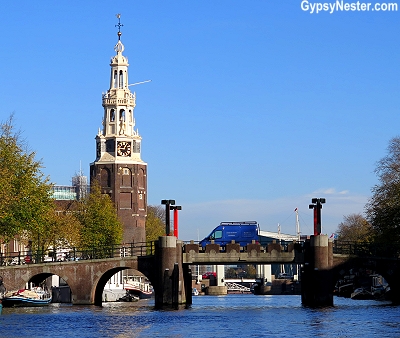 The boat takes us through the harbor, among the cargo barges and ferries crossing over to what the locals call the "opposite side."
On our way to the Amstel River we pass the old city watchtower and many of the old warehouses from the Dutch Golden Age, including the one for the Dutch East India Company.
When we leave the river, we enter the canals in what is known as the Canal Ring.
These three waterways were dug in the early sixteen hundreds, and form a semicircle around the city center.
This allowed for expansion as Holland was entering that Golden Age. Dutch ships and merchants spanned the globe over the next century and Amsterdam grew into one of the world's great cities.
See more views of Amsterdam from the water on our canal tour!
Afternoon: That's some wonky stuff!
One thing we can't help but notice, both from the boat and while we were walking around, is the propensity for the older buildings to slant every which way.
The land is very soft, so in order to build wooden pilings had to be set deep into the soil to reach more solid ground. But these have settled over time and left some crazy crooked structures!
There is a definite style to the houses built along the canals, tall and skinny.
Since space along the waterways is limited, builders chose to make narrow, deep houses that are two or three times as long as they are wide, and stand at least three or four stories high.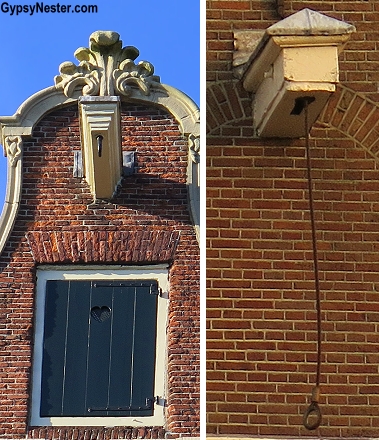 The design makes it hard to get furnishings in and out, so almost every house has hoisting beams attached above the highest windows.
This way furniture or heavy repair materials can be pulled up and brought inside through a large window.
Think piano movers in an old silent movie, that's the idea.
See all of our adventures in Amsterdam!
Evening: Dutch treats!
Of course we can never come to a new city and not dig into the local fare, so we are on the lookout for some bitterballen.
It is not a difficult search, they are everywhere.
The little deep fried balls of meat, broth, flour, and butter, with herbs and spices and wrapped in a crunchy breadcrumb coating can be found in just about every bar and cafe.
But these are just a snack, for real stick to your ribs comfort food we try a stamppot, hutspot to be exact, the most traditional of the stamppots.
This hefty mix of mashed potatoes, carrots, onion, and rookworst, a Dutch smoked sausage, dates back hundreds of years.
It became a staple during World War II because all of the vegetable ingredients could be grown underground. It's not fancy, but it certainly fills the tummy.
For dessert we try poffertjes, little fluffy pancakes with chocolate sauce and powdered sugar.
Even after a stampot we could find room for these.
Probably couldn't say that about the olliebollen we found yesterday though.
We had to try a real Dutch olliebollen after our experience with one at the Tulip Festival in Holland, Michigan.
We expected a better bollen here in the land of their birth, and we were not disappointed.
Even though the name translates to fat ball, or perhaps grease ball, here in Holland, The Netherlands that is, they are light and fluffy, and downright delicious.
No wonder they are so often used to celebrate and ring in the New Year. Now that's a real Dutch treat!
Day Three: Time to Hit the Road, No, Rails!
Morning: A crazy amount of bikes!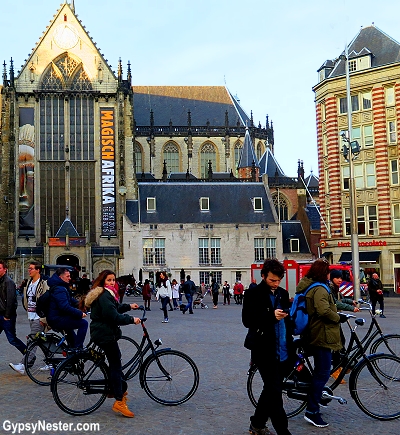 We can't leave Amsterdam without mentioning one of the most obvious elements of the city, bikes… yes, bicycles. They are everywhere.
At first it was a little scary, street crossings felt like an adventure as bikes were flying through intersections and along the sides of every street, often with riders talking on the phone or even texting – a very talented lot.
There have been several times we came way too close to getting clipped.
But we adapted fast, and already it feels fairly normal — as normal as nearly a million bikes can feel.
That's right, we looked it up, there are nearly one million bikes in Amsterdam, just about one for every person.
They use them too, like mailmen; neither rain, nor sleet, nor dark of night will keep the cyclists from pedaling.
The three-story bicycle parking lot at the Amsterdam train station! We were told that an expansion is necessary and plans are underway.
See all of our adventures in Amsterdam!
Afternoon: Annnnnnnd – we're off!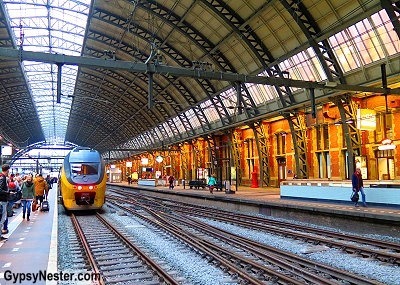 Back at Amsterdam Centraal Station and we're off on our Eurail journey to Scandinavia.
First we will make our way across Holland and Northern Germany.
The fields and gardens along the way are surprisingly green for this late in the year.

We loved how our refreshment guy carried all of his stuff – including a tube of coffee cups and a backpack full of hot water!
The glass cubicle we are sitting in, with six seats facing each other, totally makes us feel like we are in the movie A Hard Day's Night.
A quick change of trains in Hamburg solidifies the feeling, because we can't help but think that The Beatles must have walked through this very spot back when they came here to perform at several clubs in the early sixties.
The view from our train window – foggy German countryside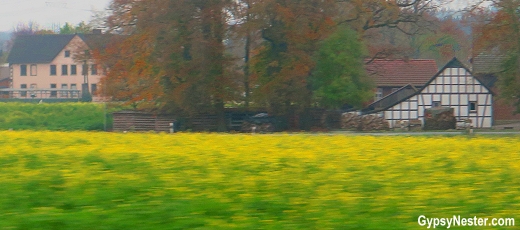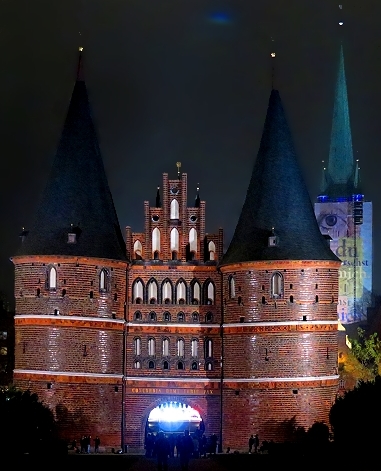 This last leg of today's journey leads to our destination for the evening, Lübeck, which turns out to be a real gem.
The city is one of those lucky coincidences that sometimes happen while traveling. We chose it as a stopover mostly for its location, but inside the Holsten Gate there is a wonderful, history-filled city.
Walking under the arch, we notice the side of the gate facing the city is dated 1477, which is the year it was made. Another date, 1871, shows when the town voted to save the gate instead of tear it down with the rest of the walls.
The story is that the resolution passed by just one vote, and this is one of the last remnants of the walls that once protected the city.
The restored gate went on to become the symbol of the city, and actually became quite famous, appearing on several stamps, the old 50 Deutsche Mark bills, and now the German version of the two euro coin features it.
Walking along the pedestrian mall in the center of town, we come upon the Lübecker Rathaus. This is the town hall by which all town halls should be judged.
Construction started in 1230, and when it was completed in 1308 this incredible building served as a meeting place for the Hanseatic League, a powerful alliance of Baltic and North Sea traders that lasted for over five centuries.

LOVE the staircase
Over time additions were completed to accommodate the Supreme Court for the region and a Danzelhusand (dancehall) for community events.
Now the structure covers an entire city block.
There are a number of intriguing details about the building, the glazed bricks, vaulted ceilings inside, and the different sized doors for exiting the court (the taller one for those found innocent, shorter for the guilty)
The figures decorating the little balcony are the most eye catching to us.
See more of our adventure in Lübeck!
Dinner: And here, it gets a little weird (GN translation, weird=good)

View across the invading hoard-evading moat
After a day of training (our new verb for riding the rails) and exploring, we are ready to eat.
On the recommendation of our hotel desk clerk we pop in to Potter's, a little cafe that is known for serving traditional regional fare on the banks of the Trave River. The river splits to form a natural moat around the old city center, so we feel safe having dinner without the threat of any invading hoards.
The specials on the menu are completely unknown to us, which is right up our alley.
The first, päron, bönor och bacon, is well described as pears, beans and bacon with potatoes, but also includes the quote: "What gave grandma already to pears," "vad var där för att Mormor redan."
Our old friend Google tells us that this is a correct translation, but not of German, it is Swedish. We ask our server to explain and get no farther in our understanding, but order it anyway. If it's good enough for grandma…
The other special, Labskaus, seems clear enough; mashed potatoes, corned beef, onions, beets, cucumber, egg and herring fillet.
But when we ask about this, the explanation takes a turn.
Yes – we should try it, it tastes good but it looks terrible. Her exact words were, "It looks like Scheiße." We know just enough German to know what that means, but we order it anyway… and beer, just in case.
The dishes arrive and grandma, and our server didn't steer us wrong.
The pears, cooked with bacon and green beans is certainly different and new, but really go well together.
On the other hand, the Labskaus does fit the description given, the meat being mashed into the potatoes gives it the not-so-appetizing look.
But it tastes good, like corned beef hash with a fried egg on top. Not sure what the herring is doing alongside, or the beets and gherkins. It's almost like these are two completely separate dishes.
We are glad, as always, to add another couple of new local favorites to our epicurean adventure list, and we certainly aren't leaving hungry. This might be a trend developing, with the weather turning colder — and us training norther — traditional winter comfort food is bound to follow.
See more of our adventure in Lübeck!
Day Four: The Sea was Angry that Day, My Friend
Morning: The coolest engineer EVER!

The station in Lübeck, Germany
Today we have a full travel day ahead of us, one that involves more than just trains, we have water to cross, so a boat will be involved.
The plan is to ride the train onto a ferry, then cross the Baltic Sea into Denmark.

David the Train Nut is ready to go!
Unfortunately, the conductor explains to us that due to construction on the tracks, we will have to board a bus to get on the ferry. Not quite as fun, but hey, we still get a boat ride nonetheless.
Any residual disappointment we may have had disappears instantly when the engineer, Thomas, invites us to ride in the cab for a while.
Seriously, how cool is this?

<–10 Second video: Click the pic – and David's glee comes to life!

We are riding along the famous Vogelfluglinie, The Bird Flight Line, from Lübeck to Puttgarden in the cockpit of an Inter-City Express train. The line got its name from the fact that it is the straightest, shortest route to Copenhagen, and our stopping place for the night, Malmo, almost as the crow flies.
Nearing the ferry, we excuse ourselves to go back and gather our things, but Thomas stops us. He says we should wait until we cross the first bridge over the Baltic. Who are we to argue with the engineer?

<–10 Second video: Click the pic – and watch us fly over the bridge!

Heading to the bus for our ride to the ferry we bid farewell to Thomas, and Germany.
Watch: David the Train Nut is downright giddy!

What a great experience, some of our best training ever! (Gonna keep using it as a verb 'til we see if it catches on.)
Climbing up out of the truck-bus-train hold of the ship, we walk into what looks more like a shopping mall than a ferry.
Brightly lit duty-free shops attract quite the crowds of border-crossing shoppers, but our interest is more focused on getting outside to get a real feel for the crossing.
We aren't the only ones crazy enough to be out on the deck on such a blustery day, but we are definitely in a select group of hardy sailors.

The Baltic Sea looks every bit as grey and choppy as we expected for a mid November morning.

<–10 Second video: The sea was angry that day, my friend!
The ship has quite the jammin' looking buffet, but this is a narrow point in the sea, and we don't want to be in a hurry to snarf down the delicacies, so we opt for a couple of danishes from the snack bar to toast our impending arrival in Denmark.
Yes, we know it's cheesy… we mean us, not the pastries.
View from our (train) window: Denmark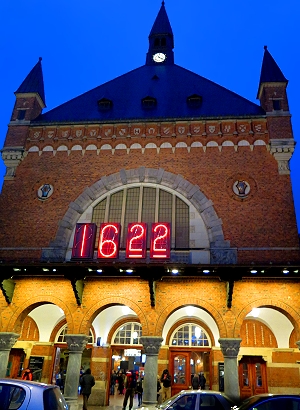 Evening: Tired and happy after a great day training!
Back on board the train, we are rolling across Denmark and are now the farthest north that Veronica has ever been, beyond even the northern tip of Newfoundland.
There is still quite a way to go for David to top Fairbanks, Alaska though, but it is coming soon.
Once we hit Copenhagen, we stop just in time to run outside, snap a pic and catch the train to Malmo, Sweden.
<– The Copenhagen station
Time to crash before heading onward tomorrow. Stockholm, ba-by!
Day Five: Unique Stockholm
Morning: Training to Stockholm (a look at our life on the trains)
<–David (doing his best Vanna White) is going to show us around!
Our train to Stockholm has everything we could want – comfy seats, coffee, snacks, power outlets, and fast internet, all with a view of Sweden passing by our window.
Now that's what we call first class.

Three seats across provide roomier seats and coffee, tea, fruit, and brownies (!) are included in first class

Good food (including seafood!) for purchase and free wifi (so we can post this!). And, yes, we couldn't resist "Du surfar med full fart"
Afternoon: We've arrived (and it's already getting dark!)
<–Stockholm's train station
In order to get a quick taste of Stockholm we opt to walk from the train station over the Vasabron Bridge to Gamla Stan.
This small island is where Stockholm began, and we soon realize we are in a place like no other.
The old town has been preserved here, and our hotel is in one of the buildings that date back to the sixteen hundreds.
Evening: Spending the night with the captain!
Every now and then we happen upon accommodations that are far above and beyond anything we could ever expect. The Victory Hotel is most definitely one of those places.
The collector is the hotel's founder — and namesake — Gunnar Bengtsson, who over many years gathered an amazing amalgamation of artifacts, mostly focused on the torrid love story of Admiral Lord Nelson and his scandalous squeeze, Lady Hamilton.

Spoiled much? This was in our room when we arrived!

An authentic letter to Lady Hamilton from Admiral Nelson
Our host and Gunnar's son, Mats, explained how, while he was growing up, the collection began to overtake the house.
Ship's mastheads, antiques, and other assorted marine memorabilia was stuffed under the beds, in the closets, and almost every other nook and cranny.
His father's solution was to start a hotel and decorate it with his treasures, so the Lord Nelson Hotel was born. But one hotel couldn't contain the collection, and soon the Lady Hamilton and the Victory, named after Captain Nelson's ship, were added to the family.
Each room is much more than just a place to stay for the night, this is lodging with a story to tell. They are all named for a captain, and feature paintings of his ship, family heirlooms, and pictures.
Our suite, honoring Captain Johansson, is filled with fantastic 18th century furnishings, wedding pictures, and original paintings dated 1642.
This doesn't mean modern amenities are missing, flat screen TV, wifi, a stereo system, and best of all, a fully functional, absolutely phenomenal jacuzzi tub.
You've GOT to see more! Follow us into the beautiful Victory Hotel…
Day Five: Storming Stockholm (and an incredible amount of delicious seafood)
Morning: Royal shenanigans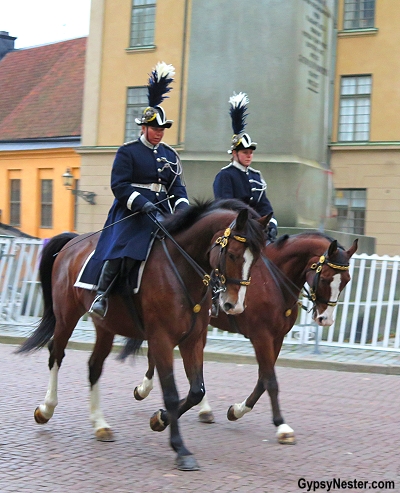 For a whirlwind overview of Stockholm we meet up with our guide Marco, a font of Swedish knowledge, and set out on an early morning tour of the city.
Beginning by walking through the old town, we catch up on the history of not only the city, but also the country.
As with its Scandinavian neighbors, Denmark and Norway, Sweden is a constitutional monarchy. Kings have ruled here for at least a thousand years, but these days the actual political power is in the hands of parliament.
As we near the Kungliga Slottet, which is the Royal Palace, we get to see some of that royal presence when mounted guards escort dignitaries in horse drawn carriages inside for a meeting with the king.
There is a definite level of old-fashioned pomp and circumstance involved, as well as a surprisingly low key approach to security. Marco explains that the royal family regularly goes out in public without causing too much of a stir.
Check out our full adventure in Stockholm!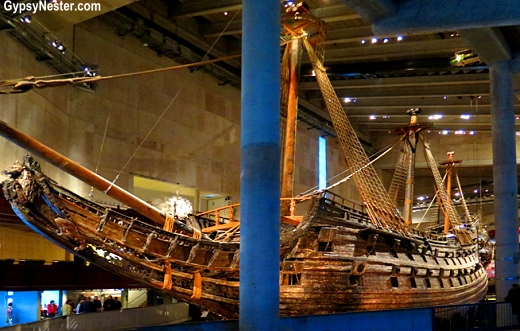 From the small island that contains the old, original city, we take a ferry to see an unbelievably preserved piece of Swedish history, the Vasa.
The two hundred-foot ship sank while still in Stockholm's harbor, just a mile into its maiden voyage in 1628.
Incredibly, it sat submerged and undisturbed for over 300 years.
King Gustavus Adolphus' desire to have the biggest, baddest ship on the sea was the vessel's undoing.
By adding an additional deck of canons without offsetting the weight below the water line, the design was badly flawed and the top-heavy ship rolled over and sank within a few minutes of launch.
In 1961, salvage efforts were undertaken, and now the remarkably undamaged ship stands almost entirely intact in the Vasa Museum. The only parts to suffer much from the centuries under water were the nails, so they have mostly been replaced.
Afternoon: An amazing time capsule and seafood to die for!
From the Vasa Museum, we hop on a tram using our Stockholm Card and enter into another time capsule of sorts, a perfectly preserved mansion from the gilded age of the 1890s.
Built for the Count Walther von Hallwyl and his wife, Wilhelmina, everything has remained virtually untouched.
This was completely intentional; the countess had a system of cataloguing every household item that she employed almost immediately upon moving into the home in 1898.
We aren't talking about just the valuable stuff either, Wilhelmina had volume after volume filled with details numbering, photographing and identifying every single thing in the house.
Her eccentric obsession, possibly what we would call OCD today, makes for a remarkable glimpse into life of the aristocracy over a century ago.
She even left the rooms "as is" and covered many of the tables and desks in glass cases so that nothing would be disturbed.
Check out our full adventure in Stockholm!
For a look at how Swedes shopped and ate back in that same era, and for a quick bite of lunch, we walk over to the nearby Östermalm Food Hall.
This covered market served as the supermarket for the city back at the end of the 1800s, with farmers and fishermen bringing in their products fresh every day.
For some inside scoop we met with Johan, from the shop and restaurant Lisa Elmqvist.
Lisa began selling seafood here nearly one hundred years ago, and for four generations her family has continued.
He shows us all of the fresh fish offerings and gives us an idea of the logistics behind the scenes.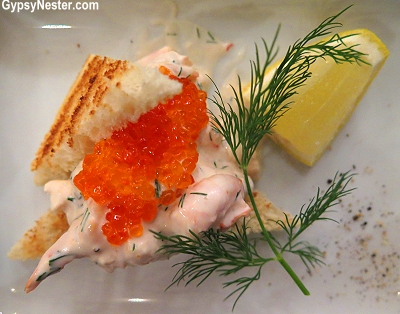 After looking over all of the offerings, Johan suggests we try a couple – he didn't have to ask twice.
We start with a sample their signature dish, Toast Skagen with bleak roe, which is high on the list of the best things we have ever put in our mouths.
Wow, this combination of shrimp, dill, and caviar, well, let's just say we see why the king himself is a frequent customer.
We follow up with mouth-watering, salt-cured salmon and a creamy fish soup with trout roe, which are certainly not shabby themselves, but the shrimp on the toasted bread has spoiled us forever.
We may never be the same. It will haunt our dreams.
OK, OK, so that's a little over the top, but seriously… royally good.
For more photos and info, follow us in to the Östermalm Food Hall!
Evening: High tech and going global
One thing we learn while walking around Stockholm is that it is a world leader in high tech development and cutting edge companies.
Spotify, Skype, IKEA, H&M, and Ericsson all began here.
So we decided to step into the modern and take a ride to the top of the world's largest spherical building.
That would be the Ericsson Globe, an amazing arena that has a couple of much smaller glass globes that travel over four hundred feet up to the top of it known as SkyView.
We step inside one and it climbs right up the side of the sphere.
We are immune to any queasy feelings about the ride up, being mostly mesmerized by the view, and when we reach the top we have a 360 degree panorama of the entire city.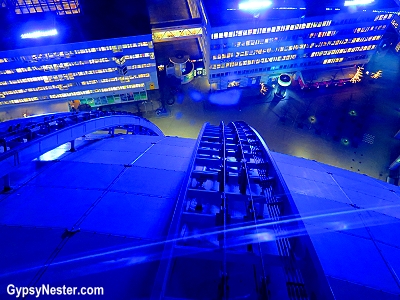 But the trip down is a different story.
When we head over the edge it feels something like a slow motion roller coaster.
We must not have been looking down much on the ride up so we didn't notice, but being suspended on the side of the globe, nothing but air beneath us feels pretty darn unnerving.
But hey, that's part of the fun, everybody likes a little scare now and then, and soworth it for the view.
Check out our full adventure in Stockholm!
Dinner: Learning to eat like a Swede!
It is hard to comprehend how much we have seen and done in one day in fabulous Stockholm, but we still have one big event on our schedule.
One thing we had been looking forward to since we first looked into visiting Stockholm was trying a real traditional Swedish smörgåsbord.
By all accounts, the place to partake is the renowned Grand Hôtel.
It's a very extravagant setting for what originally was not particularly fancy fare.
The idea behind a smörgåsbord has a more humble background. The name is a combination of the words smörgås, meaning sandwich, and bord, which means table, but in practice there is a whole lot more than sandwiches going down.
In fact, there is an entire method to properly approach the smörgåsbord which our server kindly walks us through before we take our first bite.
Most important, we were told not to pile too much on the plate at one time. Using many plates is not being piggy; it is expected, perhaps even mandatory.
Each group of delicious delicacies requires separate attention — and china. We begin with the cold dishes, first a section of herring prepared several different ways, each with a sauce as a sidekick.
The next plate is… click here to continue reading about our crazy-fun, food-filled night!
Day Six: Peace and Chill in Oslo
Morning: On to Oslo – Norway, ba-by!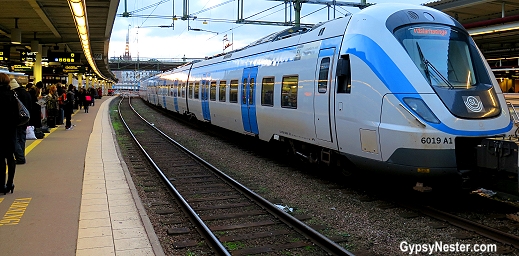 The brief appearance of the sun just as we are leaving Stockholm dissipates rapidly as we make our way toward the Norwegian border and Oslo.
We are remaining confidant that skies will clear when we go even farther north, so that some serious aurora borealis can shine down upon us… We're not done yet! Continue along with us on our way to above the Arctic Circle!
David & Veronica, GypsyNester.com
Thanks to Eurail for providing the 15-day rail pass that inspired this crazy adventure! Also HUGE thanks for the support from I Amsterdam, Visit Stockholm, Visit Norway, and Amsterdam Book Now! As always, all opinions are our own.
YOUR TURN: HAVE we gone completely off the rails? Would you embark on a journey like this? How much trouble is David going to be in if Veronica doesn't get to see the Northern Lights?