NEXT DISPATCH: Galapagos Islands
DAY ONE: It's in the Gettin' There!
Morning:
The time has come! You voted for it – now we'll deliver! And we couldn't be more excited!
We're heading to South America – and are live-blogging our journey through Ecuador, Peru, The Galapagos Islands, Machu Picchu, Cusco and much, much more!
Here's how it works: We'll be updating this live-blog as we go, so be sure to check back and hit your refresh button often! We will be checking in regularly to read your comments and suggestions, so don't be shy – let 'em fly! What do you want to see? (see the comments here and below to see what folks are asking for!)
WATCH your goofy GypsyNesters as we prepared for the trip!:



Map provided by Road Scholar, click on map for our detailed itinerary:

We will be traveling with Road Scholar, a not-for-profit organization – that provides educational travel programs for like-minded folks wanting to learn as much as they can about the areas they are visiting.
Our journey will have only fourteen other fellow adventurers, so we are very excited that we can participate in a program like this AND still feel like our low-to-the-ground traveling selves.
Afternoon:

Getting ready to board our plane! Thinking a big, fat nap is in our near future.
See you in South America!
Evening:

We've arrived in Quito, Ecuador! Meet Veronica (yay! another Veronica), our Road Scholar host, waiting to take us to our hotel.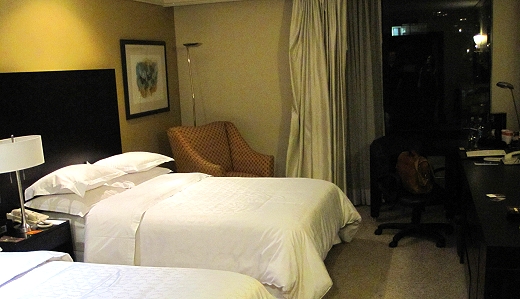 Ahhhhhh… time for our beauty rest! After twelve hours of travel, our room is a beautiful sight. Want to be well rested to explore Quito tomorrow with our fellow Road Scholars. Can't wait to meet them!
DAY TWO: Stormin' Quito, Ecuador
Early Morning:

We're up and at it! Thought I'd post a little about what we're planning on doing today. This will be a day of firsts for us. Our first day on the continent of South America, our first time in the Southern Hemisphere, our first trip south of the equator. Speaking of the equator, we are actually going to straddle the middle of the globe today!
We are heading just a few miles north to the Mitad del Mundo (Middle of the World) where we will see the actual big blue line that runs exactly halfway between the two big candy striped poles at either end of the planet. At least that's what I'm expecting.
Maybe there's really just a monument and a museum, but I'm hoping for big blue line that I can stand with one foot on either side of. We'll let you know how it turns out.
Veronica has already been teased for all the photos she's taking, so prepare for tons of them! -David
Morning:


Check us out – we're at the equator! Feeling very centered. 😉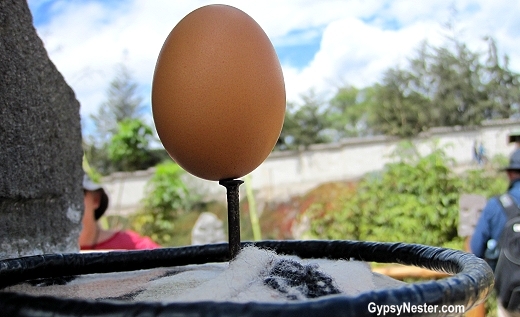 Veronica here: Just wanted to brag that I was able to balance an egg on the head of a nail here at the equator. Even with the wind blowing, it stayed on. Not sure how the science of this works – but I did it and David couldn't, so that's all that counts in my book! (at The Intiñan Solar Museum)
click to see more about our adventure at The Intiñan Solar Museum, including a pic of the "egg-balancing certificate!"
Afternoon:

Quito's Colonial Center. View from the steps of San Francisco church and convent.

Street shot: This lady was sweet enough to let us snap her photo – and sent us along with a blessing.
Iglesia de la Compañia de Jesus' interior is covered in gold. Taking photos is heavily frowned upon inside of churches in Ecuador, but we were allowed to take a shot through an open door with our zoom. The church is large and blindingly beautiful.

Our first South American meal! Goat stew and the fanciest chips we've ever seen. Plantain, yucca and yams. Nothing like a little goat stew to fuel up for the afternoon. (at Cafe Plaza Grande in the Colonial Center)
We had spent most of the day being watched over by what we thought was an angel high atop a hill overlooking the colonial city.
When we reached the top of El Panecillo, almost 10, 000 feet above sea level, we found that our protector was no angel.
Instead we discovered a one hundred thiry foot winged madonna, Virgen de Quito. She's very untraditional – locals claim that she is the only one in the world with wings like an angel.
El Panecillo, Spanish for little bread, overlooks this city of two million – exposing views in three hundred sixty degrees. The Inca used this spot for sun worshipping.
The Virgen chose the perfect spot to look out over her people.

Snow covered volcano, Pichincha, peeks out over the clouds at 15,000 feet. Snow this close to the equator? WOW.
click to see more about Quito, Ecuador, the Colonial Center, the Virgin of Quito, El Panecillo, the churches and the AMAZING "steaming ice cream!"
Evening:
Great lecture on The Galapagos, now taking our exhaused, jet-lagged, altitude addled, HAPPY selves to bed.
DAY THREE: Headed to The Galapagos Islands!
Early Morning:
Today we catch a flight to the Galapagos Islands, in our excitement we are up hours before we should be. These islands first appeared on maps in about 1570 and were named "Insulae de los Galopegos" (Islands of the Tortoises) in reference to the giant tortoises found there.
We can hardly wait to see them and their namesakes, but unfortunately may have some difficulty keeping the live in our live-blogging. These are some remote suckers and internet access is hard to come by out among the Blue-Footed Boobies. We'll be sure to update just as soon as we encounter a wifi signal.
Yesterday we had perfect weather for both our trip to the equator and Quito's old city. We did get to straddle the center of the Earth, but not at the Mitad del Mundo.
Turns out that the monument is at the place where the equator was thought to be until GPS recently showed it to be a couple hundred meters off, so we went to The Intiñan Solar Museum where the real line is. The line is red (not blue as I imagined it), but we still managed to stand in both hemispheres at once.
As I said yesterday, a day of firsts. -David
Morning:


Our plane to the islands. We've never heard of Tame before, as it serves mostly routes within Ecuador. But, as we sit here writing this 36,000 feet above the Pacific eating a lovely lunch, we have to say we wholeheartly approve of every aspect of the flight.

Aerial view of snow-covered Pichincha with a smaller volcano in the foreground as we climb out of Quito.


Our first glimpse of the Galapagos Islands!
Afternoon:


The boat we will call home for the next week, Yolita II. David is in the Zodiac pictured, I'm in the next one right behind. Our guide, Franklin, met us at the aeroport, had our bags transported and we bypassed quite a few folks waiting to board other boats. That's great organization, and we appreciate every extra minute we'll have to island hop.


Quick introductions, instructions and safety procedures were quickly followed by our first destination, Las Bachas Beach on the island of Santa Cruz. Before we could get our bearings, Franklin was pointing out animals. Right at the shoreline, a young stingray. This is going to be the best trip EVER. (click here to continue on to the Galapagos)
NEXT DISPATCH: Galapagos Islands
David & Veronica, GypsyNester.com
We're traveling with Road Scholar – a not-for-profit organization – through Ecuador, Peru, The Galapagos Islands, Machu Picchu and much, much more!