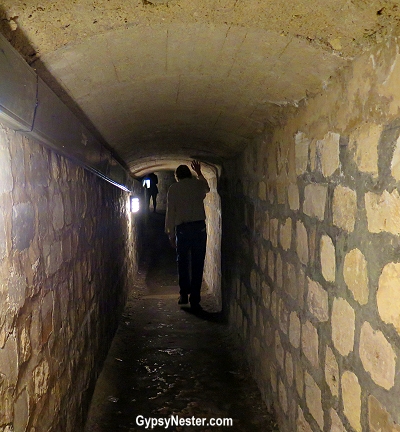 In Paris, a trip underground means journeying into the creepy subterranean Catacombs.
We had heard that there can be quite a long line waiting to enter the Catacombes de Paris, but more than worth it, so we set aside an entire day for the visit.
Glad we did too, because we hung around for several hours before finally heading down into the underworld.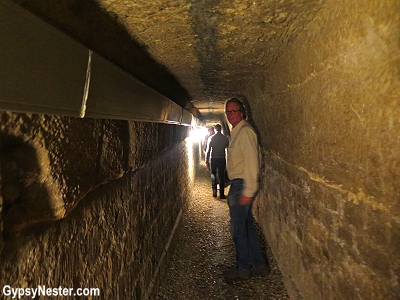 We easily amused ourselves, and met some interesting people while waiting, but would still recommend using a skip-the-line tour if one is available.
We proceeded past the warning, Stop! This is the Empire of Death, and entered to see for ourselves.
What we found was beyond extraordinary, it was downright bizarre.
Countless bones have been neatly stacked and arranged to form what seem to be endless hallways.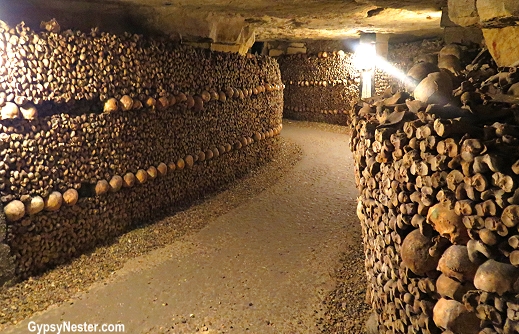 The tunnels and excavations were originally dug as a limestone quarry to supply building material for the world above.
Years later, when several of the city's cemeteries ran out of room for any more burials, the remains of some six million people were moved into the Catacombs and they became known as The World's Largest Grave.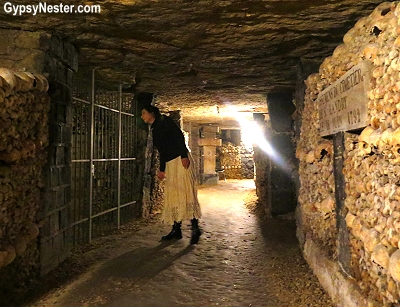 There are miles and miles of these corridors, but visitors are only allowed to see a tiny portion.
That section is fortunately reasonably well lit, because wandering off into the maze of darkness beyond any of the blocked off pathways could easily end by getting hopelessly lost and ultimately joining the dearly departed.
We were so fascinated that we did our best to hang back from the rest of the crowd, and after a little while noticed that no one else was around.
It started to feel pretty creepy.
At one point we weren't sure which way to go. We followed an arrow toward a door and found a sleeping guard blocking it. It was not the exit, and we didn't want to wake him, so we pressed ahead.
Truth be told, we were finding a tiny bit of perverse enjoyment out of our predicament.
Veronica even started mentioning things like, "wouldn't it be cool if we got locked in here for the night?"
David was less than on board with that idea, so we kept moving forward, correctly assuming that the exit must be around somewhere.
Next thing we knew, we went through a door and out onto a small side street.
But after walking about a mile underground, twisting and turning the entire time, we had absolutely no idea where we were.
Our handy-dandy map was no help at all, so we walked toward the sound of traffic.
Once we hit a main thoroughfare we caught our bearings, made our way to the nearest metro station, and felt relieved.
Even though it meant going back underground.
David & Veronica, GypsyNester.com
Thanks to Paris je t'aime and Hotel Vic Eiffel for this adventure that made us exclaim Ooh la la! As always, all opinions are our own.
DELVE DEEPER:
See where we stayed in Paris
Want to see our full collection of odd art at the Louvre?
Take a peek inside the Arc de Triomphe
Check out more about Notre Dame Cathedral
See more of our antics at the Eiffel Tower
Follow us to Versailles – there's so much over-the-top royal stuff to share!
Want more Paris? Click here!
Check out all of our adventures in France!
YOUR TURN: Is Paris at the top of your must-see list? Or have you already checked it off? What would be YOUR first stop in Paris?