A few years ago we took a trip to the Dominican Republic to help with planting trees, building homes, and making water filters. Some people get filtered water straight from their (Samsung / LG) fridges and others prefer bottled water, either way, most of us take clean water for granted.
Sadly, the group we went down there with does not exist anymore, but one of the people we met, Frank Vasquez, is continuing the work for clean water and we want to help spread the word.
Please check out his story here, and you can help to fund his efforts as well. Meanwhile, here is a look back at our adventure of making filters. Spoiler alert, it's ingenious!
We traveled to the village of Higuerito with our cohorts under the guidance of Frank, our Impact Facilitator du jour, to work with Wine to Water.
Wine to Water worked to make 1,500 clay water filters in a year's time, impacting 7,500 people in the Dominican Republic.
Participating in most every step of the production process, we sifted sawdust, worked the clay, molded the filters, and helped check safety levels of water after initial filtration.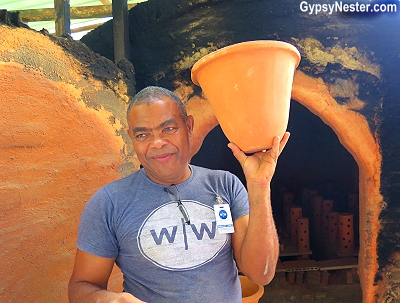 As we worked, we spoke with Wendy Lemus, who heads Wine to Water with her husband, Carlos, and learned about the innovative way the filters work.
As I said, it's pretty ingenious, but here is the short version:
The materials used to create the filters are all locally sourced, except for the liquid silver needed to kill bacteria.
When the filters our team molded are fired in the kiln, a layer of charcoal is created from the sawdust – trapping the bacteria to allow the silver to do its work.
Snaps to our team for making 30 filters – touching the lives of 150 people!
Have to say, it's a good feeling to know we made an impact, and you can too by helping Frank with his ongoing project.
David & Veronica, GypsyNester.com
YOUR TURN: What do you think about this innovative concept?
This post may contain sponsored links.