A big thank you to Fathom Travel for providing this impact + travel opportunity so we can share their good work. As always, all opinions are our own.
On the island of Hispaniola, which the Dominican Republic shares with Haiti, deforestation is a huge problem.
The lack of trees can lead to soil erosion with dangerous runoff and pollution, as well as deadly landslides after heavy rains.
Even though the problem is much more serious on the Haitian side of the island, the Dominican portion also has many areas where the forests have been cut down.
Fathom has developed a program with the government's Ministry of Environment and IDDI (Instituto Dominicano de Desarrollo Integral or Dominican Institute for Integral Development), that encourages volunteers from their cruise ships to have a definite impact on the future of the forests.
We took a day to join those groups and plant endemic tropical cedar trees along the slopes of the mountains in the Yasica region.
Large swaths of rainforest have been cleared for agricultural purposes, and that has negatively impacted the river that gives the area its name.
The effects are felt downstream in the city of Puerto Plata because Rio Yasica feeds the municipal water supply.
The ride up into some of the highest mountains in the Caribbean gave us some spectacular views of the valleys and coastline below.
As we climbed higher we realized that an added benefit of the altitude was that it was a whole lot cooler too.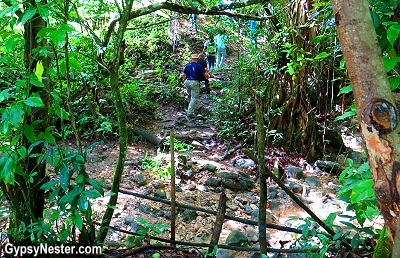 We certainly came to appreciate that a little later while working in the sun.
After meeting with our team leaders, we hiked into a valley that drains into the river and passed by thousands of baby trees that had been planted by prior Fathom travelers.
Then, upon arriving at our area, we got a quick lesson in the planting procedure and set to work.
First we measured the distance between the spots for planting with a four-meter pole, so that the trees would not be too close together.
Each little seedling needs plenty of room to grow into a mature tree, so they start life by saying to each other, "I wouldn't touch you with a four meter pole."
Once the spots were marked, we dug holes and planted our babies, marking each spot with a stick so we could avoid stepping on them while we scurried around the hillside.
Not exactly high tech, but it got the job done.
Over the next few hours our crew spread across the valley, measuring, digging, and planting until we had three hundred and eighty new trees ready to grow in the warm Dominican sun.
A dirty job to say the least, but it feels good to get really filthy sometimes.
Ask any kid.
WATCH: It's not exactly high tech, but gets the job done.

The fruit of our labors may not be apparent for several decades, but as the trees mature they will provide stability to the soil, habitat for wildlife, help clean the air, and perhaps even a shady spot for us to visit should we return in thirty or forty years.
How's that for optimistic?
All of that measuring, digging, and planting sure did work up an appetite, so after returning to the ship and cleaning up we ventured out on our own to the nearby little village of Maimon.
We debated walking, but our tired muscles decided on a quick taxi jaunt from our docking spot in Amber Cove.
We hopped out at the Pescaderia Los Primos, but decided to keep our legs limber and stroll around the neighborhood to see a bit of local life before dinner.
While we walked we were greeted by many of the townsfolk, including the best saleswoman ever, who convinced us to take a look at her house.
Her casa also happened to be a gift shop, and we couldn't help but buy a couple of items.
It was impossible to miss the fact that this was an election year in the Dominican Republic.
There were colorful signs everywhere and the mood festive with vehicles blaring music and candidate endorsements from speakers mounted on their roofs, along with spontaneous parades of flag waving supporters taking to the streets.
Back at the pescaderia we met a few folks from the ship and sat down to a beautiful meal of spiny lobster, a whole red snapper, luscious seafood soup, and tostones, and washed it all down with a couple of almost-frozen Presidentes.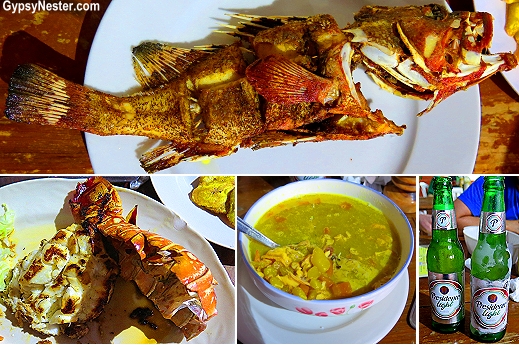 That just might have been the perfect end to a day of service.
David and Veronica, GypsyNester.com
See our entire volunteer cruise to the Dominican Republic here!
A big thank you to Fathom Travel for providing this impact + travel opportunity so we can share their good work. As always, all opinions are our own.
YOUR TURN: