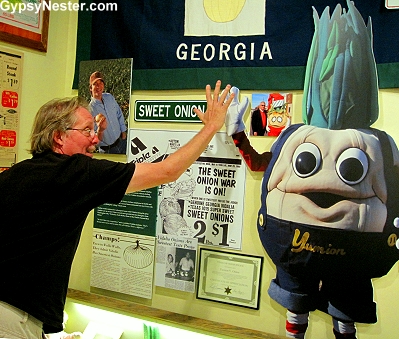 To paraphrase Shakespeare, would an onion by any other name taste as sweet? We think not, since most onions are hardly sweet at all. So what's in a name? Vidalia, Vidalia, wherefore art thou Vidalia?
The only way to know for sure was to go directly to the source. We headed to southeast Georgia, halfway between Macon and Savannah to find out.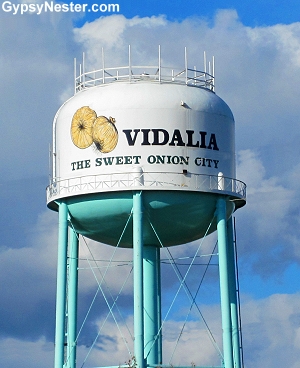 There was no mistaking our destination, all of the town's water towers are decorated with giant onions. In fact, onions dominate almost every aspect of the city of just over ten thousand.
We mounted up on our trusty bikes and cruised around on a quest to find out just how many layers of onion we could find.
We found signs, slogans and even a mascot, Yumion, prominently displayed throughout the town. Of course there were also several eating establishments proudly proclaiming the fame of their onion rings, but how could we know which of these were truly ring royalty?
We asked around.
The consensus winner seemed to be Steeplechase Grill & Tavern, and it must be good because folks around Vidalia do not take their rings lightly. But the breading was light — and crispy, and plain old delicious. Served up with a sweet onion dipping sauce, yessiree, these were some mighty fine rings.
Having been steered right by the townsfolk so far, we decided to take some more advice and check out The Vidalia Onion Museum.
Everyone said not to miss it, and once again they were absolutely correct.
We learned the entire onion saga through the little museum's displays and videos, from the accidental beginnings, right up to the modern marketing that has sent Vidalias to every corner of the globe.
Turns out that the world-famous onion came about completely by luck.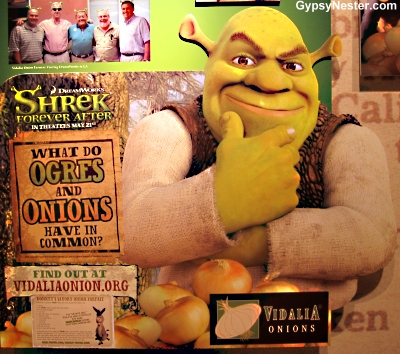 Area farmers were struggling to get by raising cotton and tobacco during the depression.
Then Mose Coleman decided to try his hand at growing onions. His onions turned out sweeter and milder than any anybody had ever tasted before.
Soon several other farmers also switched over, and their onions were uncommonly sweet too.
Just so happens that the soil around Vidalia has very little sulphur, and that makes for a one-of-a-kind onion. Soon tourists were stopping through and asking for the sweet onions that became known by the town's name.
But it still took one more bit of good fortune to make the Vidalias truly famous.
The Piggly Wiggly chain of grocery stores are headquartered in Vidalia and when they began stocking the unique onions word soon spread.
Their fame grew until the name Vidalia Onion had to be legally defined and protected.
Only onions grown within a specific area near the town can bear the name. Then, in 1986, the State of Georgia proclaimed Vidalia Onions as the official state vegetable.
In addition to all of the great history we found at the museum, we also learned that we could take a tour of an actual onion farm and packing plant.
We knew where our next stop was going to be, Vidalia Valley.
They do a lot more than just grow and box up onions at the Valley, as we learned when our gracious guide, Lauren, led us into the processing area.
As soon as we opened the door we were nearly knocked back by the overwhelming aroma of onions being chopped — and this was the slow season.
Lauren explained that during the peak of the harvest the chopping goes 24/7 and the smell is so strong that her hair will smell like onion for months — her stylist refuses to cut it! Wow, just think if these weren't the mild variety.
But no one at the plant is shedding a tear, because all of that chopping is done to supply the fastest growing part of Vidalia Valley's business, creating and distributing all sorts of onion products.
They make relishes, salsas, salad dressings, BBQ sauce, hot sauce, and even jams and jellies, all prominently featuring Vidalia onions as a main ingredient.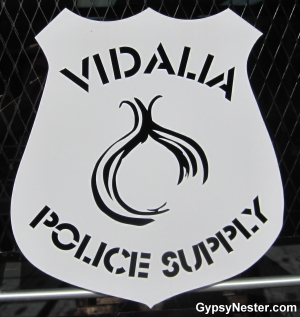 In fact, the versatile Vidalia is so sweet and mild that many people claim to eat them raw, like apples. We weren't sure if we were quite ready for that, leaving us with a dilemma.
To bite, or not to bite, that was the question.
David & Veronica, GypsyNester.com