Huge thanks to Tourism and Events Queensland for providing this adventure! As always, all opinions are our own.

Queensland, Australia was certainly a land of surprises for us.
One of the biggest surprises was that just beyond the sun-drenched beaches the province is famous for, there are mountains. After a couple of fun-filled days in Brisbane, we drove just a short distance northwest before the scenery completely changed.

Luckily, by the time we were out of the city traffic, our nerves had slightly settled from our baptism into opposite driving — from the right side of the front seat and on the left side of the road — and we began glancing out at the terrain.
Since we were turning on the windshield wipers every time we meant to hit the turn signal (those are opposite on the steering wheel too) we had a very clear view.

But even with a dirty window it would have been impossible not to notice the Glass House Mountains rising abruptly from the coastal plain.
The eleven stark, stand-alone volcanic remnants were named by Captain James Cook in 1770. When spotting them from the deck of his ship, the HMS Endeavour, he felt that the beautifully odd formations looked like the glass furnaces in his home county of Yorkshire.

Just past the Glasshouse gang we entered what is known as the Hinterland, and the elevation began to rise quickly as we climbed into The Blackall Range.
Unlike Captain Cook's discovery, these mountains are part of the Great Dividing Range that separates Australia's east coast from the vast interior and the Outback.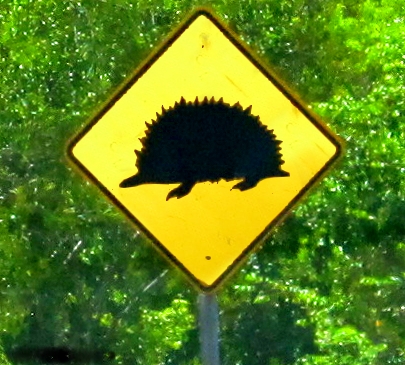 At this point we had a new test of our opposite side driving skills, when the highway became a winding mountain road.
Good thing the pedals weren't switched around, like everything else, or we would surely have accelerated right over a cliff while frantically trying to mash the brakes.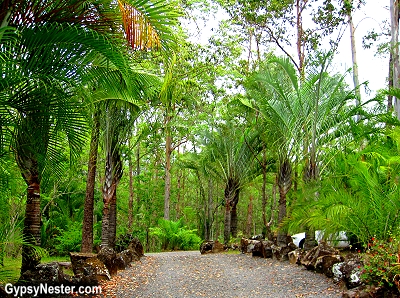 But this journey wasn't only about learning new driving techniques, we had a destination, Spicers Tamarind Retreat.
But first, we just had to check out something absolutely unexpected, a snail farm.
Sneaking up on Snails

Owners Mary and Cliff greeted us as we pulled up the gravel drive to their house, a wonderfully preserved Queenlander, which serves as the command center for Glasshouse Gourmet Snails.
We were welcomed onto the porch for a cuppa and a conversation about raising snails. We have enjoyed escargot now and again, but never really gave much thought to where it came from — we were in totally unfamiliar territory.

When Cliff explained how the canned snails we had experienced in the past were vastly inferior in taste, texture, and nutrition to the fresh version, it made sense.
Still, it didn't really hit home until Mary brought some of the buggers out for us to sample.

Rather than being buried in butter and garlic, these fresh fellas were lightly seasoned, set in a mushroom cap, and cooked for only a few minutes.
We were a little hesitant, its nakedness was a stark reminder of what we were actually eating. Could it be that the butter and garlic (and dipping bread) is the part we actually love about escargot? Uh-oh.
But after our first tentative bite, we discovered a clean flavor unlike any snails we had previously encountered. More, please. Mary was happy to oblige.

Having tasted the difference, we were ready to see how they are raised.
Keeping the little critters confined is a bit more problematic than say, fencing cattle, but they certainly take up a lot less space. The snails roam their range in greenhouse-type buildings where the climate is controlled to be exactly to their liking.


At first you don't see them, then you realize they're everywhere!
Other than feeding and watching said climate, things pretty much take care of themselves.
Eggs get laid, babies hatch, young snails grow without fear of predators and, when they reach the proper size, they are boxed up live and sent off to market.

It's a downright peaceful routine that Cliff and Mary have been perfecting here in the Hinterland since 2008, and more than worthy of its designation, the Snails Pace Retreat.
However, we needed to pick up the pace just a bit if we were going to make it to another retreat in time for the special Bar-B-Que waiting for us.
See more photos of Glasshouse Gourmet Snails!
Oh-no! Shrimp on the Barbie is not a Real Thing

Retreat truly is a perfect description for Spicers Tamarind, hidden away in the high country we felt a million miles from anywhere — except we had all the luxury we could need, and then some.
After checking in, a basket of goodies was delivered, a Thai street style Bar-B-Que, perfectly prepared for grilling on our own private grill.
That's right, the one right next to our own private hot tub on the deck of our villa.
See more Spicers Tamarind Resort
The feast featured marinated prawns, chicken, and cuttlefish, with potatoes and salads on the side.
We knew that prawns were shrimp, so our biggest challenge was the cuttlefish (we had to Google what it even was!), but Chef Jarrett's careful instructions guided us through successfully. In addition to advising newbie grillmasters, part of his mission at Spicers Tamarind is to support sustainability in the Hinterland by incorporating locally raised ingredients whenever possible.
We felt so good about the end result that we decided to embark on some fancy presentation action:
Spoiled much?
It doesn't get much better than chowing down on grilled prawns (we might say "shrimp" on the Barbie — but no Aussie would — they're prawns Down Under) on a deck in the Hinterland.
Rather than sit around and make fat — as we were inclined to do after such an amazing meal — we headed out into our "backyard" for a bush walk.
See more photos of our bush walk

As the daylight left the sky, the forest came alive with sounds completely foreign to our ears, the crazy call of the kookaburra being the most otherworldly.
Finally, when all the light was gone, the Southern Cross headed up a cast of thousands, make that millions, of stars that seemed to hang so close we could almost touch them.
See more Spicers Tamarind Resort
Learning to Cook like an Aussie

Food might seem to taste better outdoors, and fresh off the fire, but the next day we would challenge that notion at the Spirit House Cooking School.
The zen vibes were pulsating as we walked through the Asian-style gardens before our class.
Flamboyant flora surrounding a picturesque pond, and signs warning us about the care and not feeding of water dragons, gave us the feeling that we had somehow left Australia for a moment.
Our lesson, Taste of Vietnam, wouldn't change that impression much, as we learned some of the finer points of Southeast Asian cuisine.
The geographic proximity of Southeast Asia has influenced the culinary scene of Australia and most restaurants feature a chef's take on the fare.
Watch: Our incredibly fun cooking class!:

Visit the Spirit House Website
After a little safety talk about the use of super sharp knives, we began to prep by slicing, dicing, and chopping the herbs, vegetables, and meats we would be using in our recipes.
Chef Kelly guided us through the process step by step as we prepared our dishes.

Grilled pork belly (pork belly is HUGE in Queensland and it's freaking delicious) known as Bun Cha Pork; Cha Ca fish fillets served with vermicelli noodles and Nước chấm dipping sauce; Bahn Xiou, a type of savory pancakes with pork and prawns; and finally, a dessert called Kem Xio, which is sweet, sticky rice with ice cream on top.

With the exception of the dessert, fish sauce is a staple ingredient. While we were familiar with it, we had never used it before.
Another element that was new to us was shrimp paste, which consists of fermented ground shrimp and salt. Mighty strong stuff, a little dab'll do ya!

The end result was an amazing meal, and a few new wrinkles on the foodie side of our brains.
With our horizons, minds, and palates expanded, we felt ready to move on and burn off some calories on our next Australian adventure… perhaps we should jump out of a plane?
Do you love cooking classes like we do? Click here to see our classes from around the world!
David & Veronica, GypsyNester.com

Delve Deeper:
Visit the Spirit House Website
See where we stayed! Spicers Tamarind Retreat
See more Glasshouse Gourmet Snails!
Watch us skydive above beautiful Queensland – yikes!
Bucket list check! We snorkeled the Great Barrier Reef!
Follow us into the Noosa Everglades!
Go for the Gold Coast of Queensland and watch us feed crocs!
Find out how we saw all of the bizarre Australian animals in one place!
Let Us Introdoos-ya to Noosa and Spread a Little Sunshine Coast
Huge thanks to Tourism and Events Queensland for providing this adventure! As always, all opinions are our own.
Click here to see all of our adventures in Queensland!